14th Annual New England Metal And Hardcore Festival - "The Metal Gods Were Surely Appeased"
May 2, 2012, 5 years ago
To be in the room for singer Jesse Leach's first full concert performance with KILLSWITCH ENGAGE since 2002 was like watching order being restored to the heavy- metal universe. That Killswitch Engage set was a spectacular finale to New England Metal and Hardcore Festival 14, held April 20 to 22 at The Palladium in Worcester, MA. The festival featured two stages and nearly 85 bands. THE BLACK DAHLIA MURDER and ALL THAT REMAINS headlined the first two nights, respectively. It wasn't simply the Killswitch reunion with Leach that extended NEMHF's legacy. All three headliners were at one time middle-of-the-day bands, knocking out 30-minute sets on the heels of a debut album or sophomore release. No doubt, routine trips back to the annual Metalfest for each of those bands helped them grow to the point where they tread on equal footing with a previous generation of metal kingpins (GWAR and CANNIBAL CORPSE come to mind). NEMHF mined bands from across the heavy-music spectrum, typically giving hardcore bands the more packed-in confines of the second stage and displaying all manner of metal on the main stage.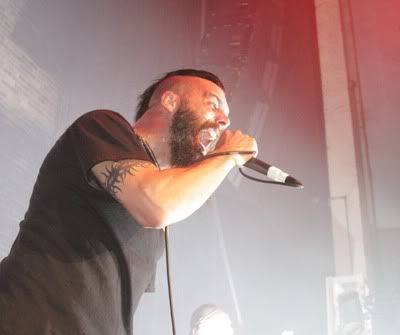 The news from Friday's kick off was that OCEANO ditched its plans to break up after the festival performance and instead will proceed with work on a new album. ALL SHALL PERISH constructed a brutal set of death-metal-meets-hardcore and organized the crowd into a wall of death pit that consumed the floor in front of the stage.
NILE was its technically perfect, thematically creepy self. Karl Sanders' solos were among the finest - if not the finest - guitar work at the festival. The Acacia Strain, another band reared at Metalfest, simply grows darker and heavier by the show and was pure thundering fury at the festival. Black Dahlia Murder announced that Max Lavelle signed on as the band's new bass player. BDM leaned heavily into its new album Ritual, but managed to also toss in old faves, such as 'Funeral Thirst'.
On Saturday, things got pretty furious on the second stage with L.A. hardcore stalwarts ROTTING OUT and Central Massachusetts' own BANE. The main stage had a great mix of bands. HUNG, PERIPHERY and PROTEST THE HERO each put a spin on progressive metal. HUNTRESS, a much-buzzed-about new band, delivered a searing set built from the twin-guitar blow-outs created by Blake Meahl and Ian Alden and the operatic turns of bewitching singer Jill Janus.
IWRESTLEDABEARONCE had heavy underpinnings but also seemed to be unfocused as it bounced around genre shifts within songs almost more for the sake of showing that the band could pull off the switches rather than making those contrasts meaningful or interesting. UNEARTH and GOD FORBID were a couple of Metalfest vets who enjoyed a hero's welcome when they hit the stage. In response, both bands just bore down with relentless, fast-paced sets steeped in mayhem and aggression.
OVERKILL defied time, brandishing thrash-metal classics from the 1980s liking there were freshly made and still piping hot. DRAGONFORCE launched its North American tour from Metalfest. New singer Marc Hudson had a slow start but as the set moved along, the band seemed to find its groove. DragonForce guitarists Herman Li and Sam Totman still run that show, and they were predictably dazzling.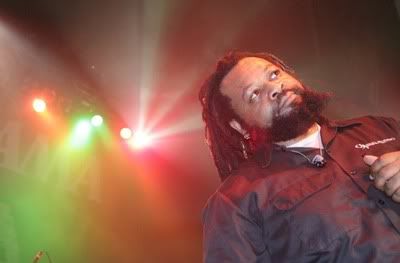 All That Remains revelled in its headlining slot, as singer Phil Labonte mentioned more than once how unreal it felt to be a band "from down the road" headlining one of heavy music's premier annual events. Labonte and guitarist Oli Herbert have navigated All That Remains across a varied career, and together manage to balance the more melodic material with the older, more brutal songs. The diversity of songs gave All That Remains' set a dynamic swing.
Sunday had a more modern feel to the programming. Volumes brought a hip-hop flourish with its vocals, and Attila fused some Southern boogie into its metalcore.
Texas in July had a breakout set on the main stage, playing with a kinetic zeal that will hopefully find its way into the band's forthcoming album.
A big contingent of Christian bands played Sunday (coincidence? I think not), with MYCHILDREN, MYBRIDE, FOR TODAY and SLEEPING GIANT adding a bit of praise in their respective thunder.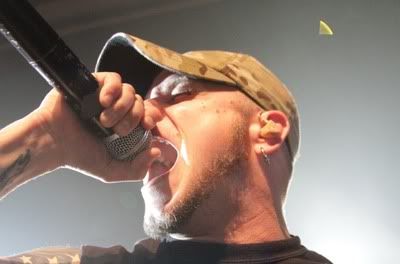 The young CHELSEA GRIN and UPON A BURNING BODY plunged into maniacal mash-ups of metal and hardcore. But from the same scene, VANNA seemed most deft at the mix-and-match game, seamlessly stitching smooth grooves, brutal breakdowns and stinging guitar shred.
EVERY TIME I DIE likewise showed itself still warping the metal into near-psychedelic blow-outs - not the jam-kind of psychedelic, but more so the "crazy person hitting you in the head" kind of psychedelic.
After ETID, a curtain dropped in front of the main stage, adding to the drama of Killswitch Engage's impending arrival. PEACHES AND HERB's 'Reunited' started blasting from the house sound system as photos of Leach and his KsE mates flickered on screens at either side of the stage. The curtain dropped to reveal a banner bearing the cover of Alive or Just Breathing, and the band began by blasting through the first three songs off of that breakthrough record. Leach sounded far more in control of his chaotic vocal style than he did during his earlier run with KsE. This more disciplined approach actually better illuminated the songs, getting straight at the plunges into heavy darkness and eventual cathartic releases built into the tunes.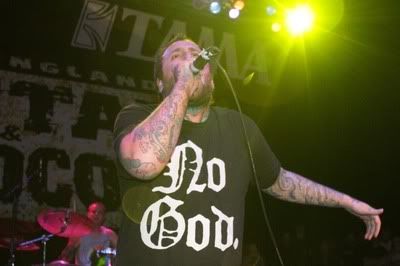 On the musical end, nothing has slowed in the overall KsE attack, with Adam D deploying zig-zag guitar squalls amid a barrage of heavy chug. Leach put to rest any questions about how the band would handle songs originally created with Howard Jones, the singer who replaced him in 2002 and stayed with the band for a commercially vibrant decade. Leach dedicated 'Rose Of Sharyn' to Jones, and throughout the set peppered in songs from the albums Jones worked on. Nothing at Metalfest was quite as explosive as when KsE played an encore that paired 'Last Serenade' from the 'Breathing' album and the band's signature cover of DIO's 'Holy Diver'. The metal gods were surely appeased.
(Note: Scott McLennan is a freelance music journalist and correspondent for The Boston Globe newspaper. He was the music columnist for the Worcester Telegram & Gazette newspaper and has been covering the New England Metal and Hardcore Festival since its inception. Sam McLennan studies film production at Boston University