ACCEPT's Wolf Hoffmann - "I Don't Feel Like 'Balls To The Wall' Has Been A Burden"
May 5, 2011, 6 years ago
ACCEPT returned to Montreal on April 17th and BraveWords.com was there to witness a band at its peak. Accept in the 1980's were good, but now they're simply untouchable. New vocalist, Mark Tornillo, has brought an urgency and renewed vigour to a band that just a few years ago were on critical life support. We sat down with guitarist Wolf Hoffmann for a quick ten-minute pre-show chat to find out what's next for the band that has re-defined the word comeback.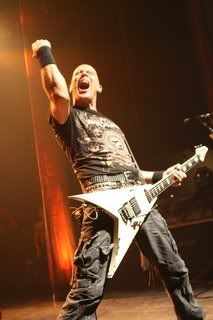 BraveWords.com: The album and touring cycle for Blood Of The Nations is coming to an end. What's next for the band?
Wolf Hoffmann: "Theoretically, we could keep touring until the cows come home, but we've decided to pull the plug in July to concentrate on writing new songs. We think it's more important to get fresh material out as soon as we can because the momentum is still there and we have a lot of new ideas and energy."
BraveWords.com: Do you make a similar styled hard rock album or do you start experimenting?
Hoffmann: "You never really know, but the goal is to crank out another one just like Blood Of Nations. We want to keep the same vibe, but it's obviously always hard to say before you start doing it. Who knows where the wind will take us? Theoretically, we shouldn't stray off the beaten path."
BraveWords.com: You tried bringing in a new singer once before (with David Reese) and it wasn't as successful as you may have hoped. Were you scared starting over with Mark?
Hoffmann: "You can't be scared, but we were totally aware of what people might say, 'it didn't work once, so it's not going to work this time'. We felt that was a little unfair. It was like saying, to me, 'you married the wrong woman once, you got divorced, so why are you trying again?' Nobody would say that. So, just because we had the wrong singer once; it doesn't mean we can't find the right one. Obviously, this time we did. It's worked great."
BraveWords.com: Are you amazed that a lot of Accept fans' aren't calling Blood Of Nations a great album? They are, in fact, saying it's the greatest Accept album ever.
Hoffmann: "It's awesome if they do say that. Like I said before, we were not afraid, but very aware that people would jump on any mistake we'd make and say, "see see see – I told you'. So, we tried extra hard to make the best album we could and we're going to try the same on the next one."
BraveWords.com: You've done some work outside of the band including a classical solo record. Will you do more or have you given up on that?
Hoffmann: "There's been something in the pipeline for a long long time, but it's so involved that it has taken years to put together. It's another classical follow-up project. There will be another record eventually, but I'd much rather go on tour with a project like that instead of just making 'another album'. As everybody knows, albums are nice, but you can't make a whole career out of just albums anymore. It's about playing live and that's why I thought if I'm ever going to do anything else wouldn't it be much cooler if I put together a whole touring project based around that kind of music, but that's where the problem lies…"
BraveWords.com: Especially, with the new found success of Accept. You can't just abandon the band to go do that.
Hoffmann: "Exactly and right now… I've spent the last two years doing nothing but this (Accept)."
BraveWords.com: Are you interested in exploring any other musical genres as a solo artist? Would you make a Wolf Hoffmann jazz album?
Hoffmann: "No, and I would never consider anything metal that is not Accept. People always ask me, 'why didn't you put together another band when Accept wasn't around?'
BraveWords.com: You did play with Sebastian Bach (ex-SKID ROW)…
Hoffmann: "Yeah, just once and it took a week to do it. It was fun, but it wasn't meant to be anything but that. I've always felt that if I did anything it would immediately be compared to Accept because I am so Accept. I've written most of these riffs… whatever I did would be compared and it would be like being in a cover band because live I would eventually have to play the same songs."
BraveWords.com: Right, you'd have the new whatever Wolf band, but still be playing Balls To The Wall every night.
Hoffmann: "Exactly and I would never want to do that. It's got to be the real thing or nothing."
BraveWords.com: A lot of people believe that Accept is an '80s band, but you actually got your start in the '70s.
Hoffmann: "Well, barely. The first record came out in '79. Our roots are in the '70s that's true…"
BraveWords.com: Are you amazed that you've been able to sustain a career this long?
Hoffmann: "Yes, of course. What amazes me more than anything is the fact that we've been away for so long – fourteen or fifteen years with a brief little thing (festivals in between), but mainly we haven't made music in fourteen years and that we can come back, make music and the fans are still there. My gosh – who's got that luxury? As long as the chemistry in the band stays good – we can do anything. The sky is the limit. Right now, we're getting along great. Our working relationship is awesome – everybody is pulling in the same direction. We can do anything at this point and there are nights on stage where we feel that 'tonight we're the best band in the world.' It feels that way."
BraveWords.com: The last time I saw Accept in Montreal – you were opening for KISS…
Hoffmann: "That was a phenomenal tour. It was 1984. That was our first year in America (and Canada) – and the first thing we ever did was KISS. That was quite a coup to land that gig."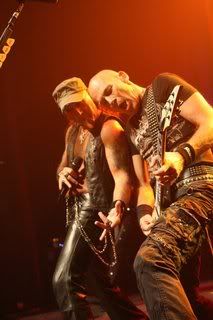 BraveWords.com: How was it touring with KISS back then?
Hoffmann: "It was eye-opening and super professional. It showed us how touring is done on a totally upper level compared to what we were used to in Europe. We're talking multiple trucks, everything is fork lifted in… there's a tour manager, a stage manager, a production manager and all these kinds of things that we had never seen."
BraveWords.com: Will you be releasing a live DVD or CD to capture the renewed Accept?
Hoffmann: "Eventually – yeah. We've talked about it because a lot of fans have asked about it. I'm feeling we might want to wait…"
BraveWords.com: For the next go round?
Hoffmann: "Yeah, because we would obviously like to include a lot of new material in a DVD and I don't think it's a good idea to have yet another DVD with 'Balls To The Wall' and 'Princess Of The Dawn' (that have been released so many times). I'd rather wait until we have more new material out before we do it."
BraveWords.com: I once spoke to THE KNACK's Doug Fieger who said that their hit 'My Sharona' became a golden albatross around his neck. Is that how you feel about Balls To The Wall?
Hoffman: "I don't feel like it's a burden. Yes, that's the best-known song, but we've got other songs like Fast As A Shark, Restless & Wild and Princess Of The Dawn that are equally well known to the metal fans… The real metal fans, so I don't feel that we're this one-hit wonder that never did anything else."
BraveWords.com: A few years ago, you did some shows with Udo and it didn't work out in the end…
Hoffmann: "He said it himself that he could never imagine writing songs with us again… That it would have been a disaster and that there was no chemistry. If somebody feels like that, obviously, there's no future."
BraveWords.com: Was it a disappointment to you that you couldn't get the original line-up to work again?
Hoffmann: "No, it's been such a long time that you can't talk about disappointment at this point."
Be sure to catch Accept on tour and for more information Acceptworldwide.com.