ACCEPT's Wolf Hoffmann Talks KREATOR Tour, Stalingrad, Success With A New Singer - "These Last Two Or Three Years Have Been An Amazing Story In Itself"
September 11, 2012, 2 years ago
ACCEPT's original guitarist and founding member Wolf Hoffmann and bandmates Peter Baltes (bass), Herman Frank (guitar), Stefan Schwarzmann (drums) and Mark Tornillo (vocals) are preparing to unload some serious teutonic heavy metal wrath with fellow German headbangers KREATOR in the form of a 23-date trek aptly dubbed the The North American Teutonic Terror Attack Tour which kicks off in the US on September 5th in Washington, D.C. and runs until October fourth in Charlotte, North Carolina. Accept is still enjoying the acclaim of their latest release, Stalingrad, which proved to many diehard fans that the band could indeed produce another album worthy of what many called it's comeback album, Blood Of The Nations, the first Accept album to feature singer Mark Tornillo. Now, with Stalingrad breaking down all speculation concerning whether Accept could forge onward again in a major way; the answer is a definitive yes! BraveWords.com correspondent Matthew O'Shaughnessy (from
WVOX.com
) was all ears as Accept guitarist Wolf Hoffmann talked about the group's impending tour with Kreator, working with producer Andy Sneap once again and more.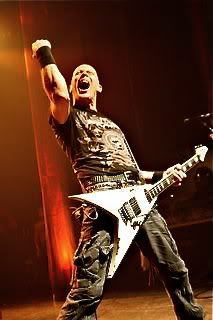 BraveWords.com: Life is good these days in the Accept camp. Wolf Hoffmann: "We're excited like never before! It's pretty awesome everything that is happening right now. We're very excited."  BraveWords.com: Stalingrad once again features producer Andy Sneap. Was it only natural to continue working with Andy at the helm? Wolf Hoffmann: "Yes, absolutely. We had such a great time and much success with what we did on Blood Of The Nations. It was a no-brainer to keep working with him. Why change it if it is not broken. It was just too good to be true. Why take any risks and luckily he had the time to do it and so it was just a natural decision." BraveWords.com:  In 2010, Accept came roaring back featuring new singer Mark Tornillo. By all accounts Mark and Accept were and are a perfect fit. What are your thoughts on the last two-three years; they were pivotal years for Accept. Wolf Hoffmann: "These last two or three years have been an amazing story in itself. Here we were one day doing a little jam session and by accident we meet Mark and we decided to re-launch Accept and get it all going again. But nobody could have anticipated it that it went this well. We were hoping for the best obviously, but we were also bracing for anything that could happen because changing the lead singer is never an easy task; so we are super excited that the fans really accepted us and have embraced us as they have. I mean nobody could have hoped for anything more than what had happened. Here we are two albums down the road and hundreds of shows together. It's just gone phenomenal!" BraveWords.com: Stalingrad is a great testimony of Accept's old school approach to heavy metal. Is this what classic heavy metal sounds like in 2012? Wolf Hoffmann: "I would like to think so! We try to give it that classic feel and a modern sound; we're old school guys in a way. It's great to have Andy Sneap on board. He gives us that edgier, newer kind of sound with the way that he produces things. It's a perfect combination. I think we sound better than we ever have."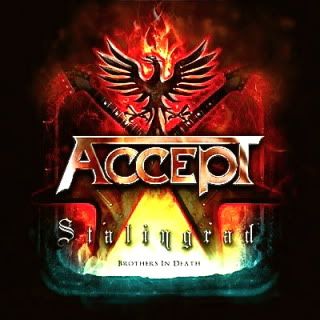 BraveWords.com:  The North American Teutonic Terror Attack Tour with fellow German metallers Kreator is a raging and formidable bill. What are your thoughts on the tour? Wolf Hoffman: "It's going to be awesome! For the first time ever we are going to be teaming up with Kreator who have been very active and have had a long career in Germany and worldwide. For the first time we are going to be hitting the road with them and I think it's going to be an awesome package for the fans to see; two strong German acts like that together. I can't wait to see what it's going to be like!" BraveWords.com: Accept has one of the deepest catalogues of music along with your new album, Stalingrad.  Will it be easy to comprise the set-list on this tour? Wolf Hoffmann: "It's never easy, of course. It gets harder and harder. But it's a good problem to have. We just sort of toss it around. Sometimes we even change it up on the road. We have a fairly strong idea what the fans want to hear; we have these songs which are sort of hundred percent must play kind of songs and we do them. And then we sprinkle in the occasional surprise. You can never please everyone. That's just the way it is. I think it's a good problem to have." BraveWords.com:  Wolf, if you were to give your fans a little look into the set-list, what songs is Accept featuring on this tour with Kreator? Wolf Hoffmann: "We have classics like 'Balls To the Wall', 'Fast As A Shark', 'Princess Of The Dawn', 'Restless And Wild'. Then we have a little more obscure songs like 'Losers And Winners' or 'Aiming High'. But, honestly, we want to feature the new album, Stalingrad. We are going to do at least three or four songs from the new album. We are very proud of that album and it pairs up really nicely with the old classics."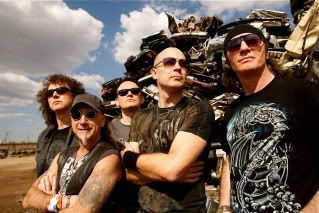 BraveWords.com: You mentioned old school heavy that you feel Accept features. That kind of music has never gone out of style. Wolf Hoffmann: "Yeah, I think it is a great form of music and genre. We were definitely at the forefront of this whole thing or part of it. There was the New Wave Of British Heavy Metal back in the day. I guess we were the German division of that in a weird way. We came up along the same time with all those bands from back then and we are still here. It's makes us very proud." BraveWords.com: In 1981, Accept's legendary Breaker album is unleashed. What are your thoughts on the bands early days? Accept has certainly endured a lot of trends and fads in the music business. And has always stuck to its guns. Wolf Hoffmann: "Thank you very much. It is very kind of you to say that. I mean back in those early days, we were all struggling to make a name for ourselves. We went to neighbouring countries around Europe to sort of establish ourselves. I would say in the mid 1980's – 1985 – we really sort of became a household name in the genre. It feels great to look back at all those years and to have become part of the scene and to be really respected by a lot of people." BraveWords.com: Accept certainly has influenced many bands over the years. Wolf Hoffmann: "That's true. I've heard that many, many times. Especially, our song 'Fast As A Shark' from Restless And Wild that really influenced a lot of people. I've talked to a lot of other musicians in the thrash genre who told me that really opened their eyes and it made them become who they are still to this day. We are very proud to have sparked the fire for these bands. Even though we never really considered ourselves thrash."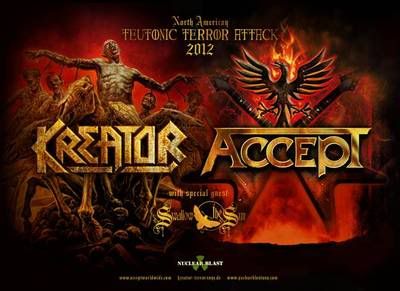 North American Teutonic Terror Attack featuring Accept, Kreator and Swallow The Sun dates: September 5 - Howard Theater – Washington, D.C. 6 - The Trocadero – Philadelphia, PA 7 - Best Buy Theater – New York, NY 8 - The Palladium – Worcester, MA 10 - Metropolis – Montreal, QC 11 - Imperial de Quebec - Quebec City, QC 12 - Phoenix Concert Theatre – Toronto, ON 14 - Newport Music Hall – Columbus, OH 15 - Mojoe's – Joliet, IL 16 - The Beaumont Club – Kansas City, MO 18 - Gothic Theater – Englewood, CO 19 - The Complex – Salt Lake City, UT 21 - Rickshaw Theater – Vancouver, B.C. 22 - Showbox at the Market – Seattle, WA 23 - Roseland Theater – Portland, OR 25 - The Grand Ballroom – San Francisco, CA 26 - The Avalon – Hollywood, CA 27 - The Grove – Anaheim, CA 28 - Marquee Theatre – Tempe, AZ 30 - Emo's East – Austin, TX October 1 - Trees – Dallas, TX 2 - House Of Blues – New Orleans, LA 4 - Tremont Music Hall – Charlotte, NC