ADDICTED TO PAIN - Megaforce Adds To Their Thrash Roots
September 10, 2010, 7 years ago
Having earned immediate recognition within the thrash community through having the likes of METALLICA, ANTHRAX and TESTAMENT on their roster at one point, even in 2010 Megaforce Records is keen to support new thrash talent. Predominantly relying on early '80s pure-bred thrash, New York's ADDICTED TO PAIN are due to issue a self-titled EP.
"We've got pretty wide influences" stresses vocalist / guitarist Leo Curley, formerly of BIOHAZARD. "Addicted To Pain is a three-piece band, so we all have a lot of influence as to what the final thing is gonna sound like. Our drummer is really into older bands like SABBATH and PRIEST, and even rock – he's a STONES fanatic. I grew up a lot on New York hardcore and the metal bands that came out of that scene; early bands like AGNOSTIC FRONT and all that stuff. That evolved into LEEWAY and LUDICHRIST, bands that had a little bit more of a metal edge to them – more leads. Anything that's got killer bass, our bassist is a fan of. We have wide musical influences, but when we pull it all together, it all comes out."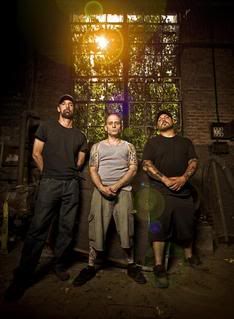 Producing the outfit's self-titled EP was Alex Perialas, whose curriculum vitae Addicted To Pain are wholly aware of. "He engineered some of the early Anthrax records, S.O.D., FLOTSAM AND JESTSAM, VIO-LENCE – all the old thrash stuff. We got the opportunity to record this with him, so we're all a nice, little family together."
Consisting of four tunes – 'Here N Now', 'Trust Me', 'Abigail', and 'Going Going Gone' – Curley describes the EP as "a really good mix". "The first song on the EP – 'Here N Now' – is actually one of the oldest songs that we wrote. When we got this band together, we didn't have any real aspirations of bringing it to a big business level, so those first batch of songs are really straight from the heart. We've kept writing that way, and a couple of these newer songs we brought to Alex were just basically basically skeletons of songs. Alex really pulled them together, and made songs out of them like 'Trust Me', and 'Going Going Gone'. The EP is a good mix of brand new songs that were not even finished, and some older songs that have been there since the beginning of the band."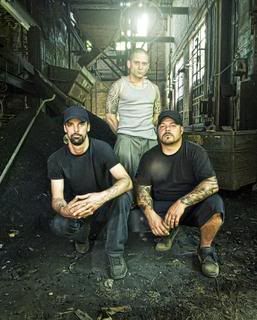 An array of lyrical themes surface on Addicted To Pain's inaugural outing, and one such topic is politically charged. "I hate politically themed music, but a couple of them sorta came out that way; I'm really disgusted with the system, and the wars and all that stuff that's going on right now. That influenced me enough that it ended up creeping out in my music. Then there are songs like 'Abigail', which is your typical "somebody rips your heart out and the rest is what's left over" type of track. 'Trust Me' was one that really went through a lot of vocal rewrites in the studio. I went back to that one two or three times with Alex, and it just turned into... I dunno how you'd describe it (laughs). If you wanna rip somebody's face off, then put that song on."
Addicted To Pain's self-titled EP will be issued through Megaforce Records on September 14th, and will also be available to purchase through iTunes.
For more info visit Myspace.com/addictedtopain.