ARCH ENEMY - Rage And Rebellion: A Decade Of Dominance
May 10, 2011, 7 years ago
Time flies when you're ripping apart preconceived notions.
Ten years ago Arch Enemy embarked on a journey that sounded a lot like career suicide, at least on paper. The introduction of vocalist Angela Gossow in 2000 as the replacement for founding singer, Johan Liiva, was dismissed as a sick joke by some and a guaranteed car crash by others, all before a single throat-grinding note was heard. Those predictions were silenced with the release of Wages Of Sin in 2001, the album that jumpstarted Arch Enemy's five-years-young career and inadvertently kicked the door open for women interested in entering the realms of death metal. Guitarist Michael Amott and axe-wielding brother Chris were forgiven by all but the hardest-nosed fans for the scare, and Gossow went on to become one of the most recognized – and easily the most intimidating – women in metal, performance first and eye-candy second.
A decade later, Arch Enemy is by all accounts in better shape than ever. Self-managed and calling their own shots, they have unleashed the brazen and twisted Khaos Legions, a record that is sure to please diehard fans and, at press time, had earned them a decent amount of flak. All as expected, according to Amott, but he isn't letting any of the critics get him down.
"This album is kind of nuts; it goes all over the place," he says "It's a very exciting record for me because it encapsulates everything that Arch Enemy is about. It was written over a four year period, so I think that's why it's got a lot of depth and girth."
"I think that's because Michael and Chris really enjoyed writing together again," Gossow adds. "They haven't had the chance to do that for a while. It was the first studio album they've work on together since Doomsday Machine. Chris left because he felt under-motivated, and it was the first time in five or six years that Chris really got into the songwriting. There's a lot of stuff happening on it. I think it's one of those albums you do have to listen to a few times to actually get everything out of it."
"I guess we took a 'more is more' approach to this record," Amott continues. "I don't know how to explain it. We knew we had to have kick-ass production on this one because we weren't entirely happy with how the last album (Rise Of The Tyrant) turned out. It was kind of rushed in the mix. We knew we had to come back with something really good because it's been four years since the Tyrant album. We've kept the fans waiting long enough. Root Of All Evil was cool to do but it wasn't creative at all, if you know what I mean. We were itching to get into the studio and record all the things we've been talking about backstage for the last few years."
One of those things may have been a track destined to stir up the Arch Enemy fanbase the moment it was brought to the table. The song 'No Gods, No Masters' sticks out like a mojito at a keg party, a seemingly out-of-character metal-meets rock-anthem loaded with commercially accessible hooks and melodies. Just the sort of thing to make fans think the band has lost its collective mind yet again.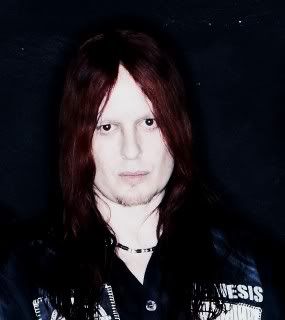 "Yeah, and combined with those lyrics… I don't know how people are going to react," laughs Amott. "That's Angela for you."
"Oh yeah, it's awesome!" Gossow says of the buzz it has created. "We put it on the special Metal Hammer sampler that went out in April, and of course the song was uploaded onto YouTube. People are loving and hating the track, so it's obviously going to be a massive hit (laughs). There are people that are screaming 'The songs are terrible! This is not Arch Enemy!' and they haven't even heard the whole album yet. It's our festival friendly track because we were actually thinking about big festivals like Rock am Ring and Rock im Park (in Germany), where there are people who have never heard metal or Arch Enemy. When you do festivals like that you have to be careful and give the audience something to sing along with or stomp their feet to. We love doing those kinds of tracks. On Anthems Of Rebellion we had 'We Will Rise', and we have songs like 'Revolution Begins' and 'I Will Live Again'; this one fits with that bunch."
The songs surrounding 'No Gods, No Masters' are considerably heavier, much more in line with the diehard Arch Enemy fan's expectations. That said, the band is good for several twists and turns with regards to the levels of shred; see 'Cult Of Chaos' for what may well be the long awaited bookend to 'Nemesis', and 'Through The Eyes Of A Raven' and 'Cruelty Without Beauty' for some uncharacteristic prog-heavy melodic thrash.
"There are things on this album that we've never done before as far as guitar stuff goes," says Amott. "There's a song called 'Blood Stained Cross' which is probably one of the most intense guitar tracks on the record. That's something different for us. As for 'Through The Eyes Of A Raven', that's a bit different for us. It's got a Scandinavian feel to it, actually, with a melancholic Nordic thing going on in the chorus. There are some really odd tempo changes in that song. We try to steer away from being too formulated in the way we write and doing exactly what people expect. We write what we think the fans want to hear, but with a twist."
The new songs were also written with the stage in mind, which Gossow figures is symptomatic of a band that makes a living through touring rather than over-the-top record sales.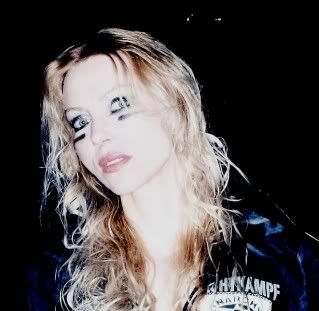 "The cool thing is we actually jam a lot, so when you're jamming and writing you already have that vibe," she says. "That's when you stand in the rehearsal room saying 'That song is going to sound awesome live.' It switches on automatically with us."
"We do a lot of jamming backstage or on the tour bus and record the ideas on our phones or a laptop, so we were collecting ideas" adds Amott. "The last six to eight months has been spent compiling all the material and turning them into songs."
Let the bitching commence with regards to the songs on Khaos Legions having too much of one thing and not enough of the other – death metal vs melodic guitar leads vs extreme vocals – but the album is, as Amott says, the most diverse album in the Arch Enemy catalogue. On this one point there can be no argument.
"I guess we don't have an overnight success with this record," Amott laughs, "but that's always been the story with this band. We all have such a wide spectrum of influences and we just cram everything in there. There's a lot of creativity that went into making these songs. I don't know if people always get that, but we've got a diehard fanbase and it's steadily growing, so we're quite happy with that."
"It's been a slow build for Arch Enemy but it's been very steady. I'm really impressed with our fans. There are people that take potshots at us, of course, but we get a lot of love from our fanbase. We have a big live following, and that's the most fun. We live to do this."
For Gossow it's been a decade-long rollercoaster ride, going from being slagged at the gate to being regarded as one of the strongest and inspirational female metal vocalists of our time.
"At that point I was very nervous, obviously," Gossow says of her early Arch Enemy years. "Looking back, I love Wages Of Sin as it is. It's got its own vibe and I only have good memories of making that album. I don't find anything wrong with it. Nowadays, we're just so happy to be where we are. We know the fans are going to like the new album because we don't record crap, so it's an awesome place to be."
Especially considering most people figured Arch Enemy would crash and burn – or at least falter in spectacular delete bin fashion – with a woman up front.
"Yeah, those people who predicted I wouldn't last a year… looking back now, I find it funny (laughs)."