CRIMSON GLORY - Midnight Eternal
September 10, 2009, 9 years ago
John Patrick McDonald Jr. was a legend long before he passed away.
Better known within metal circles as Crimson Glory vocalist Midnight, he left us on July 8th, 2009 at the age of 47 after suffering kidney and liver failure. A tragic loss for those that knew and loved him, and for the legion of fans that have followed Crimson Glory since the '80s. Like the band, Midnight was undeniably unique, a force of nature that entranced his audience with every note and melody uttered. Crimson Glory's first two albums – their self-titled '86 debut and the 1988 breakthrough, Transcendence – are a testament to his talents when he was at the top of his game, the latter of the two regarded to this day by many as the perfect prog metal record. In an exclusive interview with BW&BK;, guitarist Jon Drenning discussed Midnight's passing, the band's legacy, and their upcoming September 11th ProgPower USA show as a tribute to their fallen singer.
"Losing Midnight came as a big shock to us," says Drenning. "His health had been up and down, and I received a phone call from Ben Jackson saying that he'd received a call saying Midnight was in the hospital and that he wasn't doing very well. We went there immediately and spent the afternoon with him until we had to leave, when visiting hours were over. Only family members were allowed to remain and he passed away that night."
"It was very sudden. Midnight had been healthier than ever, he'd been living with a lady that was very good for him, he'd been eating well and celebrating with friends, recording lots of new music. He was healthier than he'd been in a while, so it was a surprise he got sick like he did."
Midnight's battle with alcoholism is a matter of public record, having begun around the time of the Strange And beautiful record (1991), but Drenning shoots down the suggestions and claims that his death was caused by his drinking.
"I think it's very important that I clarify something: Midnight did not die from drinking himself to death like people have been saying. He suffered from an aneurysm in his stomach. He was bleeding internally for four days. Midnight was very stubborn about going to the doctor. His girlfriend took him to the hospital, to the emergency room, because he was coughing up blood and she was worried about him, and he wouldn't go in. He said, 'Don't worry, I'll be fine...' I guess it had happened before and just went away."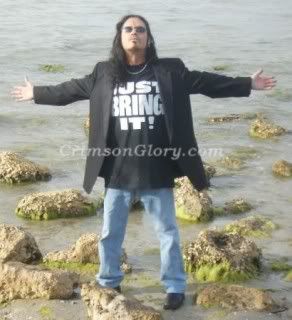 "Midnight had been known for years for drinking too much," Drenning concedes. "That was always his crutch. However, he'd been healthy in his last days. He ruptured a blood vessel in his stomach - he could have done it singing, he could have done it coughing - and was bleeding internally. When he finally went to the hospital four days later there was so much blood in his stomach they couldn't figure out where the bleeding was coming from. Because they couldn't stop it, that's why his kidney and liver shut down. When there's a massive loss of blood that's what happens; the major organs shut down one at a time. He went into a coma and they couldn't get him back."
"This all could have been avoided if he'd gone to the doctor when he first started having the symptoms, any time within those four days prior to his death. He'd be alive today. It's very shocking that it happened so suddenly. His own stubbornness determined his fate."
Drenning sounds as if he's battling both sadness and anger in describing the tragic events, but in the end he has nothing but admiration and respect for his fallen friend.
"Midnight lived a lifetime in 47 years. He was very eccentric, he was a beautiful person. He loved people, he loved his fans. He wanted to be a singer, a painter, a poet. That's what he cared about, and as long as he was doing that he was happy. Midnight was a very troubled soul but I couldn't tell you why because he was loved very much by his family, his bandmates and his friends. He had no real reason to have these troubles that he had. It was almost as if this earthly realm wasn't right for him and he knew it."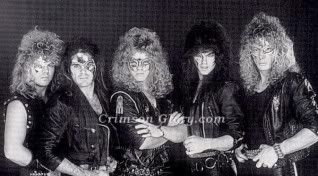 "We always had a good relationship," he continues, addressing the issue of the supposed in-fighting that led to Midnight's initial split with Crimson Glory. "We fought like brothers, we all did, but we loved each other dearly. The band was together for 30 years; we grew up together, we were teenagers when we first met and we knew each other very well. We'd argue with Midnight because he'd be drinking too much and we wanted him to get healthy because it was taking a toll on him and his singing abilities. One of the reasons Midnight and I had such a contentious relationship is that I was always pushing him to be better and greater and to reach his full potential. It frustrated all of us in the band to no end because we just wanted him to be the Midnight we knew he could be. He was so special, he was so amazing, so to see him drinking so much and fading away health-wise was really hard for us to deal with. We all helped him any way we possibly could but Midnight was notoriously stubborn, and when it came to his own health he just would not bend. Ultimately that stubbornness is what caused his fate. He could be alive today."
Looking back on Crimson Glory's accomplishments and resulting legacy, Drenning credits Midnight as being the final element to give the band its signature sound. The songs and the technical prowess was already in place, but Midnight's entrance allowed Crimson Glory to push the bar higher than they'd expected.
"We knew Midnight was special from the moment we heard him," states Drenning. "He wasn't really a heavy metal fan, he didn't really dig it. He was a fan of Led Zeppelin and Pink Floyd-styled things, and I think he developed his emotions as a singer listening to Roger Waters and Robert Plant. He really communicated intense emotions with his words, be it happiness or sadness. It was amazing. His vocal range… when we started working on the songs we discovered he had this incredibly high range with a full voice. It wasn't one of these falsetto voices, definitely not like King Diamond. Midnight's voice was much more pure and raw. He'd hit those notes and we knew that he could do heavy metal. In our first rehearsals he was doing those high notes and we knew Midnight was special."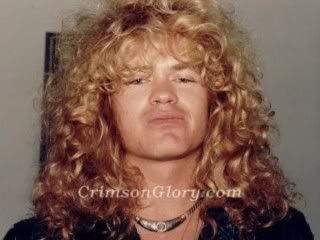 "We turned Midnight on to listening to Judas Priest, Iron Maiden, the Scorpions and some other European metal bands to give him an idea of what we were looking for," Drenning adds. "He had the range, and he started applying his own sound to it and giving us what we were looking for, and he developed his own style. I think he was one of the greatest metal singers of all time. I've heard a lot of great singers over the years but I haven't heard anyone with the ability Midnight had. Particularly his ability to convey emotion."
"When Midnight and the rest of us would get together and talk about creating music, we wanted to make music that was truly timeless. We didn't want to be just another band. We wanted to be big like the bands we admire, like Pink Floyd and Led Zeppelin, the legendary bands that wrote music that was larger than life. We wanted to be in that realm so we always had a goal to be something that was truly special. We wanted to create a sound that was unique and melodies that were memorable. I think ultimately if you can achieve those things your music can be timeless, but you have to really work at it. Ultimately time determines your success. Maybe not financially, but on a musical level. We wanted Crimson Glory's music to last forever."
On September 11th, 2009 the band will hit the stage with a compliment of at least 14 singers over the course of the evening for a special tribute show to Midnight at ProgPower USA X. Vocalist Wade Black, who performed in Midnight's place on the 1999 Crimson Glory comeback, Astronomica, will also be on hand for the show.
"We're doing this ProgPower Festival and we're bringing in about 14 singers for one Crimson Glory set," Drenning explains. "That should tell you how great Midnight was; it takes 14 singers to replace him (laughs). We want to do things this way because we want to honour Midnight and his music, and the 25th anniversary of the band is coming up. To have all these great singers come up and perform with is quite an honour, and we're privileged to have them all on board. It should be captured for posterity and for the fans to have because it's something special. We want to keep Midnight's legacy alive. He was special to us, he was special to so many fans and other musicians around the world."
"All the singers are rehearsing on their own, and they're going to emulate Midnight as they hear him on the records. We're going to play the songs as they were recorded, so there shouldn't be an issue. They're all professionals, they know what they're supposed to do, so I'm confident will work out. Wade Black will be there, on hand in case anything goes wrong, ready to go."

Following the tribute show, Drenning reveals that he and his bandmates plan to revive Crimson Glory once again as a further tribute to the legacy Midnight left behind.
"I can't tell you who's going to be singing on the next record because we haven't made that final decision, but at this time Wade is the singer for the band and we're very happy to have him on board. He gives us the opportunity to make a bridge to the future. We're keeping our eyes and ears open, though, so I guess I should say we're not closing the door to anything. We're open to new ideas and working with other singers, but we haven't made that decision yet."
A surprising move, perhaps, but to Drenning's mind a new album is the best way to keep Midnight's spirit alive.
"Midnight's passing certainly gave us a wake up call that our lives are fragile and that we need to use our time wisely. Even in death Midnight is still our singer, and he helped this band obtain our success. We all held on to hope that we'd work with him again – that was always our intention – and we'd rather not make a record with out him. That's why Crimson Glory has been silent for so many years. Over the last few years we actually talked about the band's 25th anniversary, that we should get together and do something special for it. We would have done it if Midnight was alive today. I don't want his death to be in vain, so I want to get out there and do the best I can to represent Midnight and Crimson Glory's music."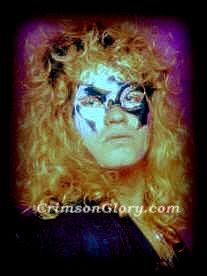 Additional interview material is available at the following locations:
A Tribute To Midnight — Part 1: Danaë Saree Drenning
A Tribute To Midnight — Part 2: The Truth About Strange And Beautiful
(Crimson Glory era pictures courtesy of Jon Drenning)