Former JUDAS PRIEST Singer AL ATKINS - "Sad Wings Of Destiny Was Incredible And I Think Was A Benchmark For A Long, Long Time To Come For Priest"
July 19, 2012, 5 years ago
Former JUDAS PRIEST singer AL ATKINS spoke with BraveWords.com correspondent Matthew O'Shaughnessy (from WVOX.com) about his roots hailing from the 'home of metal' (Birmingham), time spent with the 'Metal Gods', his autobiography and current life as a solo artist.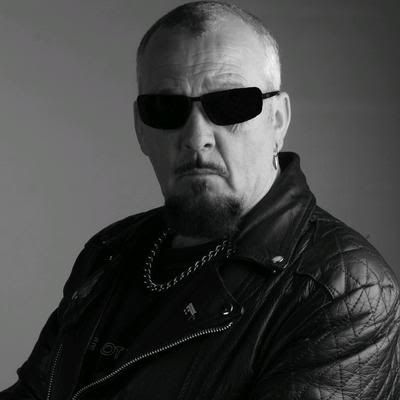 WVOX. com: Your influence on rock music continues to reverberate today. Many credit you as being one of the founding fathers of what became known as heavy metal.  In the 1960's, you were fronting bands like the BITTA SWEET on the club circuits in Britain. You eventually formed Judas Priest in 1969. What were the very early days like?
Al Atkins: "I always wanted to play the heavier side of music. It was 1968 and I saw a couple of bands and the one which blew me away was DEEP PURPLE. They were doing an exibition for Marshall Amplification in Birmingham and me and my bass player were asked to go along and they were like a step up from what everybody else was doing. Ian Gillian's very high vocals, Ritchie Blackmore, etc.  Also on the scene at the time was BLACK SABBATH who were already making a name for themself at the time. This was like 1968-1969. We said let's go down that route. Let's get heavier and and we came up with the name Judas Priest. We thought people would take notice to this name like Black Sabbath. There's nobod in Judas Priest from the very, very original 1969 line-up.  We signed a record deal with Immediate Records in London - a guy named Andrew Loog Oldham. He was the guy who discovered THE ROLLING STONES in the early 1960's. He signed us up for a three year contract but just as we were putting some songs together for the album, the company went bust.  So we split up at the end of the year. But I decided to reform Judas Priest. That's when I met up with Ian Hill and K.K. Downing. K.K. was a quick learner. Obviously, K.K. and Ian went onto another 40 years and 40 million albums later on!"
WVOX.com: You co-wrote several of the classic Priest songs that were featured on the first two albums such as 'Victim Of Changes', 'Caviar And Meths', 'Never Satisfied' and more. Take us back in time again to those legendary days.
Al Atkins: "When we formed the 1970 lineup with KK and Ian you have to remember I was five years older than them and I sort of took hold of the reigns and said look I'll be the main songwriter and I'll be the frontman. We sort of went on until May 1973 when I decided to leave the band. We were very successful however. We played with so many bands such as THIN LIZZY, BUDGIE, SLADE, Black Sabbath.  It was a great time for learning. And it was a great learning curve for K.K. and Ian for what was about to come. Going back to the writing side of things; when Rob Halford came into the band, he did the whole set list of all my songs more or less.  I think there were three songs of mine on the Rocka Rolla album.  I didn't like the Rocka Rolla album.  I didn't think the drummer had enough back bone. But the second album, Sad Wings Of Destiny, was incredible and I think was a benchmark  for a long, long time to come for Priest."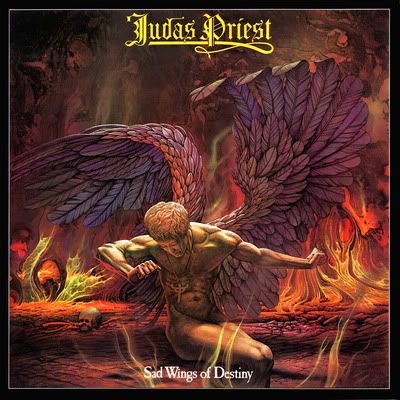 WVOX.com: You've penned a great book: Dawn Of The Metal Gods; My Life In Judas Priest And Heavy Metal. What essentially would you want people to come away with after reading this novel?
Al Atkins: "It's an insight into how things were in those heavy metal days in Birmingham. I've tried to get into as much detail as I can about the dingy clubs. Even going into the 1970's when I left Judas Priest and we had a band called Lion. I formed a band called LION with Pete Booth from Budgie, and my old bass player from the original Judas Priest. It was a strange time then.  There were strikes in England. Sometimes you'd be playing and all the electricity would go off in the club!  Then, all of a sudden, you had the punk evolution in Britain with bands like the SEX PISTOLS. We played with the Sex Pistols. The book is just an insight as to what was really going on into the 1970's of England, especially Birmingham. And I 'd like people to read and see what it was actually like."
WVOX.com: Was it easy putting the book together?
Al Atkins: "No! A DJ from Liverpool, a good friend of mine, said, 'You ought to put a book together.  You've got so many stories. Judas Priest had never done one. So why don't you do it.' And I said, 'Well, I could do it because I could go back to the 1969 period where Judas Priest couldn't talk about because they weren't in the band.' So, I thought, maybe people would find it interesting. But I found it really, really hard to get my brain in gear. It took me like three to four years of picking it up and putting my thoughts down and trying to get the facts and stories right as much as I could remember.  And bringing people in and going, 'What do you remember about this.' It was great to talk to some of the old roadies.  I mean, the one roadie I had was Keith Evans in Judas Priest and when he left Priest he became Angus Young's guitar roadie. He had great stories.  It was nice to talk to some of those people again and go back to those old days and what they could remember.  It was fantastic.  I always thought the road crew was as much a part of the band as the band themselves. They went through everything we went through.  Going back to the book, it was really hard to put together and try and get it as accurate as I could. But I was quite happy with it in the end.  It's been like nearly three years since I finished the book and so much has happened now."
WVOX.com:  Since your Priest days, you've unleashed six solo albums, fronted the band HOLY RAGE and now the ATKINS/MAY PROJECT with guitarist Paul May.  How, in your opinion, is your work in the Atkins/May project different or alike than your days in the early Judas Priest and Holy Rage?
Al Atkins: "It's completely different.  Because I am not that much involved with the writing side.  A lot of credit of this album goes to Paul May. It's been an absolute revelation for me lately because in the last year I've been a bit idle I must admit and the phone has been ringing, 'Can you guest on my album?' And I needed a kick up my ass to get me writing again myself.  But it's been absolutely brilliant because of Paul May; I met up with him when I split up with Holy Rage just over a year ago. He said, 'Can you help me do some vocals on the album?' And I said, 'Yeah sure, Paul.' He's been a great friend of mine for over twenty years. I went in singing a couple of tracks and I ended up doing the whole album.  It was absolutley fantastic.  There's a lot people who really don't make it big time who should have and Paul is one of those guys.  He should have made it along time ago.  I must give a lot of credit to Paul on the  album."
WVOX.com: You have another project, LYRAKA. It's a concept album. What can you tell us about that?
Al Atkins: "I got a call asking me to sing on the Lyraka 2 album. This one's going to be a double album, and it's a metal opera so to speak and features so many talented vocalists like Veronica Freeman, Rob Diaz,  Graham Bonnett, Liz Vandell (vocalist with Uli Jon Roth) and Robert Lowe (ex-CANDLEMASS) has also just joined up for the project.  It's going to be brilliant and a double cd.  It should be out by the beginning of next year."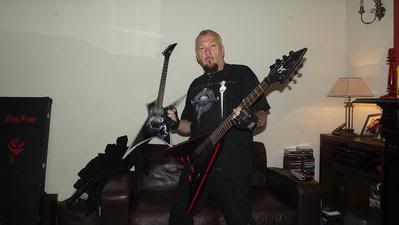 WVOX.com: You've been at this for a long time - four decades no less. What are the most significant changes you've witnessed in metal music?
Al Atkins: "Computers and the whole downloading of the artist's albums.  It's not great but it's one of those things you have to put up with now.  Also, from the old days in what I call classic British rock. The New Wave Of British Heavy Metal, etc. That was an unbelievable time! So much has changed. The kids now have so much to choose from whether it be death metal, speed metal - call it what you want."