KISS' 20 Years Of Revenge; Bruce Kulick - "I Think I Finally Impressed Them On Revenge"
May 29, 2012, 7 years ago
May 19th, 2012 marked the 20th anniversary of the brilliant KISS Revenge album. BraveWords.com has marked the passing of this landmark record with a series of interviews conducted in the last couple of weeks. Our first three parts focused on the lesser known heroes of KISS' greatest non-makeup album. In this, our fourth installment, we switch our attention to guitarist, Bruce Kulick, who had a long tenure with KISS and is still revered by the fans. BraveWords.com caught up with the veteran guitarist (and current member of GRAND FUNK RAILROAD) to discuss his work on KISS' classic, Revenge.
BraveWords.com: When the band went into the studio to record Revenge, Eric Carr had passed away, NIRVANA was breaking and KISS was coming out of a 'pop' phase. Was there a lot of pressure going in to make the album?
Bruce Kulick: "You have to remember that we evolved through those prior years. By Hot In The Shade we were a little more back to leather jackets and more straight ahead rock. To go from Asylum or Crazy Nights to Revenge would never have happened. So, it was a fair evolution. Getting Ezrin involved showed a real commitment. There's no doubt that Gene and Paul can produce. They're talented enough and opinionated enough. You need those qualities and they learned a lot from all the years and albums (they were making). However, I always find that when an artist produces themselves - there's always some compromising and they can't be pushed the way..."
BraveWords.com: It can be hard to self-criticize the music...
Kulick: "Right, but Ezrin is a task-master. They were cautious about him because of The Elder (which is actually a really interesting record), but it was a period when Bob was a little bit out of his mind and there was a lot of crazy things going on then, but that didn't matter because his talent was always there. He was in fighting form when we did the song for the Bill & Ted movie. That proved to us that Ezrin can do the record. Wisely, Gene and Paul had been skeptical and wanted to be sure that 'if we're going to hand over the helm. We want to be sure that he's in good shape.' And he was. So, there we were with a real producer who knows how to work with them and did some amazing stuff with them in the past. That really formed this 'take no prisoners' tough competitive... Just to compete with the history of the band. This was our Revenge (that we could still kick ass after all these years). Yeah, we took the make-up off, but were still on top of the game."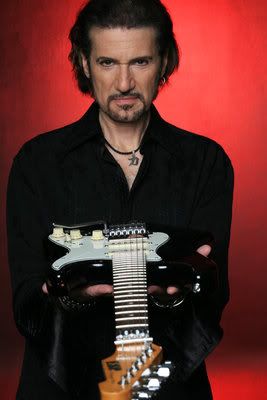 BraveWords.com: You had the added pressure of having a new drummer come in...
Kulick: "Yeah, but having a guy like Ezrin... If one of your elements or 'ingredients' is missing. You're going to get a great guy to take his place - period."
BraveWords.com: And Ezrin does that a lot...
Kulick: "When you think about some of the things that he's produced or the players that he goes to like a Dick Wagner - who I recently admitted is the guy that played the solo on 'Every Time I Look At You'. I did ask Gene and Paul not to discuss it because I was hurt (even though Dick is one of my heroes). It was still an honor and nobody (when you listen to the unplugged version of me doing it) would know any different. You wouldn't know that it wasn't me that played the electric solo. That wasn't to screw with my head, but they were under pressure to finish the song and I was on holiday. Those guys don't go away; they'll work straight through and the next thing I know is 'oh, there's a solo on it because you wanted to play it for the label? What?' It's an amazing solo and it's Dick Wagner. They didn't have to fly him in; he was in the other room working on demos. Now, getting back to the drums - we did audition drummers (some name guys and don't ask), but Eric was the guy. Losing Eric Carr was a hard thing to deal with. The emotional part was a drag and a really hard thing to deal with, but in terms of a task - the drummer is always the first to go. I'm not saying Eric Carr wouldn't have been able to play drums on this thing, but Ezrin would have been all over him and I know that."
BraveWords.com: He took Eric Carr out of The Elder on certain tracks. He brought it Alan Schwartzberg.
Kulick: "I wasn't even aware of that, so there you go."
BraveWords.com: Alan played on the song 'I' and also played on some tracks from the Animalize album.
Kulick: "I came in late there, so I wouldn't know. Ezrin did listen to him (Eric Carr) play, but he could tell that he was out of shape. How do you play at your competitive best if your undergoing chemotherapy and fighting cancer? It's crazy and really hard. I saw a couple of names guys come in and he (Ezrin) wasn't impressed, but with Eric (Singer) if he wasn't good enough - we'd work with him.  We'd rather not piece this out to a ton of session guys. Plus, Eric was comfortable with Paul having done the solo tour (and he did a good job). The only track he doesn't play on is 'Take It Off'. Ezrin didn't like what he had done, so Kevin Valentine came in. Eric Singer would have nailed it, but he had to leave (he had commitments with ALICE COOPER). In the same way that maybe it would have been my solo on the ballad, but I wasn't there. Eric just didn't nail it in time, so they brought somebody else in. I know I didn't get a real proper shot at doing the solo on the ballad was because they really thought they could do a move within the label... Move over to an A&M; rather than stay with Mercury because A&M; was hotter and still distributed by them. It didn't go anywhere, but it was a valiant effort to try an impress some people with a great song. It wasn't a single like 'Forever' in my mind, but it's still a great song.'"
BraveWords.com: They did try to do something with it. Even the video had Paul sporting a two-day beard and give it that gritty look...
Kulick: "Yup, but by that time the power-ballad was on the way out. At least, it had a real string quartet which is an Ezrin specialty. There was no freaking synthesizer."
BraveWords.com: The album finally comes out and the fans' reaction is a collective 'wow'. This was Creatures Of The Night Part II - a loud bombastic... Was it 'scary' to put out 'Unholy' as the first single? Suddenly, KISS was playing heavy metal - this was not 'Reason To Live' anymore...
Kulick: "I think the idea was to show that the band had 'teeth' and harder rock radio would be more responsive than pop radio. So, we hit them with something really strong which for a hard rock tune really does have a catchy chorus, but is, of course, dark and heavy. Was Domino the next one?"
BraveWords.com: I believe so...
Kulick: "The reaction was good, but the whole genre lost steam to bands like Guns N' Roses and Nirvana. That was our biggest problem. We delivered an amazing record, but the timing would have been better a few years earlier."
BraveWords.com: For years, you had been living in Ace Frehley's shadow (and I don't mean that in a disrespectful way), but 'Unholy' comes out and suddenly fans' get the Bruce Kulick signature sound. It upped your profile within the KISS fan base. Did you feel the same way about Unholy?
Kulick: "Really, the whole record. Ezrin and... They were all really clear that they wanted me to step up and work really hard. Whatever I contributed had to be as big as the record is meaning to be. I remember Paul saying, 'you're going to have to play with a lot of cojones.' It made it pretty fun for me..." [ed. note: at this point in the interview - a technical glitch wiped off twenty minutes of conversation. We apologize.]
Bravewords.com note: After the glitch - the conversation picks up with Bruce answering a question about KISS' next studio album Carnival Of Souls. Only a partial answer was saved due to the glitch.....
Kulick: "...That record in the mix really wasn't given justice, but that's a whole different discussion."
Bravewords.com: Carnival was an afterthought. There was zero promotion for it and it went straight to the cut out bin which was a huge shame.
Kulick: "Yeah and there was a lot of politics with that too because of the Reunion tour, but I have a really fond relationship with Revenge and by deconstructing the songs as I did for a clinic - it really showed what a creative period it was for the band. Everybody really did an amazing job on their instruments and their dedication to making a great record. There's no filler tracks on the record."
Bravewords.com: Looking back now, is there anything you'd change?
Kulick: "Well, I'd include 'Do You Wanna Touch Me Now' and I would have let them sing it the way they had it. That's the only thing because I remember when we mixed this thing... I'm a really hard to please guy. I'm a perfectionist and I remember listening back and thinking, 'I'm 99.9% happy with the album.' Truthfully, it was amazing."
(Note: 'Do You Wanna Touch Me Now' is a hard rocking song written by Dave 'The Snake' Szabo, Bob Ezrin and Paul Stanley for the Revenge album, but was left off at the last minute. Bruce discussed the song in full in the twenty minutes of 'tape' that got wiped.)
Bravewords.com: Did it come down to a decision between leaving off 'Do You Wanna Touch Me Now' and another song?
Kulick: "No. It was going to be included, but a few songs needed a little bit of 'surgery' and they just couldn't come up with anything for it in time. For the other songs, the miracle happened and the baby was saved, but with this one they just couldn't figure out how to save the day."
Bravewords.com: Speaking of babies - Vinnie Vincent tells anyone that will listen that he played on Revenge.
Kulick: "I was very pissed and hurt, the first time I heard him spouting that back when people thought he was credible. As much as he spins whatever is going on in his life in a reasonable fashion, I just think that there's been a lot of negative things said about him that it's hard to take anything he says very seriously. I know he wrote with the guys, but he pissed them off because he was expecting a certain business relationship about how they do the credits, how they split the songs... Which is their business and not mine, but I do know they had another falling out with Vinnie over it. The only thing I can ever... I wasn't there for it and Gene said to me is that the beginning scratches on 'Unholy' - I did not play that stuff and I wasn't there when it was done... I think he put a sketch together in the studio prior to Ezrin even being there. How hard is it to press record and just scrape against a guitar? It's like a special effect, but why Vinnie would misrepresent it by saying he played the solo? I was like, 'what?' I was mortified and if he did play a solo at some point with Gene; it's NOT the one that is on the record and I never heard it. It was a little creepy when he was there, but I played along with it. I know he's a talented guy. He's an especially good songwriter with them and if they're willing to work with him than I had to welcome the idea because maybe he'll come up with some great songs for the record."
Bravewords.com: Were you worried at all because he had been the guitarist in KISS...
Kulick: "I would hear the rumors that Vinnie is back, but NO. I was not concerned. Had I not been able to come up with the goods and they had said, 'Bruce you have to do better,' than maybe."
Bravewords.com: So, when you're told than Vinnie is coming back, you weren't nervous?
Kulick: "No, because I knew that he wrote eight of the songs on Lick It Up and it sold pretty well. It was all about the record and not about anybody's ego."
Bravewords.com: You were most concerned about getting the best final product...
Kulick: "Exactly and Ezrin welcomed it, so they went off a wrote some songs."
Bravewords.com: Up to that point you had done some writing with KISS, but not a lot. You had had some good solos, but always very controlled. You hadn't sung on an album yet KISS was always about the four guys getting a song (much like THE BEATLES). Was Revenge the first album that people came to you and suggested you sing a song?
Kulick: "No, I never expected to sing on Revenge. The track on Carnival Of Souls even came about in a weird way. First of all, I wasn't real confident to do it even though I can sing better than I even thought. Jeremy Rubolino (who is related to Ezrin) did a great job producing me on my album, BK3. Even though I sang on my Audio Dog and Transformer albums, I sang the best on BK3. It's how you work with people.  Eric Carr was an amazing singer and it was shocking to me that they didn't use him more. I realized that like they've done with Eric Singer, in time, they've let him sing a song because it is KISS like. Eric can sing a song and so can Tommy. I love the fact that Paul is doing that and they've established that, but I never felt, in all the years that I was with the band, that 'Bruce should sing a song.' I was happy if I had a co-write. I remember clearly one time that as much as I had that 'Tough Love' riff that turned into a song - I remember working on another thing that my brother wanted for a band he was working with... I remember Ezrin hearing it in the parking lot (I was playing it in my car stereo) and he said, 'what's that? I like it!' I said, 'it's an idea I hope makes it on the Revenge record, but nobody responded, so I'm doing it for this project with my brother.' I'm not sure what ever happened to the song. I think somebody used it as a theme for a product. I didn't always get to write with Ezrin. I had to present things to Gene or present things to Paul... It was this method of pitching them with stuff that you thought would catch their ear. Sure enough Ezrin said he liked it, so I thought, 'damn if I had only circumvented them and gone straight to him...' But I didn't know Bob real well then. It didn't end up on the album, but was clearly something that could have been look at. I never judge how much I got by how much I could contribute; a lot of it was so political of how open or receptive they were to certain ideas that I had. I never took it personally, but one time I thought Paul was avoiding me and I complained to Gene and he was like, 'you have to talk to him.' He was like, 'just tell him how you feel,' and when I would Paul would respond more... Gene was always emotionally supportive that way."
Bravewords.com: Correct me if this assertion is wrong. In the '80s, you were just the guy filling in on guitar, but come Revenge you were now KISS' guitarist. You became part of the family and not just the guy who isn't Ace.
Kulick: "I certainly did my job on Asylum and Crazy Nights. Ron Nevison (Crazy Nights producer) to this day says really nice things about me. I actually challenged them one time in the studio and he really could have thrown me under the bus. But I do think that since I was the mellow guy kind of watching and trying to please them, but never trying to overly impress them... I think I finally impressed them on Revenge. When Paul said, 'I hear an acoustic solo on this Forever song,' and I lay down this killer track with the engineer. He was like, 'you got it. This is great.' I always felt that I had their respect, but I think I just brought it to that level that I finally found my place in the band."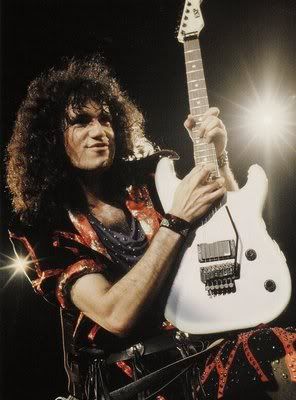 Bravewords.com: Perhaps you had their respect, but not the fans'...
Kulick: "I can't force how they felt, but I certainly was feeling (pauses) valuable in the situation. Then they leaned on me a lot about the song writing on Carnival Of Souls. If you love that record you can thank me, but don't blame me if you don't. That was the direction in which they were headed. It was heavier than Revenge."
Bravewords.com: Carnival Of Souls has one song that I think is an all-time KISS classic which is 'Master & Slave'. It deserves to be played live in 2012 and beyond. It should not be a 'lost' track...
Kulick: "I know what you mean. Eric and I have done it with ESP and it's not an easy song to play live, but it's got a great riff to it."
Bravewords.com: It's brilliant. It's as good as 'Unholy' or 'Shout It Out Loud.' It's a great song! Anyhow, any last story about Revenge?
Kulick: "I do want to tell this one story about working with Bob. Working with Bob was really important in my career. There's no doubt that the things he's worked on in his career were brilliant from PETER GABRIEL to PINK FLOYD to Alice Cooper to KISS."
Bravewords.com: 'Welcome To My Nightmare' and 'Destroyer'...
Kulick: "And when you think of some of the early Peter Gabriel - so it makes you wonder, 'what does this guy do?' So I was pretty nervous working with him and I watched him spin his magic (which is his musicianship). The way he worked was interesting. I would have a day where we'd work on a solo and if stuff needed to be redone three times then it was redone three times. You'd think you had the bass parts or guitar parts and he was like, 'no. Let's start all over again.' That happened pretty often actually."
Bravewords.com: Was it frustrating?
Kulick: "No, I accepted it. I knew why. I got it. It wasn't to be punishing, mean or anything... We were working on kind of a Beatles' solo which was very melodic and cool. It might have been for Domino, but I don't remember. The point is that I learned it. We doubled it. I don't have a real hard time doubling myself unless I came up with a riff that was off the cuff. Then we tripled it which made it sound even bigger then we took a little break. He comes back in and says, 'I hate it. Let's start all over.'"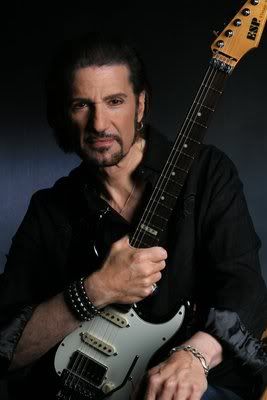 Bravewords.com: And this was before Pro-tools...
Kulick: "You played it. You played it. You played it. That's the kind of stuff where Bob pushed me and I didn't mind because I knew it was a great process (even working out that solo on 'Unholy'). So, I was very fortunate for having that opportunity of working with him. You do have to trust the person. That whole article that came out recently about Crazy Nights. Paul and Nevison were tight and Gene wasn't. Gene thought he'd be too pop for the band. I thought Gene had some good songs on that record and Paul likes to say that Gene wasn't there, but Paul was really happy in that pop element. It was selling a lot of records for other artists."
Ed. note: to make up for the lost part of the interview, BraveWords.com reached out to Bruce Kulick via email to get his comments about the 'lost' Revenge track 'Do You Wanna Touch Me Now' and replacing Ace Frehley's guitar parts on the track that ended up being called 'Carr Jam 1981'. We are reprinting his email in full and unedited:
Kulick: "Do You Wanna, well, I always hoped it would be finished. But Ezrin and the guys were never convinced of the chorus.  We tracked everything except a solo and of course lead vocals etc. Only a guide vocal track by Paul.  And the song really rocked.  Perfect for the formula of Revenge, although there were NO fillers on this record. What a tight guitar driven tune and the breakdown section had some killer Eric Singer drum beats.  Hoped it would of been on the box set, but I had no control of that. Playing on Eric Carr's jam tribute track, which was actually something Ace appeared on from when it was I believe 'Breakout' was good therapy for me.  I was obviously very sad about losing Eric and first thing back after the funeral break in recording Revenge was THIS track. 'Bruce, put some guitars on this.'  Oh boy.  I never heard any of the other tracks, just the drums and a reference for the riff that I had to play. Weird timing to do this, but good for me.  I was happy we added it, especially in light of what an important record Revenge would be in the catalog of KISS.
For more about Bruce Kulick visit Kulick.net.