KISS - 20 Years Of Revenge Part III; BOB EZRIN's "Go-To Guy" DICK WAGNER
May 24, 2012, 7 years ago
May 19th will mark the 20th anniversary of the brilliant KISS Revenge album. BraveWords.com will mark the passing of this landmark record with a five part series of interviews conducted in the last couple of weeks with the major players on the disc as well as a few musicians that you may not know took part in the album's recording sessions. Our third such surprise is guitarist, Dick Wagner. Like Tommy Thayer and Kevin Valentine before him, Revenge marked Dick's second appearance on a KISS album (having played on the band's seminal album, Destroyer). Wagner has always been a go-to-guy for producer Bob Ezrin and made a name for himself as part of Alice Cooper's original Welcome To My Nightmare album and tour. BraveWords.com caught up with the veteran guitarist to talk about his chance involvement on KISS' classic Revenge album. He's also recently released an autobiography, Not Only Women Bleed.
BraveWords.com: You make a brief appearance on KISS' Revenge album playing the crucial solo on the ballad, 'Every Time I Look At You'. How did that happen?
Dick Wagner: "I was in the studio and KISS was in the adjacent studio. I was recording some new material of my own... Some pretty elaborate demos. Some of that stuff is on my Full Meltdown album. Anyhow, Paul Stanley came over to say hello to me and asked me if I would come in and play on a track that Bruce Kulick hadn't been able to do. Paul asked me to come over and play, so I went over. I said hello to Bob (Ezrin); they played the track for me and I played a solo. That was it."
BraveWords.com: Was it your own original solo or did KISS have something planned out?
Wagner: "It was my own original solo. I don't copy anybody. I don't need to do that. I can always come up with something that is appropriate."
BraveWords.com: Was there a solo on the track and it just wasn't working?
Wagner: "I never heard any solo. They just played me the basic track and then I played my solo the way I play."
BraveWords.com: The last time you played with KISS was...
Wagner: "Destroyer..."
BraveWords.com: What was the difference... Or how was it going back and working with KISS?
Wagner: "You know, it's not like I was impressed to play on a KISS album. I'm not that way. I just play whatever I feel is right for whatever the song is and for whoever I play for. I let my own emotions and style affect whatever I'm doing. It's just has to be really good and fitting. It's not a matter of 'oh, boy! I'm going to play on a KISS record.' I played with Alice Cooper and he paved the way for KISS, so I've already been to the top. As a session guitar player, I've done big sessions and little sessions. I just try to play with a much fire, emotions and sound that I can get. I try to do my very best for whoever - big or small."
BraveWords.com: Did it bother you that you weren't credited on the album?
Wagner: "I'm used to that. People want to hold on to their image. You come in and do something that is great, but they don't mind not giving you credit. Now, I've got enough of a reputation that it does them good to put my name on. As for Destroyer, I don't think I was known enough to make an impression on them. They wanted it to be 'the band'. It was the same way with Aerosmith."
BraveWords.com: But there is a difference between the two. When you did the Get Your Wings album you hadn't done Alice's Welcome To My Nightmare album or tour, but by the time you got to KISS' Destroyer - you had. You were a marquee name by then.
Wagner: "KISS didn't want to have studio players noted even if they needed them for the sound. I always figured it this way - I'm being hired and paid (maybe not as much as I should be)... It didn't put a lot of money in my pocket, but for me playing the guitar is something I love to do. So, when I get the opportunity to make something better or 'complete' that's payment enough for me in a sense."
BraveWords.com: It's amazing how they keep things a secret...
Wagner: "They keep it a secret because they don't want people knowing they had studio players. I accept that. They don't want to give me credit; that's fine they don't have to. I'm just doing my job.'
BraveWords.com: Do you remember which Destroyer tracks you played on?
Wagner: "I played on 'Sweet Pain'. I played acoustic guitar on 'Beth'. I played on four tracks, but I don't remember... I played on 'Same Old Song And Dance', but that's not Destroyer."
BraveWords.com: That's AEROSMITH's Get Your Wings.
Wagner: "I also played on 'Flaming Youth'."
BraveWords.com: Did Steve Hunter play on the same tracks as you?
Wagner: "The only track that I know Steve played on is 'Train Kept A Rollin''. We both played on that one."
BraveWords.com: Oh, so you played on two tracks on Aerosmith's Get Your Wings.
Wagner: "I remember playing on four, but it's so long ago and I was into a lot of drugs at that time."
BraveWords.com: But when you listen to the songs, you can tell it's you playing....
Wagner: "I pretty much can, but I haven't listened to that album since I don't know when."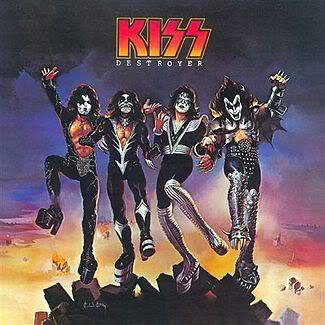 BraveWords.com: So, on Destroyer you played on 'Flaming Youth', 'Beth' and 'Sweet Pain'...
Wagner: "I played on four tracks during that session, but I just don't remember the other track."
BraveWords.com: You've wrote 'Only Women Bleed' which has been recorded by roughly thirty artist including Etta James. The song was embraced by a lot of female artists. That's interesting because when Alice first released it, people accused him of being a misogynist, but that's not what the song is about...
Wagner: "When you actually listen to the lyrics, you know it's about domestic violence. It was a ground breaking song. It was the first domestic violence song that I know of."
BraveWords.com: Back then domestic violence was a dirty little secret and Alice helped expose it...
Wagner: "Yup, that's right. Gloria Steinem called it the 'women's liberation' song of 1975. It definitely touched that movement. So, it was ground-breaking. Alice had the title and I had written all the music in 1968. It was a song that I was writing for THE FROST, but I realized that the lyric wasn't good enough. I had some colorful lyrics in that Frost music. Although, the song was really good - it got passed by. So, I had that version demo-ed of my singing 'Only Women Bleed' with different lyrics."
BraveWords.com: Do you still have those demos?
Wagner: "I do not. I swear to God. I have so many cassettes and maybe if I were to go through them all - I might find that."
BraveWords.com: Speaking of old demos - Alice Cooper released Welcome 2 My Nightmare which includes 'Something To Remember Me By' a song written in the '70s. Will you be submitting anymore songs to Alice...
Wagner: "I'm sure they'll ask me again. Just before Welcome 2 My Nightmare, Bob called and asked me to write another 'Only Women Bleed', so I sent down 'Something To Remember Me By'. Alice had always loved that song and he remembered it. I gave him license to change any lyrics, but they made hardly any changes. It's pretty much the original song that I wrote back in the '70s. I had actually performed the song myself way back."
BraveWords.com: Lou Reed. You worked with him in the past. Have you heard his collaboration with Metallica, Lulu?
Wagner: "No, I have purposely avoided it. I hear it's terrible."
For more Dick - visit his Facebook page:
And pick up his book, Not Only Women Bleed.