L.A. GUNS - Phil Lewis Forever
May 16, 2012, 5 years ago
L.A. GUNS have had more band members than people who immigrated to the US between the years 1975 to 2012, but one thing remains true - PHIL LEWIS is the voice of L.A. Guns. Doesn't really matter who's on guitar as long as Phil is singing. Luckily, for Lewis the current line-up featuring guitarist Stacey Blades and drummer Steve Riley have gelled behind the affable frontman and delivered a brilliant new album, Hollywood Forever. Lewis sat down with BraveWords.com to discuss all things L.A. Guns.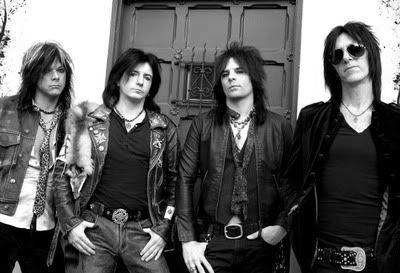 BraveWords.com: The last time we spoke, you said that there was no purpose in doing new albums and yet here's Hollywood Forever. What changed?
Phil Lewis: "I stuck to my word. We didn't do the 'four song EP' on iTunes and then do another four. I said back then that if we can't do an album properly then there's no point in doing it. Fortunately, at the end of last year we got the opportunity to get a deal with Cleopatra. Essentially, they wanted to completely take over the band. Brian (owner of Cleopatra) wanted to manage us. He's totally committed to the band and this new record. We have a publicist and we've already made three videos. This is totally the way to do it. This is the way we used to do it. I'm real happy about that."
BraveWords.com: I have a total of fifteen tracks. Will they all be on the album?
Lewis: "There's fourteen songs on the album and a bonus track for the Japanese release. There's lots and lots of new stuff. We had to stop because we could have easily done a double record."
BraveWords.com: Of course, because after a while too much of a good thing is no longer a good thing.
Lewis: "But it's always good to have even if we don't put it out as a double. It's always good to have stuff in reserve. We do have four songs that are workable. We did a HEAVY METAL KIDS cover ('Whisky'), but for some reason we couldn't play it. We did a terrible job on it. We're just much better at doing our own stuff."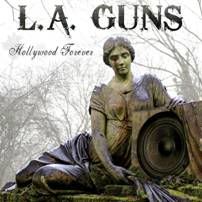 BraveWords.com: You've done a bunch of great covers...
Lewis: "Yeah, but people after Tales From The Strip people had been anticipating a new release for quite some time. There were some great kind words for 'Tales'. It was very gratifying, but also a lot of pressure to come up with something better than that. I think the songs are better (on Hollywood Forever), but I don't know if it has the same dirty gritty street vibe that 'Tales' had. It has it's own vibe. We didn't set out to make it a concept record even though we have two songs with the same name."
BraveWords.com: Two songs with the same name?
Lewis: "Yeah - once the title of the album was decided, we all set about writing our five songs each to bring in. I wanted to have twenty songs to choose from before we started recording. Scott (Griffin) and Stacey both wrote a song called 'Hollywood Forever'. Both completely different songs. The one you heard is the balls out opening songs (Stacey's) and Scott has one at the end that's a requiem. It's very dark and moody with goth keyboards on it."
BraveWords.com: POISON did that on their Hollyweird album. They had two songs called 'Home' (a Bret version and C.C's).
Lewis: "Maybe that was the same song with different lyrics, but these are two completely different songs that just happen to have the same title."
BraveWords.com: When you wrote the songs were you trying for a modern rock sound or a more classic L.A. Guns vibe?
Lewis: "It was a lot of pressure. We didn't have a single song before we started and we did everything from writing to mixing in thirteen weeks. Our objective was five songs each (either write them or find covers). We spent a month brainstorming. I'd spend eight or nine hours a day on a single song. Some came easy, but a lot of times it was very difficult and there was a lot of pressure. The great thing is, as the project progressed, the songs got better which is why I wished we could have carried on."
BraveWords.com: One of your UK compatriots just released a triple album (Ginger of THE WILDHEARTS - 555% album).
Lewis: "Good for him. He's really prolific and that's great."
BraveWords.com: Is making a new album really necessary? The business has changed. Why was it important for the real L.A. Guns to make a full album?
Lewis: "Here's the kicker - Brian (owner of Cleopatra) in his infinite wisdom has decided to put the album out on vinyl. I'm on such a vinyl kick right now. I just bought record player and some speakers. I've been rediscovering the joy of music. We've forgotten what it's like to actually sit down and listen to music. I haven't done that in years. It's been in the background at my job or when I'm driving, but it's been so long since I've actually sat down and listened to a record. It's been an epiphany and the sound quality is night and day. It's so hard to describe the difference, but it's just a much fuller spectrum. So, once it was established that Hollywood Forever was coming out on vinyl it was much easier to get in record making mode. Admittedly, the money we spent on making this record wasn't even the catering money spent on Cocked & Loaded. Still, we had a budget and it was a real band in a real studio with a real producer. Andy did an absolutely fantastic job."
BraveWords.com: Andy Johns...
Lewis: "Yeah. This is our fourth one with him. Andy is an awesome producer and a good friend."
BraveWords.com: Why keep going back to Andy?
Lewis: "We would not even consider using anybody else. He's made us sound good consistently. Him and Bruce (his engineer) - they're our 'dream team'. They leave all the songwriting and arrangements to us and they just make everything sound great. I have such a great relationship with Andy. It's like full contact production. We fight and disagree on stuff. People will watch us in disbelief, but we get it done and I love Andy. It's just so much fun working with him in the studio. To hear a song go from a demo to a full polished Andy Johns' mix in the space of two weeks is incredible."
BraveWords.com: You've been in the music forty years or so now - why not self-produce it?
Lewis: "Horses for courses you know. I'd rather focus on the songs, lyrics and arrangements. Let Andy do what he does best. I might be able to do it, but there's no way as well as Andy and certainly no where near better. He's got those 'old-school' ears. His whole family are savants. His brother, his sons, his uncles... They're a music family. I'm honored and delighted to have him."
BraveWords.com: Speaking of 'old-school' is the plan to make another album in six to nine months from now?
Lewis: "It'll be more like a year because we're booked pretty solid. We're doing Europe, the M3 Rock Festival, and then there's the promotion for the new record."
BraveWords.com: The first video for 'You Better Not Love Me' was recorded in a cemetery...
Lewis: "Yeah. It was the most beautiful cemetery in the world (not gothic, but just very old Hollywood). The video is a performance of us playing the song live on stage with some cuts of me frolicking around the cemetery."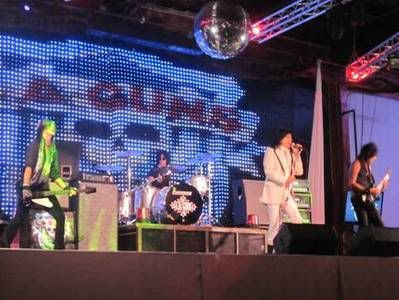 BraveWords.com: Will the Hollywood Forever tour be part of a package or are you going out on your own?
Lewis: "They were talking about putting us on the Poison/DEF LEPPARD package, but I really don't want to do it. I'm not a fan of arena rock and I'd much rather be playing on our shows. We'll play much longer sets with lots of stuff from the new record."
BraveWords.com: But on the Leppard tour, you could have Phil Collen come out a jam on some GIRL songs with you...
Lewis: "Perhaps, if we were allowed on stage for more than fourteen minutes. We'd play to a mostly empty house to people who know 'Ballad Of Jayne' and perhaps 'Sex Action'. They couldn't give a fiddle's fuck about a new L.A. Guns record, so it's much much better that we do it ourselves. It'll be more gruelling, but we've still got a few more good years in us yet."
The new album HollyWood Forever (from Cleopatra) drops June 5th 2012. Watch an album teaser below:
For more real L.A. Guns head over to Facebook.
A pre-order for HollyWood Forever is available below - click it to hear samples from the entire album: