LIV KRISTINE - Second Skin
September 12, 2010, 9 years ago
When vocalist Liv Kristine Espenæs Krull recorded her first solo album in 1998 it was a calculated attempt by select industry people around her at the time to cash in on Theatre Of Tragedy's success. The album, Deus Ex Machina, failed to break any new ground and was quickly forgotten by all but Liv's staunchest supporters. It wasn't until 2006 that she felt the desire to truly go solo – having put Theatre Of Tragedy behind her and established Leaves' Eyes as a more than a one-off whim – and Enter My Religion was born. It received mixed reviews, with some fans irked by the fact it strayed too far into the realms of Euro-pop. Liv made no apologies, however, and promised there would be more solo albums in the future. Skintight is her latest venture, picking up from Enter My Religion while displaying even more of a pop-rock feel that some fans are guaranteed to find disturbing.
"I'm sure Skintight will scare some people," Liv agrees. "I just hope that it will be a positive surprise because this album is a completely different side of my artistic personality. It's always there, and it feels great to be the captain of the ship. I'm able to do whatever I want to do without interference from anybody, which is why the album is organic and stripped down and intimate. It was a lot more work but that's the way I wanted it. It's good to know that whatever people criticize me for or like me for, my art comes from the heart. I'm able to stand up for it and that feels great."
There are, of course, hard-to-the-core Leaves' Eyes fans that simply won't admit to liking Liv's solo work out loud.
"I think that's the way a lot of Leaves' Eyes fans think. On the other side I'm getting new fans, like some of the mothers from my son's school or people at the gym, that come up to me and say 'Is it true what I hear, that you do metal? I can't imagine that.' (laughs)."
Unlike Deus Ex Machina, Liv had complete control over Skintight, playing director for the musicians she brought on board to fill in the blanks. A total of eight months was needed to hammer out all of her expectations.
"Doing the solo music is another side of me," says Liv. "Deus Ex Machina was 12 years ago, I've done another one since then, and for this album I wanted to do everything myself. I felt that I had enough musical knowledge and technical knowledge to do whatever I wanted. I liked the idea of not having anybody else watching over my production. Of course, my weakest point is that I don't play a musical instrument, so whenever I needed guitars or string instruments I'd call Tosso (Leaves' Eyes guitarist Thorsten Bauer). He's in the studio all the time anyway so he just had to walk from one recording room to the other (laughs)."
"I'd say the album is a co-production between Tosso and myself since we're the songwriters. I wrote all the lyrics and the vocal lines myself, of course my husband Alex (Krull) was involved (laughs), Oliver Palotai (Kamelot) played the piano, Seven Antonopoulos (ex-Leaves' Eyes) played drums. But, it was me that decided to have a stripped down production for the album."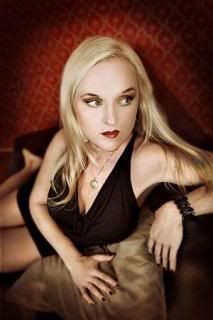 Fans of Enter My Religion are bound to find worth in Skintight over diehard Leaves' Eyes and Theatre Of Tragedy followers. Pop-rock based as it is, the warmth of the songs leave very little to suggest that Liv fronts a goth metal band. Even the darkest track on the record, 'The Rarest Flower', shows off a very different Liv Kristine in spite of it's hint of TOT. She has never sounded this naked.
"That song… Tosso had been writing some stuff until very early in the morning," Liv recalls. " When I woke up and went to the studio I found he'd left the file open. I thought the music was great, the vocal lines and the lyrics were ready, it was a beautiful day, so I decided to record myself. I did it one take, and I realized when I was done that I should keep it completely organic and natural and personal. So that's what you're hearing on the album."
The first single, 'Skintight', is on the other side of Liv's spectrum, definitely qualifying as Euro-pop. Judging by YouTube comments on the video she has struck chords good and bad, with some new and undoubtedly younger fans going so far as to draw comparisons to Lady Gaga and Kylie Minogue.
"That's really funny. When I went to shoot video with Patric Ullaeus, I wanted to be comfortable. There was no talking about having to look or act a certain way. I just put on whatever I wanted to wear; I didn't feel the need to stand around in a tiny bikini or something like that. There's a lot of talking going on with people comparing me to various pop stars, discussing what I'm wearing and all that. As soon as you do anything in the pop-rock world the discussion always seems to be about your looks, and that's tiring."
Even as Liv was up to her neck in promotion for Skintight she was gearing up for Leaves' Eyes long-planned North American tour supporting Kamelot. Less than a week before the tour was due to start Kamelot were forced to cancel due to vocalist Roy Khan falling ill. At press time Leaves' Eyes was well into a headline tour of their own, opting to go ahead and try to salvage as many dates as possible. As inconvenient as the situation is Liv can relate to having to choose between touring and one's health; their Beauty And The Beast tour in November 2009 almost met a similar fate.
"What happened was I had to fly to New York a week after the tour for a promo trip, so I took the swine flu vaccine," she explains. "I thought that it was better to be safe than sorry. And from that point my whole body basically started a war with me. It really felt like that. I lost my voice and was terribly sick. I've never been that ill before and I'd never lost my voice before. I've always been good to my voice and taken care of it, so I didn't even have the experience of what to do when my vocal chords gave up. That was a new experience (laughs)."