SHADOWSIDE - Feeding The Monster
June 25, 2012, 8 years ago
Launched in 2001, Brazil-based old school metal monsters SHADOWSIDE have finally hit their stride. It's taken three albums and a gruelling amount of touring, but the increasing momentum of their new record Inner Monster Out has turned a group of wide-eyed hopefuls into a band with a serious focus on the future. Their success is anything but overnight sensationalism, however, as Shadowside took the lessons learned – good and bad – making their aptly-titled previous album Dare To Dream as a shot in the arms to improve themselves. By no means was Dare To Dream a failure; on the contrary, it enabled the band to make the leap from being a curiosity to full-on spotlight material.
"Dare To Dream did pretty well," says vocalist Dani Nolden. "I was personally impressed with the album results because it was 100% independent, from recording to the release of the album, but it still took us quite far. It was the album that opened up doors for a world tour in 18 countries, 17 of those supporting W.A.S.P., so we ended up accomplishing way more than we expected with Dare To Dream. The goal with that album was to introduce ourselves to the world without the need to sit around and wait to see if we'd be able to convince a label that we'd make them money. We felt the best way to convince anyone that we were definitely in the scene to stay would be by showing results instead of saying 'Hey, we're pretty and we can play, give us a chance' (laughs). We were very surprised and very happy and I feel it prepared the ground for Inner Monster Out."
Dani and her bandmates make no bones about the fact that Dare To Dream got the band's collective foot through the door, but the buzz from the fans surrounding the new album echoes Shadowside's belief that Inner Monster outshines Dare To Dream in every way.
"I still like Dare to Dream a lot, don't get me wrong, but none of us in the band felt that we got where we wanted to get with Dare to Dream. Inner Monster Out, on the other hand was exactly what we were chasing since the beginning of this band. Fans agree with us that this is definitely our best material up to date but I don't know if it has a little bit to do with the fact that we are extremely happy with it as well. I think it shows when you play and sing something you really love; people can tell it's a very spontaneous album."
"I always say that the secret for success is getting new fans without pissing off the old ones (laughs). But our old fanbase is really into Inner Monster Out and lots of people seem to be getting interested in Shadowside at the same time. Some of these people had never heard of us before but some didn't like or didn't care about us but now they like what they hear and that to me says we're on the right track. I'm excited to see where this album will take us."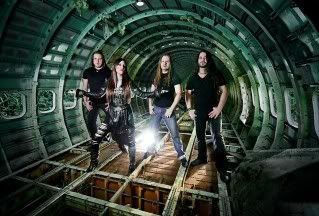 Dani's vocals are reminiscent of Benedictum singer Veronica Freeman, another band that has benefitted from dishing out traditional metal rather than playing the done-to-death symphonic/operatic metal card. Asked if she thinks Shadowside's growing popularity can be chalked up to old school female-fronted bands like Benedictum, Vainglory, Huntress, and reigning metal queen Doro Pesch enjoying the same attention as guy-powered bands over the last few years, Dani is undecided.
"I'm not sure, to be honest. I notice more people taking interest in Shadowside but I can't tell if it's because women in metal are popular, or because that's the natural course of a band that tours heavily. I really can't say because I'll never be able to compare the difference, if you know what I mean. I'll never be a guy for a day (laughs). I don't know if we'd be more or less popular if I had been born a man. However, I honestly think the popularity of women in metal bands has little to do with people taking interest in women in metal and more to do with women being interested in metal. A few years ago, lots of women would go to metal concerts because their boyfriends would drag them there; now they go because they really like the music. That makes more women become interested in being in bands too, and that in turn makes more good bands end up recruiting or starting with female musicians."
"I like to think people don't really care whether it's a woman or a man in a band, that all they care about is if the music is good or not, you know? Veronica is admired because she's great and she'd be great if she was a guy too. It's a special voice regardless of gender. And both of us could never sing operatic stuff, it's just not something our voices are suited for. And with more women being interested in metal, more 'unusual' voices are likely to appear."
Anyone that lives outside of South America and hears "Brazil" and "metal" in the same sentence automatically thinks of SEPULTURA, SOULFLY or ANGRA. According to Dani, the Brazilian metal scene is cut-throat competition on all fronts, making Shadowside's rise to fame quite special for everyone involved.
"I hate it," she says of the aggression on the Brazilian scene. "I honestly believe that there's no need for competition in music, as all you have to do to stand out is please people. If you suck, it doesn't matter how many bands you destroy, people won't listen to your music. Maybe that's why we managed to get our place in the sun in Brazil; because we never wasted any time or energy whatsoever on anything else than our music and tours. When we started out, we weren't the best band out there, of course. We were a group of teenagers, the oldest one being 19 years-old. But for whatever reason, the press and fans thought we had potential and started saying good things about us, and we started playing live a lot and that bothered many local bands. They just couldn't understand why that kid band was getting so much attention, so they focused on badmouthing us and we focused on playing better, writing better, growing as people, as individual musicians and as a band. Those bands that felt annoyed by our success eventually got left behind... and I feel many bands with a lot of potential end up like that. Some waste their energy on the competition and some just sit around waiting for that big break that never comes, when they should be actively going after that break."
"Having an identity is very important," Dani adds. "You can't be a copy of someone else and many bands, not only in Brazil, settle for being 'as good as' instead of being themselves. We don't want to be as good as anyone nor better than anyone; we're just Shadowside. We'll never try to be IRON MAIDEN because there can be only one Iron Maiden and no one will ever beat them at their own game. All we can be is Shadowside and it took us years to figure out what that is, but now that we did, we love what we do."
"Those bands you mentioned have their own thing going on and that's what makes them great. Anyone can be a great guitarist or a great singer and anyone can put together a great clone band. Having an identity, however, is what gets the fans interested. It doesn't mean you can't be a power or thrash metal band, but you have to come up with something different to offer than the other millions of bands out there and work to surprise people on every album you put out. If you release the same thing over and over again people will eventually lose interest."
Dani quickly shoots down the suggestion that Shadowside could one day tap into their Brazilian culture to add a new dynamic to their sound, much the same way Sepultura did with their Roots album in 1996. Shadowside boast roots of their own, after all.
"As tempting as that is, people would immediately scream 'YOU'RE COPYING SEPULTURA!' if we did it (laughs). If we ever do it, it will have to be natural, but I find it hard since one thing we rarely listen to is Brazilian music. What we like from Brazilian music is what they have already done. While it would probably sound different since both bands are different, it would still not feel very original and we don't relate to it as much. We add some Brazilian culture to the show, though, in the sense that Brazilians can joke about almost anything and we're always making fun of ourselves and everything that goes wrong around us. Why else would Raphael (Mattos) use a cow guitar? Wait... no... cow guitar is very metal (laughs)!"