SLAYER Guitarist Kerry King Talks Big Four, Influences, Reflects On Band History - "It's Hard To Toot Your Own Horn All The Time Without Sounding Like An Asshole"
January 4, 2011, 6 years ago
You might even see the ominous-looking SLAYER guitarist Kerry King with a big-ass grin these days. World Painted Blood caused quite the stir around the globe which has earned them a recent Grammy nomination and saw them terrorize late-night mainstream television on Jimmy Kimmel Live! a few months back. No question, the Slaytanic empire is spreading faster than ever, crossing barriers unthinkable in the past. Aside from singer Tom Araya's health scare (back surgery earlier this year to repair years of headbanging), 2010 was mostly spent on the road on one of many Carnage/Jägermeister treks and of course the much-hyped Big Four shows overseas.
"Yeah, I wish we were touring still," King laughs on the line from his Southern California home.
I'm sure he does. These days, touring is paying the bills for many bands, and Slayer have always been a killer draw live. But their stock price is increasing as time passes. And if you add a MEGADETH or an ANTHRAX to the bill, the allure increases. And if you throw a bigger name into the ring like say METALLICA, you've got all of us who were weaned on the '80s thrash scene willing to cut off their left arm to see the spectacle.
And you gotta chuckle at the band members who didn't realize what the result of such a package would mean. The attendance was staggering and in fact all bands were surprised at the numbers and the ripples it caused around the world.
"I went in thinking it would be a great thing for the fans and it turns out I ended up having a damn good time myself," King admits. "I didn't really see it coming. I just thought it was going to be, let's all do our thing, but I gotta say going into that, I never considered Metallica friends of mine. I didn't consider them enemies of mine, it's just we hung in different circles pretty much. It just wasn't people I hung out with all the time, but after that run of shows Lars hit me up the other day, they were doing some secret show in L.A., I didn't even know about it. And I'm like, one day every six months to a year that me and my wife will start drinking like one in the afternoon, just have a party day. My point is last year that wouldn't happen. Now me and Lars text each other and I consider all those guys friends of mine. It was a cool experience for me."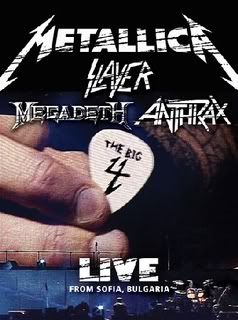 Are you able to relate to all this hype and hoopla around being one of the Big Four. Did that ever really sink in, did you ever kind of run with that?
King: "More so when I read or hear things that were said during the Big Four interviews. Like a lot of times I'd be on conference calls with Lars (Ulrich), (Dave) Mustaine, Scotty (Ian) and all of them, some of them. Dave has a weird perspective and he thinks of things that I never would think of ever, and the things that he says a lot of times makes me realize how cool it is. Like, I never thought of us being four of the biggest metal bands in metal history. But then when he says it, I reflect on it, and then in some other magazine he said, me and Kerry are the only people that have been two of the Big Four. I never would have thought of that if I didn't see Dave say it. Just hearing everybody's perspectives, it's different than if I were just talking about my band because I do most of the talking."
But you were conspicuously absent during the historical 'Am I Evil' jam session at the Sonisphere Festival in Sofia, Bulgaria which saw members of all Big Four bands (minus Slayer's Tom Araya, Jeff Hanneman and King) crank out the DIAMOND HEAD classic during Metallica's encore (all captured on the recently-released The Big Four: Live From Sofia, Bulgaria DVD/Blu-Ray). But your reasons came out recently (King was in the band's mobile studio working on post-show video).
"Well Dave was on stage - Dave Lombardo. But the last show on Jägermeister Fall Music Tour in Hollywood (October 21st), I went on stage with Megadeth and did 'Rattlehead.' So I'm like, 'this should put to bed any fuckin' stupid rumours that there was some crazy conspiracy why I didn't do 'Am I Evil.'"
It was the first time in 26 years that King shared the stage with Megadeth since he played with the band during their very first shows in 1984. Did it rattle your head trying to remember 'Rattlehead'?
King: "Some of it did. Some of it was like, I've never played that riff before in my life. I worked on it. I worked on it incessantly every day and I still fucked it up. Incorporating the head banging and doing the riffs that were difficult to me. That's where I had problems, but I wasn't going to go on stage and stand there. I'm bringing the Slayer quotient to the stage so I'm putting on a show and with three guitar players. I don't think you probably knew I was hitting some notes like Guitar Hero style, you know what I mean!"
Our chat moves to the recently-released Vinyl Conflict LP package featuring all ten American Recordings albums released as a limited-edition, high-end, box set. The band's entire Def/American Recordings catalogue: Reign In Blood (1986), South Of Heaven (1988), Seasons In The Abyss (1990), the double-record Live Decade Of Aggression (1991), Divine Intervention (1994), Undisputed Attitude (1998), God Hates Us All (2001), Christ Illusion (2006), and World Painted Blood (2009). The Vinyl Conflict released in October. Like many fans, we all have the original vinyl pressings, cassettes, multiple CD versions and more. And now we're back full circle with vinyl again!
"I'm not an audiophile," King admits, "but it's my understanding that these vinyls are pretty high up in the quality of sound. I think there are audiophiles out there that are Slayer fans, but the traditional Slayer fan, he's just going to get this and say, man this box is hefty, these vinyls are cool. I think the packaging is really cool and came together nice, and you never really know that until you see it. Pictures are one thing, but actual execution is something else."
Do you notice as a musician the difference between how your music sounds on LP compared to this new digital generation?
King: "I'm very hands-on with my guitar sound, but my wife's dad's an audiophile. And one time he - I can't remember what album it was - but he put in the disc and the album and I went, no shit, the LP does sound better. I thought people were crazy for years and years and years, and one time I actually checked it out and there's definitely truth to that."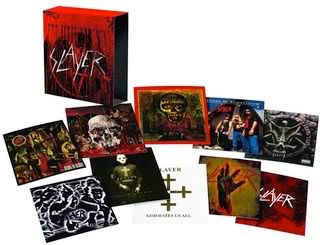 Mr. King and I proceed to dissect the Vinyl Conflict box from start to finish, commencing with arguably the greatest metal record of all time for us extremists, Reign In Blood.
King: "Well, I said a million times: We never set out to make that the be all and end all of thrash. Like, it seemed to take on its own legs and become that all on its own. It was ten songs. Me and Jeff were twenty-two and playing guitar almost every day, just making up riffs and people like it. It's hard to toot your own horn all the time without sounding like an asshole."
What would be your personal Reign In Blood?
King: "Well, I would have to go to my heroes of course. I would start with a JUDAS PRIEST one and I would start with an abstract one, because I got into Judas Priest with British Steel. And that was because of the radio and the radio songs are 'Living After Midnight' and 'Breaking The Law' so I'm like, 'all right this is cool, there's two guitar players, I dig what's going on.' But when you start to do your homework and you find albums like Sin After Sin and Stained Class and Hell Bent For Leather, you're like, 'this is the stuff.' Then they kind of had a resurrection of themselves, like Screaming For Vengeance and Defenders Of The Faith. Kind of like what I hope people think of us, but Priest I would say Stained Class. MAIDEN, any of the first three. SABBATH, where do you go with Sabbath, Jesus Christ. Sabotage, maybe, but there's so many great records I wouldn't know if I want to ace one out."
BraveWords.com: Would any of Slayer's early catalogue measure up to those?
King: "Yeah, it's hard for me because those are my heroes and now there's a young generation like I was in the beginning, that look to me as that type of hero. And it's awkward for me, because I looked up to those guys forever, and I don't know if I'll ever consider myself as big as them ever, because they were there that much before me."
BraveWords.com: On South Of Heaven you're quoted saying it's a lackluster performance. Is that true?
King: "Yeah, that's always historically been not an album I hate, but in between Reign In Blood and Seasons (In The Abyss), it's my least favorite of the three. At the time, that's one of the only times we went out of our way, before we wrote any songs, to say, 'all right, I don't want it to be like Reign In Blood.' Not because Reign In Blood sucked or because we were tired of doing that, but because it was so fast we needed things to offset it with live. So we wanted to explore the heavier side of Slayer without having eighty-percent of it being light-speed."
BraveWords.com: Will we see Decade Of Aggression come out in any kind of visual form. Was any of that professionally filmed, to the point where it could be released on a Blu-ray or DVD?
King: "I can't remember. I think we've got some film from that, but we weren't really stoked with it. That's why we didn't really release it. I think the 'War Ensemble' video that used to be on MTV was from that session, and we only liked two or three of them enough to say, 'let's at least give people something.' That's why we didn't record and release anything until the next tour."
BraveWords.com: These were some tumultuous times when Lombardo left and the fearless foursome became a threesome, with some drummers added. And we get an underrated record, in my opinion, Divine Intervention. From what I understand, that record was a little bit of a disappointment for you as well?
King: "Yeah. I mean if we ever got ambitious enough to want to do another, go back and reproduce an album—like re-record it and everything—that would be the one in my eyes, because it didn't get the proper treatment. For some reason anything that could go bad in the studio went bad, and anything that could be kept from a band was kept from the band. And I don't know why, other than I was just pissed about how things went, but there's multiple engineers, multiple producers and multiple studios, and that one really suffers. And I never knew it sounded bad until years later I played God Hates Us All or something, and I went back and played that and I went, 'whoa!' (laughs). I don't usually sit there and listen to them, so I was probably checking out our catalogue looking for songs to play, and that was the first time I realized how bad it was."
BraveWords.com: When you hear stories like that, it kind of reminds me of Born Again. It's like, you guys are Sabbath, you're in charge here.
King: "Just a kind of a comedy of errors."
BraveWords.com: The Diabolus In Musica-era, some people gave Slayer an unfair nu-metal tag.
King: "Well I learned many years before that not to pay attention to what critics say. But for me it was a low point in my creative history, because so many things were popular that I didn't understand. Usually I could see some redeeming factor with why something's popular. But say for instance when we've got LIMP BIZKIT singing about doin' it for the 'Nookie', and I just couldn't make heads or tails of that. And I let it affect how I looked at music in general. I should have, and I've known better every fucking minute since then, but the late '90s was a low point for me, and you could tell I didn't really have a lot of input on Diabolus because I wasn't inspired."
BraveWords.com: And God Hates Us All was a redeeming album?
King: "Yeah, then it was just like, 'alright let's be fuckin' Slayer for what Slayer is and fuck everybody else and here you go.' It was like mid-'80s all over again. That was the beginning of reconstructing Slayer and what Slayer was and is and should always be. I mean, it's just for me, at the end of the '90s I'd also been hobbying with snakes big-time and I had way too many, and the hobby was taking more time away from the actual job, which is Slayer, and I got out of everything completely. If you notice on that record I wrote like 70% of it and then on Christ Illusion I wrote like 70% of that one. This one (World Painted Blood), Hanneman came around and I think it's very close to being half and half, music-wise."
BraveWords.com: Any 30th anniversary plans for the catalogue featuring some old unreleased gems from the past?
King: "There isn't an old gem, that's the problem. If we recorded it, it's out. There's one or two left over from the last session, so I could certainly see a deluxe of World Painted Blood come out, but I don't know if that's in the cards or not. Like I said, when those things come up, somebody'll e-mail me and I'll approve it, or I'll be a dick and not put it out."
BraveWords.com: Do you see eye-to-eye with your record label these days?
King: "Well we're a free agent, actually, after this record. It's our last contracted record for I don't know how long that thing went. Probably since Reign In Blood. That's another reason, with an unstable future record companies will put out things just so they can capitalize on the band while it's there. And that in no way in any shape or form a preface that we'd be leaving our record label, but that's just how the market works. There's only a handful of labels that make a difference, you know. That still get it, they're hands on electronically, with any ideas with what's going to be going on in the future, so I'm sure we're going to be making a decision on which way that is sooner or later. It always gets brought up. You can make your own record label, do what you want like this, and I'm like, you know my ship wasn't broken, I'm not looking to fix it."
BraveWords.com: How's Tom's health these days?
King: "Tom killed it on the last tour. I think he's getting a little more comfortable in who he has to be on stage now, and I think that was a big issue. Probably the last run and a half, most of the Season's tour in the States he was just killing it every night."
BraveWords.com: It's hard to see your legends kind of suffer these kind of debilitating injuries, and by the looks of you you're in great shape. What's your routine, a day in the life of Kerry King?
King: "It hasn't really changed much, you know. I start stretching like an hour prior, and then I play guitar until like a half hour prior, and then I stretch again, but my stage gear is on. And play and head bang until I go on stage, so everything is warmed up."
BraveWords.com: And when you're not on stage, during a particular day and you don't have snakes to play with, what's your routine like?
King: "I usually watch football. I went to the Raiders' opening game this season in Oakland and they played their video promo and they played 'South Of Heaven'. So it seems like 'South Of Heaven''s becoming part of their winning ritual, so I hope that sticks because that makes me very proud. I think it speaks about the attitude, you know, because the NFL has huge attitude, the NHL has gigantic attitude. And I'm surprised really that it's taken this long to catch hold."