8th Annual JOHNNY RAMONE Tribute - Details Announced
July 30, 2012, 5 years ago
The 8th annual JOHNNY RAMONE Tribute will take place Sunday, August 19th at Hollywood Forever Cemetery, located at 6000 Santa Monica Blvd. in Los Angeles, CA. Admission is $10 with net proceeds benefitting the Johnny Ramone Research fund at USC Westside Prostate Cancer Center lead by Dr. David Agus. Donations in excess of the required admission are welcomed and suggested, (but not mandatory).
Doors open at 5:30 pm with autograph signing at 6:30pm (event ends by or before Midnight).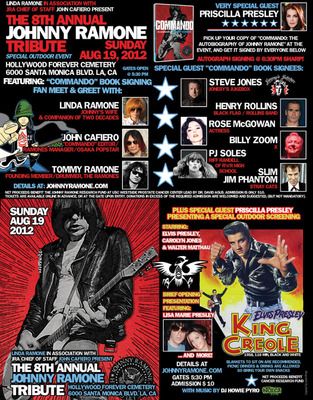 Following on the heels of the release of Commando: The Autobiography of Johnny Ramone, the 8th Annual Johnny Ramone Tribute will be held at the renowned Hollywood Forever Cemetery on Sunday August 19th, 2012. A stand out event every year, the tribute will be hosted by Johnny's wife Linda Ramone with appearances by very special guest Priscilla Presley, Steve Jones of Jonesy's Jukebox, Henry Rollins, actress Rose McGowan, guitarist Billy Zoom of X, actress PJ Soles (Riff Randell of R'n'R High School), and Slim Jim Phantom from the Stray Cats. The event will be even more special this year, as it will include a book signing of Commando, Johnny's autobiography that was released earlier this year to critical acclaim. The book signing will feature Linda, Commando Editor and Ramones manager John Cafiero (of Osaka Popstar), the sole surviving original member of the Ramones, drummer Tommy Ramone, as well as aforementioned celebrity guests with the exception of Presley. Music to suit the occasion will be spun throughout the cemetery grounds by Intoxica Radio DJ, musician Howie Pyro. Fans of Johnny, a founding member of the legendary punk band The Ramones, will gather at his 8-foot bronze memorial statue to celebrate his life and legacy.
As the sun sets, the event will feature an outdoor screening under the stars showcasing one of Johnny's Top 10 favorite Elvis films, King Creole, (a personal favorite of Presley's himself). The screening will include a slideshow of rare photos from Johnny Ramone's personal archives of the guitar legend with one of his closest friends, daughter of the King, Lisa Marie Presley; who also penned the Epilogue in Commando. The esteemed Priscilla Presley will appear in-person to speak and share reflections on Johnny Ramone, daughter Lisa Marie, her iconic husband's legacy, and the lasting impact he made on the world. This is even more poignant considering it's the weeklong Graceland celebration of the 35th anniversary of Elvis' death.
Johnny, a longtime Elvis fan and avid collector, cites Presley in Commando as being highly influential in igniting his flame for Rock 'n' Roll; a spark that would eventually lead to significant contributions to pop culture and rock history in his own rite. Appropriately, the grounds of the event will include an on-site display of rare Elvis memorabilia culled from Johnny's personal collection, as housed in the "Elvis Room" of Ramone's Los Angeles home.
Johnny Ramone, born John Cummings in 1948 in Queens, NY, was a founding member of one of the most iconic and seminal bands in history. Formed in 1974, The Ramones emerged from New York City's underground rock scene to become major influencers on the punk movement worldwide. Known for his fast, high-energy playing style, Johnny appeared as #16 on the "100 Greatest Guitarists of All Time" list in Rolling Stone and Time magazine named him one of the "10 Greatest Electric-Guitar Players."
Released in April of 2012, Commando: The Autobiography of Johnny Ramone is the definitive book on The Ramones; it will be sold on site by Book Soup. Global demand for the book is already such that rights have been pre-sold in six different languages throughout Europe and Brazil with more soon to be announced.