ABIGAIL WILLIAMS Frontman On Touring With MAYHEM - "We Really Clicked With Those Guys On A Personal And Musical Level"
December 20, 2011, 5 years ago
Metal Assault recently caught up with ABIGAIL WILLIAMS frontman Ken Sorceron. An excerpt from the discussion is available below: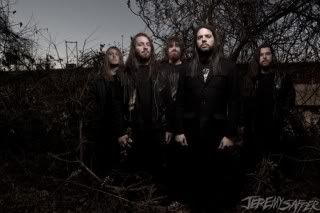 Q: Last year, you toured with Immolation, and this year with Deicide and then recently with MAYHEM. How did you even find the time to write this album (Becoming)?
Sorceron: "Well, like I said, most of the songs were written very quickly. It was all just written very naturally and in between tours, me and Ian devoted some time to sit down with our guitars, come up with some riffs, and then work on that for a bit. And then he would work alone and we'd show each other what we did. To be honest, we didn't have a whole lot of time to write, but what we did have was a lot of time to reflect on what we had written. So we wrote this stuff pretty much straight after we did In The Absence Of Light, except for the 'Beyond The Veil' track which was written in the last couple of months. But we had written the other songs just after the previous album, and they sat around. We listened to them for all that time. There were many other songs also written, but that's how we decided to choose those songs. We had them for so long that we had a clear idea of what we needed to do when it was time to record, and how to approach the recording process. With the last album, we had pretty much written it in the studio, so we didn't really come up with the correct way to approach the recording and make the songs say what they wanted to say. With this album, by the time we went to the studio, we knew what had to be done, and it almost became like second nature to record them."
Q: How would you rate that Mayhem tour? Obviously I saw the tour in LA, but I was following your updates on facebook and there were some cancelled shows, venue changes and things like that. So, was it a little rough compared to other tours?
Sorceron: "It was a little rough, but I think it was probably the best tour we've ever done. We got to play in front of crowds on some nights, depending on the territory, that were really big crowds and we were well received for the most part. In some territories, Mayhem has a pretty open-minded fan base, because they're the type of band who will always have the straight-ahead black metal fans that just want to hear the first two or three albums or whatever, but we went into some pretty strange territory after that. We really clicked with those guys also on a personal and musical level. They were really cool to us and I think their fans were too. So I would say it was the best tour we've ever done. I mean, we've done much rougher tours where no one was at the shows at all. That makes it hard, to want to keep doing it when you're not getting any money, when you're running out of money, can't even afford gas, and have to eat at McDonald's every single day. It's the worst thing to eat, but when you don't have any money, you have to. It's almost not worth it sometimes when you're playing crappy shows. We had a lot of cancelled shows on this tour. That was because of venues closing down, and things that were out of our control really. We ended up playing shows for free on those days anyways, just because it was worth it to keep doing it. Those were some of the best shows of the tour actually, the ones that were cancelled. Even Mayhem played for no money. We totally respect that. They are a lot like us in the sense that they're not about getting paid. They do it to enjoy the vibe and atmosphere they are creating when they play. It's the same for us. So it was the best tour so far, even though we played first on the bill, which does suck a little bit. In some places, we were playing before the doors were supposed to be even opened. So stuff like that sucks, but other than that it was good."
Go to this location for the complete interview.
Abigail Williams' massive ongoing tour schedule is to pummel audiences with new material from the band's new album, Becoming. Confirmed for release in North America on January 24th, 2012 - once again on Candlelight Records - the band's third full-length Becoming is already stirring interest in the metal media; its organic, churning tracks offering some stark contrast to previous Abigail Williams releases. The first single from Becoming, 'Ascension Sickness', in its second week at radio has already broken the top 20 on CMJ (on a 11-minute single). The track continues to get heavy requests and plays nationwide as the track continues to infect the masses. Stream 'Ascension Sickness' below:
Abigail Williams-Ascension Sickness by Candlelight USA
Clocking in at nearly an hour in length, 'Becoming' ushers in a provocative new chapter for the adventurous band. Containing six vast tracks, truly the band's most expressive and complicated to date, Becoming was recorded in various warehouses throughout Los Angeles, with the lineup for the album including returning guitarist Ian Jekelis, studio drummer Zach Gibson (ex-THE BLACK DAHLIA MURDER) and as always, vocalist/guitarist Ken Sorceron, who handled all mixing, mastering, production and engineering duties.
View the cover art by infamous graphic artist Metastazis below. Pre-orders for the record are available from Candlelight.
Becoming tracklisting:
'Ascension Sickness'
'Radiance'
'Elestial'
'Infinite Fields Of Mind'
'Three Days Of Darkness'
'Beyond The Veil'
'Akasha' (digital-only)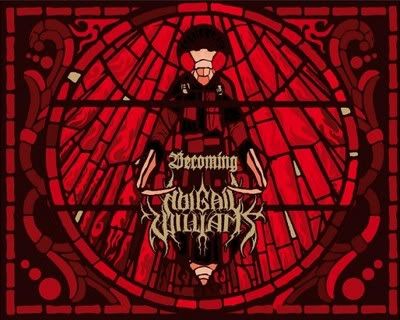 Having recently completed a massive thirty-six date North American tour supporting Mayhem, the Abigail Williams touring machine will continue on the road this week for six headlining dates, beginning in Wilmington, Delaware tonight.
Taking only a few weeks off after this run of dates, Abigail Williams hit the road on another set of headlining performances on their way to provide direct support for DARK FUNERAL's North American assault engulfing all of February, immediately followed by a full tour with DEICIDE through the end of March. A full list of tour dates is posted below:
January (headlining)
15 - 118 Live - Simi Valley, CA (with Pathology)
20 - Hypnotic Lounge - Las Vegas, NV
21 - Skrappy's - Tucson, AZ
23 - Wreckers - Lubbock, TX
24 - Tomcats - Ft. Worth, TX
25 - The Muse - Nashville, TN
26 - Kingdom - Richmond, VA
27 - Café 611 - Frederick, MD
28 - Sonar - Baltimore, MD
January (with DARK FUNERAL, INQUISITION, GIGAN)
29 - Jaxx - Springfield, VA
30 - Gramercy Theatre - New York, NY
31 - Trocadero - Philadelphia, PA
February (with Dark Funeral, Inquisition, Gigan)
1 - The Palladium - Worcester, MA
2 - Cafe Campus - Montreal, QC
3 - Imperial de Quebec - Quebec City, QC
4 - Wreck Room - Toronto, ON
5 - Montage Music Hall - Rochester, NY
6 - Peabody's - Cleveland, OH
7 - Blondie's - Detroit, MI
8 - Reggie's - Chicago, IL
9 - Station 4 - St Paul, MN
10 - Osbourne Village Inn - Winnipeg, MB
11 - The Exchange - Regina, SK
12 - Pawn Shop - Edmonton, AB
13 - Dickens - Calgary, AB
14 - Sapphire - Kelowna, BC
15 - Rickshaw Theatre - Vancouver, BC
16 - El Corazon - Seattle, WA
17 - Hawthorne Theatre - Portland, OR
18 - Grand Ballroom - San Francisco, CA
19 - Galaxy Theatre - Santa Ana, CA
20 - Ruby Room - San Diego, CA
21 - House of Blues - West Hollywood, CA
22 - The Clubhouse - Tempe, AZ
23 - The Complex - Salt Lake City, UT
24 - Bluebird Theatre - Denver, CO
25 - Roxy - Oklahoma City, OK
26 - Trees - Dallas, TX
27 - Backstage Live - San Antonio, TX
28 - Scout Bar - Houston, TX
March (with DEICIDE, JUNGLE ROT, LECHEROUS NOCTURNE)
1 - Jaxx - Springfield, VA
2 - Reverb - Reading, PA
3 - Gramercy Theatre - New York, NY
4 - Foufounes - Montreal, QC
5 - Imperial de Quebec - Quebec City, QC
6 - Opera House - Toronto, ON
7 - Montage Music Hall - Rochester, NY
8 - Peabody's - Cleveland, OH
9 - Blondie's - Detroit, MI
10 - Reggie's Rock Club - Chicago, IL
12 - Osbourne Village Inn - Winnipeg, MB
13 - The Exchange - Regina, SK
14 - Starlite Room - Edmonton, AB
15 - Dickens - Calgary, AB
16 - Rutland Centennial Hall - Kelowna, BC
17 - Rickshaw Theatre - Vancouver, BC
18 - El Corazon - Seattle, WA
19 - Hawthorne Theatre - Portland, OR
20 - Grand Ballroom - San Francisco, CA
21 - House of Blues - West Hollywood, CA
22 - The Clubhouse - Tempe, AZ
23 - The Complex - Salt Lake City, UT
24 - Bluebird Theatre - Denver, CO
25 - Trees - Dallas, TX
27 - Emo's East - Austin, TX
28 - The Hangar - New Orleans, LA
29 - Club at Firestone - Orlando, FL