ADRENALINE MOB Drummer Mike Portnoy - "This Is Just Music That You Can Put On And Have A Good Time; You Don't Have To Sit There With A Calculator To Enjoy It"
October 13, 2012, 4 years ago
Following is an excerpt from an interview with drummer Mike Portnoy conducted by Rolling Stone India when he was out on the road earlier this year with ADRENALINE MOB: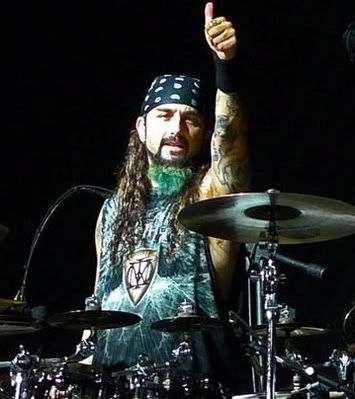 Q: What has the experience of starting a full time band from scratch for the first time in over 25 years been like?
Portnoy: "It's interesting, because Adrenaline Mob is the first thing I've had to start up from scratch (since Dream Theater). I've done a lot of other projects with TRANSATLANTIC, LIQUID TENSION EXPERIMENT and OSI, but in all those cases, I could count on the Dream Theater audience, or my audience to be on board. Adrenaline Mob is a completely different genre where we do have to start from scratch, except for maybe a handful of people who are behind it because of my name or Russell (Allen)'s name. It's exciting and also scary. There are a lot of growing pains, a lot of adjustments, especially for me and John (Moyer). He had a lot of success and comfort with DISTURBED as I did with Dream Theater. Going back to playing clubs and sharing a bus with the crew is something John and I haven't done is a while. But it's for the love of this band and this music. We believe in it. The songs are strong, the chemistry is great, and when you see the show, you'll get it. People who are undecided about the band from the album leave the show getting it and having a great time. The music is not prog, it's not the most complex, but I feel like I am in one of the strongest bands in the world, of any genre. Russell Allen is monster. Mike Orlando is a total guitar hero. John Moyer is one of the most badass guys up there. I feel like I'm part of an exciting new explosion."
Q: Did your stint with AVENGED SEVENFOLD have anything to do with your decision to join a straight up hard rock/metal band?
Portnoy: "Absolutely, it was my experiences with them that made me realise how much fun I was having and that I needed an outlet in this genre to continue on with after my time with Avenged came to an end. It was so much fun with them and we were touring with STONE SOUR and Disturbed and HELLYEAH, just surrounded by this kind of music that was riff-oriented, song-oriented and I knew that I wanted to explore it further. And it's not a crazy mixture that doesn't make sense for me. I've always been a hard rock and metal fan. I was the main guy that brought that stuff to Dream Theater. I grew up listening to SABBATH, PRIEST, MAIDEN and MOTÖRHEAD. It's just that anything heavy I did in the past still had a prog edge to it. This is just music that you can put on and have a good time. You don't have to sit there with a calculator to enjoy it."
Click here for the complete interview.
Pro-shot footage of Adrenaline Mob performing at the Graspop Metal Meeting 2012 in Dessel, Belgium on June 23rd has surfaced on YouTube and can be viewed below: