ADRENALINE MOB Preview New Track Online
February 10, 2012, 3 years ago
A preview of the new ADRENALINE MOB track, 'Indifferent', can be heard in the YouTube clip below: Adrenaline Mob will release their debut full-length album, Omertá, on March 13th. Serving as the follow-up to Adrenaline Mob's self-titled EP, Omertá will be released in North America by the newly formed Elm City Music in conjunction with EMI Label Services. Century Media Records has announced a licensing deal to release the album on March 19th in Europe.
Omertá was produced by Adrenaline Mob and mixed by Jay Ruston (ANTHRAX, STEEL PANTHER), and will feature the following 11 songs: 'Undaunted' 'Psychosane' 'Indifferent' 'All On The Line' 'Hit The Wall' 'Feelin' Me' 'Come Undone' (DURAN DURAN cover ft. Lzzy Hale of HALESTORM) 'Believe Me' 'Down To The Floor' 'Angel Sky' 'Freight Train' Samples for the tracks 'Undaunted' and 'All On The Line' can be heard at
this location
. 'Undaunted', is now available via
iTunes
. The video for the track can be seen below: Adrenaline Mob have issued the following update: "That's right, we are officially returning to the Hiro Ballroom in NYC for a very special CD Release Event. We're celebrating the release of our new CD, Omertà, as well as our first performance with John Moyer! Tickets will go on sale later today. We'll have a ticket link for you once it goes live so please check back
here
later!" Adrenaline Mob - featuring drummer Mike Portnoy (ex-DREAM THEATER), vocalist Russell Allen (SYMPHONY X), and guitarist Mike Orlando - have announced the addition of DISTURBED bassist John Moyer to the group.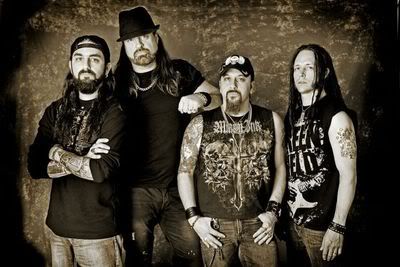 According to a press release: 2012 is shaping up to be some year for Adrenaline Mob. The band, featuring the powerhouse vocals of Russell Allen, the shredding guitar attack of Mike Orlando and the drumming virtuosity of Mike Portnoy, just found the missing piece their lineup needed. John Moyer, half of the rhythmic backbone of multi platinum rock juggernauts Disturbed, is stepping in to fill the recently vacated bass player spot. They all got together and after one jam session, the band knew they had found the newest member of the family. John will be making his on-stage debut with Adrenaline Mob on March 12th when they play their record release event at Hiro Ballroom in New York City. Says Moyer: "Mike Portnoy called me about auditioning for his new band Adrenaline Mob. He had heard through the grapevine that I was looking to stay busy while Disturbed is on hiatus. After jamming with Russ, MO, and Portnoy, the chemistry as musicians was undeniable. I am super stoked about joining "The Family" and I can't wait to hit the road with these guys and see what kind of musical mayhem we can create!"