ADVENT OF BEDLAM - New Album Due This Month; Details Revealed
February 2, 2012, 7 years ago
Heredia, Costa Rica-based death metal band ADVENT OF BEDLAM will officially release their new album called Flesh Over God on February 29th. The band describes this album as "the most brutal, fastest, heaviest, most extreme, raw and direct project we have been part of, in our lives."
Flesh Over God was recorded in Cavan Studio (Heredia) by both guitar players Max Gutierrez and Isak Arroyo. The album cover artwork below was created by Eliran Kantor, who has worked with TESTAMENT, SODOM, ATHEIST, SIGH among others.
Flesh Over God will feature the following tracks:
'Nimrod's Rebellion'
'Time for Vengeance'
'Tyrannicide'
'Purification through Pain'
'Indoctrinated Wrath'
'Creed of the Void'
'The Swinish Moguls'
'Echoes of the Unhinged'
The song 'Indoctrinated Wrath' features the vocals of Tim "The Scream" Aymar (CONTROL DENIED, PHARAOH) who was in Costa Rica on late 2011. This song will be the official single for Flesh Over God.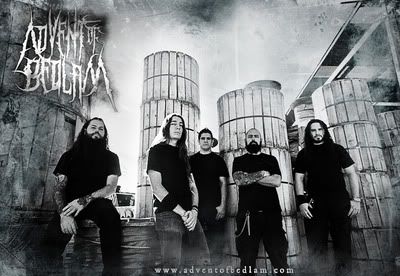 Advent of Bedlam will follow the release of their new album with their first tour on the old continent "Europe Over God", which will take them to countries such as Germany, Portugal, Czech Republic, Slovakia and Spain from March 1st – 18th 2012.
Advent of Bedlam is:
Isak Arroyo: guitars
Max Gutierrez: guitars
Fabian Salas: bass
Luis Ortiz: drums
Roy Zumbado: vocals