AEROSMITH Drummer Joey Kramer - "The Fact Remains We Are The Five Biggest Fans Of The Band That There Are And We Are Very Critical Of What We Do"
November 14, 2012, 4 years ago
Hot on the heels with the news that Music From Another Dimension! has just entered the top ten charts in the US and Canada, AEROSMITH drummer Joey Kramer caught up with BraveWords correspondent Matt O'Shaughnessy to talk about the band's long-awaited studio effort, their current second leg of The Global Warming Tour, and the Boston Bad Boys' iconic legacy.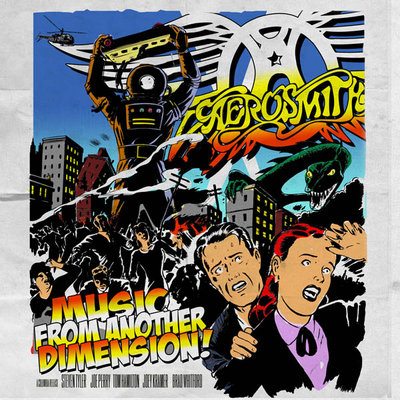 BraveWords: Aerosmith recently embarked on the second leg of their The Global Warming Tour, with a monumental return to New York City's Madison Square Garden on November 20th.
Joey Kramer: "I'm from New York to begin with, so it should be great!"
BraveWords: With a new album, Aerosmith's fifteenth studio album and your first with all new material in eleven years...life in the Aerosmith camp is certainly quite active these days. What are your thoughts on Music From Another Dimension!?
Joey Kramer: "Well, there's a lot of great songs on there and, of course, Jack Douglas produced it; Jack brings a lot of fun to the table and when you have fun doing something which we did doing this new record it always comes out pretty good! And so I am pretty happy with it as I think all my partners are too. We will be playing some of the songs from Music From Another Dimension! at Madison Square Garden and on The Global Warming Tour."
BraveWords: As a legendary and pioneering group, is there any pressure on the band to construct the set-list on this tour given the fact that everybody knows and loves Aerosmith?
Joey Kramer: "I don't know if it is pressure as much as it is inspiration to just go out and do a great show for people who love you."
BraveWords: According to some recent quotes on the The Global Warming Tour "Aerosmith always manage to re-invent itself for the masses with out losing its inherent musicality. The band stayed true to its creative forces - that's why 42 years after its inception, the band still sells out arenas!"
Joey Kramer: "That's the truth!"
BraveWords: How does it make you feel when you hear stellar praise for Aerosmith like that?
Joey Kramer: "It makes me feel really good! Without trying to sound egotistical, you know, it's pretty true. Even if I do say so myself; I am our worst critic. But the fact remains we are the five biggest fans of the band that there are and we are very critical of what we do and we are always trying to tweak it to see what we can do to make it better. I am proud of what we are doing now because we have kind of re-invented ourselves. We withstood the toughest test that there is - which is the one of time."
BraveWords: Creatively, can you give us a first-hand look into working with producer Jack Douglas again?
Joey Kramer: "Yeah, it was great to work with Jack again. He brings fun to the table and he is always open and ready to try anything and anybody's ideas about whatever; there's no such thing as bad idea. We had a lot of fun doing this record and doing the tracks and you can hear it. That's when a record comes out good when you have a good time doing it! Every body should get out there and get the new record. It speaks for itself!"
BraveWords: You once commented that the new record is reminiscent of some of your older ones; but with a new twist - they are modernized.
Joey Kramer: "Yeah. It's the energy and the spirit of the band the way it always was but with new material; We had a lot of stuff in the can that we could have used and rested back on our laurels, but we made the decision not to use any of that stuff. It's all new. It's really great. There's some slamming ballads on there and mid-tempo stuff and rockers; I think there is something on the new record for everybody."
BraveWords: After forty-two glorious and hard rocking years, Aerosmith remains a major part of American culture and an ever- viable pioneering force in music. What's Aerosmith's legacy?
Joey Kramer: "To be known as the best playing and performing rock and roll band that there is; I don't believe there is anybody else out there really doing what we're doing. I think we remain the creative force that we do because everybody has the common denominator of loving to play, we all love what we do. we do what we do and we are having a good time lately!"
BraveWords: Aerosmith fans are very devout. What's your message to them now?
Joey Kramer: "Well, I think that the feeling is mutual; We are loyal to our fans. I am very grateful to our fans for being there with us throughout the years and allowing us to go out and still perform and be there for us and accept us and show the kind of faith that they do!"