AEROSMITH Premier 'Lover Alot'; Steven Tyler Comments On Track
October 30, 2012, 5 years ago
On November 6th, AEROSMITH will release Music From Another Dimension! on Columbia Records. It marks the band's 15th studio album and their first studio album of all-new material in 11 years.
RollingStone.com are premiering the album, one track at a time, in the weeks leading up to the release. Driving rocker 'Lover Alot' is an echo directly from Aerosmith's earliest hit-making years, and could arguably fit easily on any of their classic 70s albums. A collision of guitars erupts behind an excited Steven Tyler, who rips through an avalanche of innuendo and explicit sexuality: "You get a thrill from the smell of her hair/You get a high from the taste of her wet/It's certified, bu-bu-bu-but chu ain't getting there yet!"
It begins with a false start and a groan from drummer Joey Kramer, then dives in without a break until it crashes to a shriek and a close. It's the kind of sound many fans have expected to come with the return of producer Jack Douglas, chief collaborator on Aerosmith's first decade of career-defining work. Douglas also plays some percussion on 'Lover Alot'.
Read more and hear 'Lover Alot' at this location.
Commentary and audio of other tracks from the album can be found via the links below:
-
'Can't Stop Loving You'
-
'Street Jesus'
-
'What Could Have Been Love'
-
'Legendary Child'
-
'Out Go The Lights'
-
'Tell Me'
-
'Beautiful
-
'Oh Yeah'
Billboard is reporting that Aerosmith has it's first Adult Contemporary chart hit since 1998, when 'I Don't Want To Miss A Thing' reached #13. 'What Could Have Been Love' from the band's 15th studio album, Music From Another Dimension!, debuts at #28.
Aerosmith recently released the video for 'What Could Have Been Love'. The clip can be seen below:
A deluxe version of Music From Another Dimension! will include:
- Four live performance videos: 'Rats In The Cellar', 'Train Kept A Rollin'', 'Oh Yeah' and 'Same Old Song and Dance'
- Exclusive interviews with the members of Aerosmith band members
- Three exclusive new bonus tracks: 'Up On A Mountain', 'Oasis' and 'Sunny Side of Love'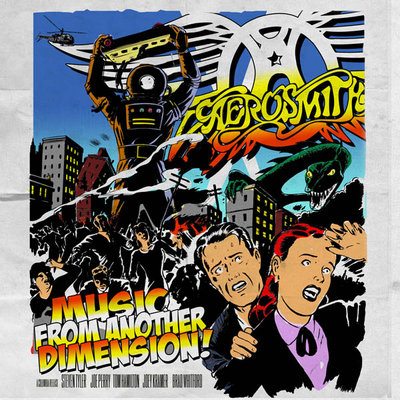 Music From Another Dimension! tracklisting is as follows:
'LUV XXX'
'Oh Yeah'
'Beautiful'
'Tell Me'
'Out Go The Lights'
'Legendary Child'
'What Could Have Been Love'
'Street Jesus'
'Can't Stop Loving You' (with CARRIE UNDERWOOD)
'Lover A Lot'
'We All Fall Down'
'Freedom Fighter' (with JOHNNY DEPP)
'Closer'
'Something'
'Another Last Goodbye'
Check out BraveWords.com scribe Martin Popoff's new interview with Aerosmith guitarist Brad Whitford, in which he discusses the band's new album, at this location.
Aerosmith are known for throwing a helluva party, and they've got a special one planned for their beloved hometown, Boston, on the day before Election Day, Monday, November 5th.
They're planning to show up somewhere in the city, around noon, and play on the streets. That's all the band are telling us for now. Well, they would like to tell us more, but they're cooperating with authorities who will let them reveal the location the morning of November 5th.
Says Joe Perry, "People, get out and vote! For whomever you like. Just do it. Be a 'Freedom Fighter'", to quote a song title from the band's new album. "Anyone who votes is a Freedom Fighter."
Aerosmith recently announced the second leg of The Global Warming Tour, which will include support act CHEAP TRICK. Tickets are on sale now at LiveNation.com. For VIP ticket packages, including opportunities to meet band members, backstage tours, great tickets and more, visit Aeroforceone.com.
Dates:
November
8 - Oklahoma City, OK - Chesapeake Energy Arena
11 - Wichita, KS - INTRUST Bank Arena
14 - Kansas City, MO - Spring Center
16 - Austin, TX - Frank Erwin Center
20 - New York, NY - Madison Square Garden
23 - Atlantic City, NJ - Revel Resorts – Ovation Hall
25 - Columbus, OH - Nationwide Arena
27 - Toronto, ON - Air Canada Centre
December
1 - Las Vegas, NV - MGM Grand Garden Arena
3 - Los Angeles, CA - STAPLES Center
6 - New Orleans, LA - New Orleans Arena
9 - Fort Lauderdale, FL - BB&T; Center
11 - Tampa, FL - Tampa Bay Times Forum
13 - Nashville, TN - Bridgestone Arena
According to the Late Night TV Page, Arrosmith will guest on CBS's Late Night With David Letterman, on Thursday, November 1st. For more details visit CBS.com.
Also, Steven Tyler and Joe Perry will be guests on ABC's The View on Friday, November 2nd at 11AM, EST/10 AM, PST. For more details and air-times visit this location.