AEROSMITH's Tom Hamilton Talks To BraveWords.com About His Health, 25th Anniversary Of Permanent Vacation, Music From Another Dimension; "This One Is More Towards 'Lord Of The Thighs'"
July 23, 2012, 7 years ago
By Mitch Lafon
It's been eleven years since AEROSMITH has released an album of all-new material. Just Push Play served to just push old-time fans further away and catered to the BACKSTREET BOYS tween crowd. This time around with Music From Another Dimension the band has set out to make an album that will bring back the die-hards while keeping mainstream radio happy. BraveWords.com sat down with band bassist, Tom Hamilton, to discuss the new album, the 25th anniversary of their classic Permanent Vacation record and his health. As some may recall, Hamilton was diagnosed with throat and tongue cancer in 2006 and had to sit out shows on the band's Route Of All Evil Tour. There have been some ups and downs since then, but he's back in the saddle and ready for the upcoming fall Aerosmith tour.
BraveWords.com: There are a lot of things to talk about obviously, but let's start with your health. How are you doing?
Tom Hamilton: "My health is excellent right now. I go to my periodic checkups and because I'm a cautious person I do them a little bit more often than the usual protocol. So far so good and when it came back in '09 - it was quite a scare. My doctor thought that was a really bad sign, but it's a big milestone now that I'm at the three year point. The next big milestone is the five year, so I'll just keep going until that comes."
BraveWords.com: With the rigors of touring being what they are - will this have any impact on you staying on tour for a long period of time?
Hamilton: "It'll be completely smooth sailing as long as I eat enough. My problem is getting enough calories. It's a little harder to eat than it used to be and I have zero appetite. I've never been much of a food person, but now I have to put thought into making sure I eat. So, as long as I do that I feel great."
BraveWords.com: The new album, Music From Another Dimension, was originally due in August and now has been pushed back to November. Within that time frame will anything be done to the album? Any overdubs, edits, new mixes or any tweaking...
Hamilton: "That's a very poignant question you bring up. That was the first thing that worried me when they talked about wanting to push the release date back to November. The compulsion to tweak can come roaring out again, but no, I think we're done and everybody is finally completely confident that we've got the best possible album we can have. Now, it's just a matter of waiting, but we'll probably release a couple more tracks between now and then. We'll do a lot of press and we'll be on the road too. Obviously, until the 9th of August and we go back out in October. What pleases me the most is that if we want to extend that tour, to help promote the album, we can now do it thanks to Steven (Tyler) being done with (American) Idol."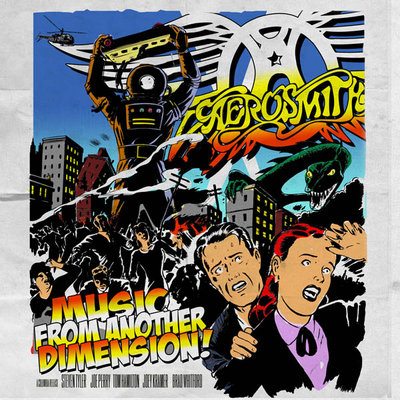 BraveWords.com: Was Steven leaving American Idol a personal choice or more of the band saying, 'hey listen, you can't hold us up. We have to move forward with or without you.'
Hamilton: "The whole plan of how we were going to deal with Idol is something that we hammered out last year. It almost got to the point of using real hammers."
BraveWords.com: I can imagine or, at least, real lawyers...
Hamilton: "Well, you know... The thing is that it turned out to be quite a demand on his time..."
BraveWords.com: And your time too...
Hamilton: "Absolutely. Luckily, we were able to continue working on the album during last season of American Idol (that ended this past May). The whole time we were out in L.A. doing a lot of overdubbing and that's when he did most of his vocals. We also got a good start on the mix. It didn't really slow us down. What would have slowed us down is if we released the album and only had a few weeks to tour behind it. That would have been very frustrating experience for everybody. Now, that he's free of his day job; he can come back to his hobby."
BraveWords.com: The band has been away from making new music for eleven years (Just Push Play came out in 2001). Going in to make this album was the band rusty or eager to try new things... How did this one come together?
Hamilton: "For me, this whole album thing is something that I have been working towards for a long time. I don't feel like the album started when we all got together last summer. I feel like I've been working on it for a really long time. Our producer, Jack Douglas, had a lot to do with how and why we were able to get into the studio and get into a productive mode (where all the ideas that came up were organized, tried out, used and developed). We also worked with Marti Frederiksen who produced two of the songs and co-wrote some of the songs. He's an extremely creative guy, but what we needed really badly was a coach and that's the role Jack filled back in the '70s (when we learned how to make our best records) and that's exactly the chemistry that took place on this one."
BraveWords.com: You've mentioned Jack and the '70s - which brings up the point that there seems to be two separate Aerosmiths: America's Most Dangerous Band which is the '70s/early '80s Aerosmith and then there's the My Little Sister's Record Collection Aerosmith in which the band softened up their sound. How does the new album fit into this comparison? Is it more 'Pink' or is it more 'Lord Of The Thighs'?
Hamilton: "This one is more towards 'Lord Of The Thighs', but it'll also make your little sister very happy. There's fifteen songs on the album..."
BraveWords.com: And please don't be insulted by that...
Hamilton: "No, I understand exactly what you mean. We want to have all these girls like our records and come to the shows. When early on in your career and most of your fans are drunken shirtless males that's ok, but when you still want to continue doing it into the fourth and fifth decades of your life - you really don't want to see a bunch of grey hairy chested guys in the front row. You want to see some beautiful women. We've been very fortunate with some of the singles we've had; not only with a much more mixed audience, but a bigger audience. The album... every song on the album represents the truth about what somebody on the album loves. In other, words when there's a ballad (that's a real torch song); that's Steven loving doing that. He loves to sings those ballads because he can really show-off. Then the rest of us (the guitar playing guys) want to show-off that we still love to crank up our amps and play really loud fast crunchy songs. Hopefully, what people will say is that the band has a wide range that we've developed over the forty years we've been together. I think it's natural that our focus is wider than it was when we first started (just simply) because of all that we've learned over these years."
BraveWords.com: How was it working with Jack Douglas again. In the '70s, he certainly could have been considered as the sixth member of Aerosmith. He helped create your sound, and of course, the work he did with JOHN LENNON...
Hamilton: "It was fantastic. It just snapped right back to the way of working that it was when we started with him back in the '70s. The thing about Jack is that he developed his relationships with us before we were 'rock stars'. We were still on the make and struggling to get out there. He was was able to establish all these relationships back then whereas nowadays when a producer walks in he might have a struggle to to 'politically' figure out where he can and can't push. Jack can totally be in there and deal with everybody with mutual respect, everybody gets their licks in and everything is done fair and square. That is what made this album possible (in addition to what Marti put in). Marti is an extremely talented songwriter and producer. His influence on the record also brought this thing in."
BraveWords.com: The song 'Legendary Child' was initially intended for the G.I. Joe: Retaliation movie soundtrack which was supposed to be released this past June, but it got pushed back to March 2013. Does that affect the song being on the soundtrack? Also, you reached back to the Get A Grip album sessions to get that song. Are there other songs lying around that you may want to bring out at some point?
Hamilton: "Well first of all, I'm not sure what's going to happen with 'Legendary Child'..."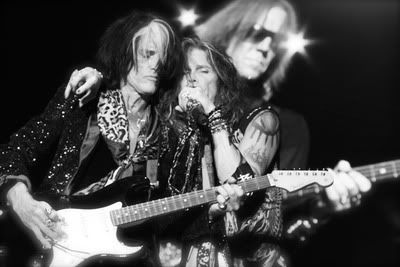 BraveWords.com: On the soundtrack you mean...
Hamilton: "Yeah. When the time comes whether they ask us to write another song or want to use 'Legendary Child' or something else... We just don't know at this point. We still consider ourselves involved with the movie and we look forward to seeing whatever happens, but... 'Legendary Child' was part of a group of songs that the band has loved and cherished for a very long time, but these songs were from the weird side of Aerosmith. That's a side of Aerosmith that Jack Douglas pays attention to. He knows how that kind of stuff turns into really cool Aerosmith songs. So, there are another four or five that we've been holding close to the vest for years and I would love it if we could get in there and finish those songs. They're awesome Aerosmith rockers and hopefully, they'll be included in the next phase. We've had mixed responses out there. People think that with 'Legendary Child', we were dragging out an outtake and it was never an outtake. We did record it, but it was never brought to its potential. So, when we decided to do that on this album; Steven re-wrote the lyrics and we re-did the arrangement. We re-recorded everything as if it was an absolutely brand new song because we really love and believe in the song. We were in a situation where somebody recognized the quality of it."
BraveWords.com: Another album that had a lot of songs demoed for it was Permanent Vacation. That album turns 25 on September 5th, 2012. That album was essentially the re-birth of Aerosmith. Done With Mirrors was a fantastic album, but really didn't light the fires whereas Permanent Vacation did. Twenty-five years later, what does that album mean to you?
Hamilton: "I look back to the times when we recorded it, how much fun it was to record it and how exciting it was to realize that we really had a collection of good songs. With Done With Mirrors we worked really hard to come up with the best that we could come up with, but you know... It just didn't represent the best efforts of the band."
BraveWords.com: But Done With Mirrors has some great songs on it like 'My Fist Your Face', 'Let The Music Do The Talking' and 'Darkness'...
Hamilton: 'Darkness is probably my favorite song from that record. I appreciate very much what you were saying about the other songs, but we really felt that we had to tear down our creative process, examine it and rebuild it. That involved collaborating with people outside of the band and that was a big success for us. All these songs were true collaborations. It wasn't like 'Joe Blow' comes in and teaches Aerosmith their song and we play it how they say it. No, it was very much a collaborative thing and, obviously, it was great for us. We weren't in a position at that point in our our career... Traditional rock radio was dying and being replaced. Most of the radio stations across the country that used to play us a lot were now advertising that they didn't play us. We realized that we had to figure out how to survive in this type of era because if you don't get your song on radio; you could have your best album out and very few people are going to know about it. We walked the tightrope there between authenticity and success. Hopefully, this album (Music From Another Dimension) reflects that."
BraveWords.com: Just to finish with Permanent Vacation - is there anything planned for the 25th anniversary? A deluxe edition, more songs from it in the set list or any kind of nod to it in any way?
Hamilton: "We haven't really been talking about it or thinking about it, but hopefully whatever gigantic record company owns it will spot that and say 'oh my God - it's the 25th anniversary year, so let's do something.' I really hope they do because that'll mean they're paying attention (which they should be)."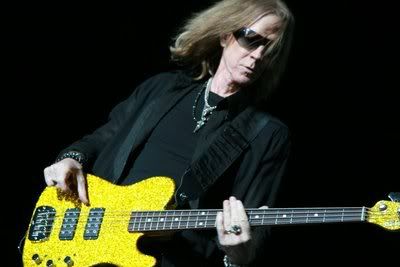 BraveWords.com: They really should be...
Hamilton: "But at this point our heads are so buried in this record that we're putting out that we haven't even thought of that."
BraveWords.com: When I saw you back in 1988, a little unknown band opened up for you called GUNS N' ROSES. Their album Appetite For Destruction also turns 25 this year. When they opened for you did you have any sense that they were more than just an 'opening band'. Was there a gut feeling that there was something special going on here?
Hamilton: "Well, we'd heard their record and yeah... It was head and shoulders above..."
BraveWords.com: ...what was on radio back then...
Hamilton: "Yeah, generally. Here was a band... A rock band in the same vein as Aerosmith and at that point there were fewer and fewer of those type bands and we heard the potential. The first few shows they played with us were kinda cute. They were a little timid and they desperately wanted to go out and 'play good' in front of us because we were..."
BraveWords.com: Their heroes...
Hamilton: "Their heroes, I guess (yeah) and all of a sudden... Five or six shows into that tour they found their feet and it started to get very exciting."
BraveWords.com: Very exciting to say the least. The show I attended in Saratoga Springs, NY - their set ended with a bottle throwing incident. Let's get back to the new album, Music From Another Dimension. A lot has been made about Aerosmith using outside writers and that it has diluted the broth that was Aerosmith in the '70s. What's your take on using outside writers?
Hamilton: "I remember a day back in the late '70s where I kind of wished that kind of thing could happen. We were really having trouble finishing records... I could see what it was doing to the band and it was a big factor into why everybody got fed up and Joe left... Then Brad. It's not something that I ever felt was a bad thing to do, but I've always been aware that a lot of people might think... It might be less interesting to hear a band... It might be more interesting to hear a band that 100% writes its own stuff and I think that's a legitimate thing, but for me, I just want to hear my band doing the best records they could do. If we found someone outside the band that had a song idea that we could turn into an Aerosmith song then we were all for it, but you'll see on this record that everybody was involved in the song writing and there are a lot of firsts. Myself - I wrote a song that I actually sang although it'll be on a special deluxe version of the record."
BraveWords.com: Is the song 'Tell Me'?
Hamilton: "No, the one I'm talking about is called 'Up On The Mountain'. There is a song called 'Tell Me' (that is on the main album) that I wrote, but Steven sings it. It was an extremely spine tingling feeling to have written this song and hearing somebody with a voice like his perform it. It was the first time in my life that I've ever had that experience. Hopefully, everybody likes it. I think it came out pretty good."
BraveWords.com: So far, I've only heard two songs: 'Legendary Child' and 'Oh Yeah!'. In the context of a live show, I think 'Oh Yeah!' sounded great...
Hamilton: "It's a good old fashioned party song."
BraveWords.com: When you hear a new song in concert, you have one of two reactions - either you really dig it or you run off to the bathroom. And I stood to attention during 'Oh Yeah!' - I really thought it was great.
Hamilton: "That's good to hear."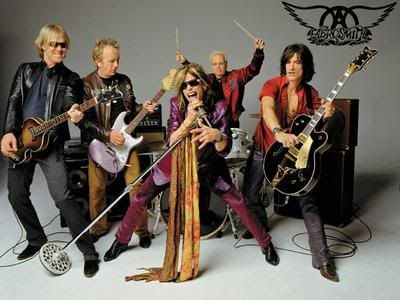 BraveWords.com: CARRIE UNDERWOOD is on the new album...
Hamilton: "We had this song called, 'Can't Stop Loving You' and the way it developed it sounded like a country song. We were like, 'so what do we do?' Do we cancel it out because somebody might think we're trying to do a country crossover move? Or do we stick with it and enjoy it? And that's what we decided to do - stick with it and let the song develop as it did. It has very much a country flavor. Then there was talk about getting a super-country singer to come in and sing with it... Her name came up and immediately I went into 'uh-o' mode because I thought we're putting out this record... This rock statement and this is going to make everybody talk about that. It'll take the attention away from the rock statement we're making with this record, but, you know, I'm just this overly cautious person. Steven set a session up without telling anybody and got her to come up and sing on it then he presented us with a fait accompli. You know, it just came out so great that you can't deny it. [Ed. Note: As of this writing, the song on the album featuring Carrie Underwood is called 'Beautiful']
BraveWords.com: There's a song you did years ago called, 'Once Is Enough'. It's a country song and I love it. So, I'm looking forward to the new one with Carrie. You also did 'Shakey Ground'  (a THE TEMPTATIONS cover) on this album.
Hamilton: "Yes, we did..."
BraveWords.com: You love going back to those legendary '50s and '60s bands much like on Honkin' On Bobo... Why cover this song?
Hamilton: "I'm not sure... Somebody brought it in. We needed or we thought we needed extra tracks for Japan. So, somebody had the idea of covering the ETTA JAMES version of the song. It was a very simple easy riff that we could throw together. We all went in and did it and the damn thing turned out way better than we expected, so we decided to make it part of the main body of the record. We've always been a band that likes to show off our ability to be funky. It's something that we worked a lot on when we first started... To be able to play JAMES BROWN songs and have them be believable. So, we get to show off our funk a little bit."
BraveWords.com: Aerosmith probably has the best rhythm section in rock. What you and Joey have done on songs like 'Sweet Emotion', 'Walk This Way'... You're the best tandem...
Hamilton: "Well, thank you very much. I appreciate it."
For all things Aerosmith visit Aerosmith.com.