ALICE COOPER Archives In Los Angeles Broken Into
March 29, 2012, 5 years ago
The storage facility in Los Angeles which houses the ALICE COOPER Archives was broken into on March 27th, along with three other storage units. A police report has been filed. Items missing include a large quantity of original vinyl records, a jacket, and the original sculpture which was used for the cover of the Hey Stoopid album.
"With multiple units broken into, we don't believe Alice's Archives was specifically targeted."
If anyone sees anything suspicious or hears anything about these stolen items - especially on the internet or in Los Angeles - please contact archives@alicecooper.com.
The Jägermeister Ice Cold Event took place May 11th, 2011 at Battersea Power Station in Battersea, South London, starring legendary rock 'n' roll royalty ALICE COOPER appearing in 4D.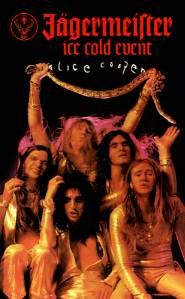 The Jägermeister Ice Cold Event made history as the UK's first holographic 4D rock gig and celebrated the release of the Alice Cooper box set Old School: 1964-1974. Featuring original band members Alice Cooper, Dennis Dunaway, Neal Smith and Michael Bruce, plus Steve Hunter standing-in for the late Glen Buxton, the Jägermeister Ice Cold Event was the first time the group has 'appeared' together in the UK since 1972, although the band was not actually there in person.
The unseen closing track from the event can now be seen below. This is the Director's Cut, the version the fans did not see at the show due to rushed deadlines for the live show:
According to Alice Cooper fan-site SickThingsUK, "the band 'appeared' incased in ice on the custom 4D stage, bursting out one by one to perform 'Eighteen', 'No More Mr Nice Guy', 'Under My Wheels', 'Is It My Body', 'Billion Dollar Babies', 'Elected' and 'School's Out' to the gathered fans with various smoke and lighting effects culminating in a rain of confetti and streamers shooting over the audience."
Check out fan-filmed footage below: