ALICE COOPER - First Photos Of New Guitarist Orianthi Online
September 9, 2011, 6 years ago
ALICE COOPER recently announced today that eminent guitar prodigy, Orianthi, will join his band, replacing departing guitarist Damon Johnson, for the next leg of his 2011 No More Mr. Nice Guy world tour, starting September 22nd in Auckland, New Zealand. Currently in progress, the tour hits ninety plus cities, covering five continents, including Europe and North America twice over. Check out rehearsal photos with Orianthi below:
Check out more photos on Alice Cooper's Facebook wall here.
At the young age of 26, Orianthi has already experienced what most aspiring musicians only dream of. She's opened for her hero, STEVE VAI; backed CARRIE UNDERWOOD; traded solos with CARLOS SANTANA; shared the stage with the King of Pop, MICHAEL JACKSON, and accompanied Alice during his live performance of 'School's Out' on the 2010 season finale of American Idol.
"It's very difficult to find someone to match the talents of Damon Johnson," commented Cooper, "but not only did we find someone who is more than up to the challenge… she also looks WAY better."
Orianthi will join world-renowned guitarist Steve Hunter (toured and recorded with Cooper and LOU REED) and Tommy Henriksen (co-wrote and played on Cooper's upcoming release); drummer Glen Sobel and Alice's longtime bassist Chuck Garric round out the band.
"I'm super excited to go on tour with Alice," said Orianthi. "It's a huge honor to be able to get on stage and jam with an icon."
Orianthi will debut with the band for a performance on the Tonight Show with Jay Leno, on Friday, September 9th on NBC.
Alice Cooper's live itinerary can be found here.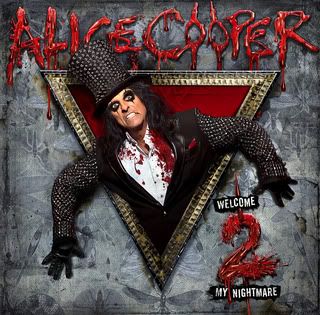 Alice Cooper's Welcome 2 My Nightmare album will be released in mainland Europe on September 9th, the UK on the 12th and North America on the 13th by Universal Music Enterprises.
The US Best Buy version will feature the following four exclusive bonus tracks:
'Under The Bed' (new studio track)
'Poison' (live at the Download Festival)
'No More Mr. Nice Guy' (live at the Download Festival)
'Black Widow' (live at the Download Festival)
Alice Cooper's new video, for the single 'I'll Bite Your Face Off' can be seen below:
BraveWords.com has heard the album and a review can be read here.
Recorded with longtime collaborator Bob Ezrin (PINK FLOYD, KISS), who produced the original multi-platinum Welcome To My Nightmare album in 1975, the album picks up right where they left off, with Alice trapped in his own warped mind.
The original Welcome To My Nightmare release is an all-time rock classic that spawned a worldwide theatrical tour and pioneering US TV special, and certified Alice Cooper as a visionary trailblazer whose influence persists today in rock, metal, pop, punk, theatre, television, film and much more.
More than 35 years later, Alice and Ezrin have resurrected the horror and humor for a new generation.
"This is Alice's nightmare 35 years later," explains Alice in a press release, "Bob and I created this character and we know how to write for him. I play the part but we're not writing for me, we're writing for Alice. We kept the first Nightmare album very personal to us, on this one we found more humor and we were more open. This was our world and we want to present it to the fans. The original album was my first solo album after all those huge hit records with the original band and now that nightmare is exposed, this one can be a little bit more open. The music crosses all sorts of boundaries; we went where the lyrics took us."
There is an array of collaborators on the new album, including original Alice Cooper members Denis Dunaway, Michael Bruce and Neal Smith reunited on 3 tracks; global pop superstar Ke$ha, who affectionately calls Alice "dad"; and legendary Alice and Lou Reed guitarist Steve Hunter, who is part of Alice's current touring band and featured prominently on the first Nightmare album.
Co-writers on various songs include Bob Ezrin, Ke$ha, Dunaway, Bruce and Smith, plus BUCKCHERRY's Keith Nelson, Desmond Child (who famously co-wrote and produced 'Poison' with Alice), longtime collaborator Dick Wagner, current touring band member Chuck Garric, and film composer Jeremy Rubolino.
Check out a new promo video for the album below:
Welcome 2 My Nightmare tracklist:
'I Am Made Of You'
'Caffeine'
'The Nightmare Returns'
'A Runaway Train'
'Last Man On Earth'
'The Congregation'
'I'll Bite Your Face Off'
'Disco Bloodbath Boogie Fever'
'Ghouls Gone Wild'
'Something To Remember Me By'
'When Hell Comes Home'
'What Baby Wants'
'I Gotta Get Outta Here'
'The Underture'