ALICE COOPER - Welcome 2 My Nightmare Reviewed!
August 11, 2011, 3 years ago
Legendary shock rocker ALICE COOPER's widely anticipated new album, Welcome 2 My Nightmare, will be released on September 13th by Universal Music Enterprises. BraveWords.com has heard the album and you can read Mitch Lafon's glowing 10/10 review below: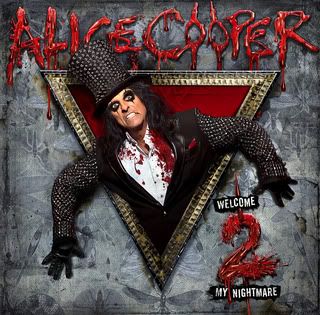 ALICE COOPER Welcome 2 My Nightmare (Universal) Releasing a sequel album is always a risky proposition and even riskier when the first disc was released over thirty-five years ago and is considered a masterpiece by the rock community, but Alice Cooper has never backed away from a musical challenge and fans can rejoice as the veteran rocker and Canadian-born producer Bob Ezrin have created an equally comparable chef d'oeuvre. Stealing musical motifs from the first Nightmare album, Cooper takes his fans on a musical journey through his best work of the '70s. 'A Runaway Train' is a long lost cousin to 'Ubangi Stomp' (from Lace & Whiskey). 'Last Man On Earth' features a sneering Cooper vocal and feels like it was lifted straight out of a Vaudeville show while 'Disco Bloodbath Boogie Fever' (witty lyrics and all) sounds like a 2011 update of the Cooper classic 'Clones (We're All)'. Pop starlet, KE$HA, shares the mic with The Coop on 'What Baby Wants' for a strangely entertaining Alice dance tune (think KISS' 'I Was Made For Lovin' You', but with tongue firmly planted in cheek). 'The Underture' closes out the album with snippets (a megamix if you will) of the original 'Welcome To My Nightmare', 'Only Women Bleed', 'Black Widow' and more. The reuniting of the members of the original Alice Cooper band (Neal Smith, Michael Bruce, and Dennis Dunaway) can only be described as 'magical'. While original Nightmare band member, Dick Wagner, is the 'cherry-on-top'. In all, Welcome 2 My Nightmare is Cooper's best and most consistent work since 1975 and will reignite the passion in long-time fans. Recorded with longtime collaborator Bob Ezrin (PINK FLOYD, KISS), who produced the original multi-platinum Welcome To My Nightmare album in 1975, the album picks up right where they left off, with Alice trapped in his own warped mind. The original Welcome To My Nightmare release is an all-time rock classic that spawned a worldwide theatrical tour and pioneering U.S. TV special, and certified Alice Cooper as a visionary trailblazer whose influence persists today in rock, metal, pop, punk, theatre, television, film and much more. More than 35 years later, Alice and Ezrin have resurrected the horror and humor for a new generation.
"This is Alice's nightmare 35 years later," explains Alice in a press release, "Bob and I created this character and we know how to write for him. I play the part but we're not writing for me, we're writing for Alice. We kept the first Nightmare album very personal to us, on this one we found more humor and we were more open. This was our world and we want to present it to the fans. The original album was my first solo album after all those huge hit records with the original band and now that nightmare is exposed, this one can be a little bit more open. The music crosses all sorts of boundaries; we went where the lyrics took us." There is an array of collaborators on the new album, including original Alice Cooper members Denis Dunaway, Michael Bruce and Neal Smith reunited on 3 tracks; global pop superstar Ke$ha, who affectionately calls Alice "dad"; and legendary Alice and Lou Reed guitarist Steve Hunter, who is part of Alice's current touring band and featured prominently on the first Nightmare album. Musically, the album ranges far and wide, from trashing disco to garage punk, pop balladry to a rocking number, very much in the spirit of the Rolling Stones. And then there's the ballad "Something To Remember Me By," described by Alice as "the prettiest song we have ever released." Glimpses of themes from the original album are intertwined throughout, each track representing a different aspect of Alice's nightmare. From the opener, "I Am Made Of You," through the already established live favorite and first single "I'll Bite Your Face Off," to the surprising duet with Ke$ha, "What Baby Wants," this album is a reminder that albums just aren't made this way anymore.
And musicians do not play together like Dennis Dunaway, Michael Bruce and Neal Smith anymore. "I wanted a '70s feel for 'When Hell Comes Home,' says Alice, "and I didn't even have to ask for it, it's just how they play and they did it live in the studio. When they got done playing the basic track, Bob and I just looked at each other, that sound is built into their DNA. We didn't need to go and fix anything. The way they finished was a little bit ragged, and that's the way we used to finish songs, that's what I like about it." Co-writers on various songs include the aforementioned Bob Ezrin, Ke$ha, Dunaway, Bruce and Smith, plus BUCKCHERRY's Keith Nelson, Desmond Child (who famously co-wrote and produced 'Poison' with Alice), longtime collaborator Dick Wagner, current touring band member Chuck Garric, and film composer Jeremy Rubolino. "That's my rebellion," says Alice of the more surprising guests, "I like people that don't belong and yet what they're doing works perfectly. I don't care where it comes from, as long as it's right. If you tell me something doesn't work, I'll work my head off until it does then shove it down your throat." "I think a lot of my audience is going to go 'KE$HA!?', but she probably wrote the most wicked lyrics in the song – we had to rein her in. I like people to know that just because artists are put in a pigeon hole, that doesn't mean that's what they are. Give people a little room." With Steve Hunter, one of rock's great guitarists, added to the band's lineup of guitarists Damon Johnson and Tommy Henriksen, bassist Chuck Garric, and drummer Glen Sobel, Alice has been tearing up venues worldwide on his 2011 "No More Mr. Nice Guy" tour. Alice gave fans an up close and highly personal experience in June with a surprise performance at London's legendary 100 Club, when actor Johnny Depp joined the band on guitar. Alice showcased the powerful band that had blown away the Download Festival crowd the previous weekend. This year, the original Alice Cooper group was inducted into the Rock 'n' Roll Hall of Fame, and Alice was honored with both the Kerrang! Icon Award in the UK and the Revolver Golden God Award in the US. Welcome 2 My Nightmare tracklist: 'I Am Made Of You' 'Caffeine' 'The Nightmare Returns' 'A Runaway Train' 'Last Man On Earth' 'The Congregation' 'I'll Bite Your Face Off' 'Disco Bloodbath Boogie Fever' 'Ghouls Gone Wild' 'Something To Remember Me By' 'When Hell Comes Home' 'What Baby Wants' 'I Gotta Get Outta Here' 'The Underture'