ALICE COOPER's DAMON JOHNSON Says BROTHER CANE Will Be Active In 2012 - "I Would Like To Make A New Record"
August 17, 2011, 6 years ago
By Mitch Lafon
These days, Damon Johnson, is known as the other guitarist in ALICE COOPER's band behind legendary axeman, Steve Hunter, but not-so-long ago Damon was the leader of the '90s hard rock outfit, BROTHER CANE, who had a major hit in 1993 with 'Got No Shame'. BraveWords.com recently sat down with the Cooper guitarist to get an update on all things Damon.
BraveWords.com: What is going on in Damon Johnson world?
Damon Johnson: "Well, this Alice (Cooper) tour is going on and it's my favorite one ever. The band sounds better than ever and it's been such an honor to play in a band with Steve Hunter. Steve is a hero of mine from when I was a kid. I've sat down and learned so many of his guitar solos from the records, so to be in a band with him now is such an honor. The other new guys, Tommy Henriksen on guitar and Glen Sobel on drums... we've gone to such detail to get back to the original recordings. We wanted to revisit all those parts and make sure we had them down as close to the original as possible. I believe this band is delivering that in a way that I don't know any Alice Cooper band has."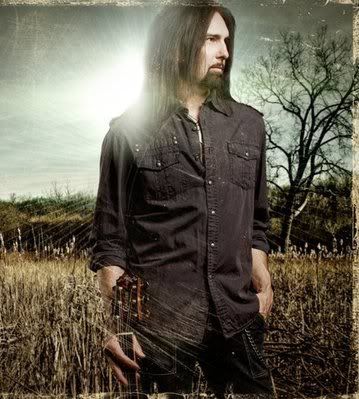 BraveWords.com: You took a break from Alice's band for a few years to do 'your own thing'. What's the status of your work outside of Cooper?
Johnson: "I'm always going to be juggling two or three things, Mitch. That's the beauty of working with Alice. He takes up a certain amount of time each year for touring and then there's a fair amount of time for you to work on other stuff. Alice is five or six months out of the year.  As a writer, performer and just a guy who needs to keep working to feed his family I'm really fortunate that I've got some other things that I can do. I'm really looking forward to re-launching Brother Cane in 2012. I've put it off for a long time and I've been so focused on other things, but I can't out-run the shadow of Brother Cane. People ask about it constantly in such a flattering way. Since the band broke up in 2000, I've tried to put together no less than four other projects, but it's really hard. To have a name that people are familiar with and to have songs that people know... I just thought I could have the band available to do some shows and it's a creative outlet for me. I haven't made a rock record in a long time and I need to make another rock."
BraveWords.com: Do you miss playing the Brother Cane songs?
Johnson: "I've always miss playing those songs. The band has played four shows in the last eleven years and for me as the guy who wrote all those songs and sang all those songs, I have a real attachment to them. I just want to go out there and sing those songs that I've had some success with."
BraveWords.com: You mentioned 'rock record'. When the band gets back together in 2012, will you have a new record to support the tour?
Johnson: "That's what I would like to do. I would like to make a new record, yes. I want to write new music to go along with it (the tour)."
BraveWords.com: Alice Cooper is set to release new music with the album - Welcome 2 My Nightmare. How come you weren't involved more in the recording?
Johnson: "Bob Ezrin had to produce the album while the 'touring band' was on the road and a Bob Ezrin record is a pretty significant commitment, so logistically it just wasn't feasible to use the touring band on the record. There's a couple of tracks that we're on, but as you can see from the credits there's a whole potpourri of guys that are playing on the album."
BraveWords.com: Is it exciting to be on the same album as the members of the original Alice Cooper Group?
Johnson: "Big time man. I was a fan of those guys when I was a kid. There's so much heritage and legend associated with the original band. If there ever was a great year to be in the Alice Cooper band it's 2011 because of the Hall Of Fame induction and... Alice Cooper is everywhere right now and it's been an amazing experience to be a part of it."
BraveWords.com: There's been rumors that the next Alice Cooper tour will be a presentation of both the Nightmare albums. What have you heard?
Johnson: "I've heard those same rumors. Alice and I spend a fair amount of time together and I think he's just waiting 'til we wrap-up this tour to take a step back and kind of revisit it. That's the cool thing about working with Coop; he's always thinking and he's always creative (specifically as it relates to the show). I just think that the new record is so good and, of course, the old record is legendary. It would be an amazing experience for the audience to see some kind of mesh of the two records and surround those with some of the other hits."
BraveWords.com: I've put the two records back-to-back in a playlist in my iTunes and you don't even notice a transition. It just plays smoothly all the way through.
Johnson: "I agree with that Mitch and that's a tip of the hat to the creativity and specialness that is Bob Ezrin and Alice Cooper as a team. It's no accident that those guys have had so much success with their early records and I'm as excited as any other fan that Bob is involved with this record."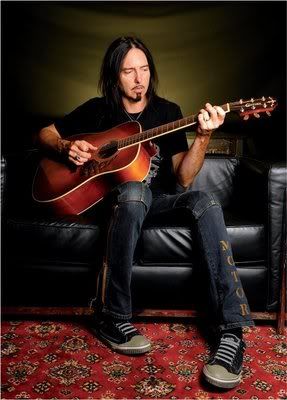 BraveWords.com: You've made a country record with Whiskey Falls in 2007. Will you be doing more?
Johnson: "I stepped out to do the Whisky Falls project because I fell in love with those guys and those songs. We had an amazing sound and , at the time, we had the means to give it a shot (without a record label). We accomplished a lot of special things. We toured the country continually for almost eighteen months and that's without a tour support budget. We were incorporating some sponsorship and unique things that was pretty exciting to be a part of, but when the economy in the United States took a hit in late 2007 (and early 2008) the investment capital we had to keep the band afloat went away. We just ran of of gas. It was a very special band and any fan who saw the band or heard the record can immediately recognize how talented the band is."
BraveWords.com: Economics aside - is there a chance you'd work with the band again?
Johnson: "Definitely. In fact, the guys did a gig last month that I booked for them. I was on the road with Alice and couldn't be there. It's just a great great band, lots of talented people, great entertainment, and guys I love to work with. So, I would always be open to doing more work with them."
BraveWords.com: Would you ever do a solo country record?
Johnson: "No, I'm ready to get back to Brother Cane, Mitch. Brother Cane was so natural for me stylistically and direction wise. Ever since the band broke up, I've tried to contribute to a shared vision whether it be SLAVE TO THE SYSTEM with Scott Rockenfield or WHISKEY FALLS..."
BraveWords.com: Since you brought up Slave To The System is that band over or are you still working with Scott?
Johnson: "We're always working. We've written a bunch of songs and Scott's contributed some music to video games. We've got enough material to do another record, but Mitch the challenge for all of this stuff is time. It's just impossible to find enough time to give any of these projects the attention and nurturing that they deserve. Instead of working with Alice and doing a half-attempt at Slave To The System and a half-attempt at Whiskey Falls, I'd rather do a full focused attempt at Brother Cane. I've been in this business for over twenty years and I've only got so much fuel in my tank. I've worked my ass off for the last ten years and I just want to be smart about it creatively and effort wise. I'm really excited about my plans for next year."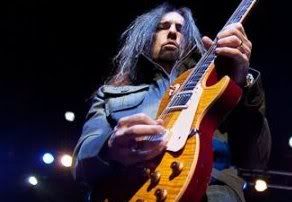 BraveWords.com: What does Brother Cane mean for you in Alice's band?
Johnson: "If I could run my own business and have some success with that; I just think that's everyone's goal in life,Mitch. It's to work for yourself and your friends. I've been working with my friends in the Alice Cooper band for five of the last seven years, but at the end of the day it's Alice's vision, his career, and his show. I've had so much fun doing that, but Alice is fully aware of my abilities and skills as a songwriter and a singer in my own right. I just have that itch now and I want to give it a shot."
BraveWords.com: So, are you leaving the band or I'm jumping to conclusions?
Johnson: "Don't jump the gun for sure, Mitch. There's no way to give these things a chance unless you start somewhere. There's definitely going to be new (Brother Cane) music and we'll take it week to week from that point."
BraveWords.com: Under the best scenario when will there be new Brother Cane music?
Johnson: "Under the best scenario we could have some stuff recorded and in the can by the first of March (2012). I'm sure we're going to release it on our own, so it's not like we'll have to wait on a record label to do some big pre-release, press, and whatever-it-is. We just want to get out there and start performing to our fans and grow that audience into more people."
BraveWords.com: Musically, do you recapture that '90s Brother Cane sound or do you try something completely new?
Johnson: "Definitely something new. Anyone that is a fan of Brother Cane or has heard any portions of those first three records knows that all three were very different albums. We didn't have one specific sound. The one common thread was my guitar playing and the sound of my voice. The production was different on all the records. The band members were different on a couple of records and the general influence was different on each record. We were lucky to have radio success on every album even though they sounded so different. Our fans have come to expect that kind of diversity from the band and I really love that. I'm excited knowing that I can paint with whatever colors I want to and not be strapped into one sound."
For more details visit Damonjohnson.com.