ALICE IN CHAINS' Jerry Cantrell Talks Next Album - "Time To Get To Work"
May 10, 2012, 5 years ago
RollingStone.com's Steve Baltin reports:
Jerry Cantrell, who will be honored with the Stevie Ray Vaughan Award by MAP/MusiCares at a May 31st ceremony in L.A., says ALICE IN CHAINS are finally set to go into the studio to record the followup to their last album, Black Gives Way To Blue.
As previously reported, the album was delayed when Cantrell had shoulder problems. Now healed, he is anxious to hit the studio.
"It's time to get to work and the material is really interesting, the body of work that we've done," Cantrell says. "It'll be as different as any one of our records is to any other, and it'll also be just as recognizable. It's an Alice record, for sure."
Read more at RollingStone.com.
Alice In Chains recently issued the following update:
"HEART, BILLY IDOL, DUFF McKAGAN and others have been added to the performance lineup for the eighth annual MusiCares MAP Fund benefit concert on May 31st at Club Nokia in Los Angeles.VIP meet and greet packages are up for auction on eBay. Bidding ends Thursday, May 10th. Follow
this link
for more information."
As previously reported, the eighth annual MusiCares MAP Fund benefit concert will honor Alice In Chains co-founder Jerry Cantrell and certified interventionist and Sony/ATV Music Publishing Senior Consultant Neil Lasher at Club Nokia in Los Angeles on May 31st.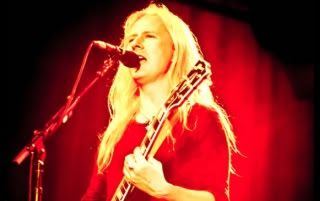 Cantrell will be honored with the Stevie Ray Vaughan Award for his dedication and support of the MusiCares MAP Fund, and for his commitment to helping other addicts with the addiction and recovery process. Lasher will be the recipient of MusiCares' From the Heart Award for his unconditional friendship and dedication to the mission and goals of the organization. All proceeds will benefit the MusiCares MAP Fund, which provides members of the music community access to addiction recovery treatment regardless of their financial situation.
Hosted by television personality Steve-O, the evening will feature a special performance by eight-time Grammy nominees Alice In Chains featuring guitarist/vocalist Cantrell, guitarist/vocalist William DuVall, bassist Mike Inez, and drummer Sean Kinney. Grammy-nominated musician MOBY will DJ live during dinner. Additional artists will be announced shortly.
"Jerry's role in shaping the world of rock music is profound and ongoing," said Neil Portnow, President/CEO of The Recording Academy and MusiCares. "His artistry as a guitarist is inspiring, and his contributions as a songwriter have earned Alice In Chains millions of fans around the world. And Neil has built an extraordinary career spanning more than 30 years in the music industry, and a parallel career in the field of substance abuse where his name has become synonymous with recovery and survival. But what unites Jerry and Neil are their unwavering support of MusiCares and our recovery programs, and their unselfish capacity to be of service to music people struggling with addiction."
"From what I've seen, addiction can be an occupational hazard in the music business and I know firsthand how the MusiCares MAP Fund helps artists and members of the music community find the resources for recovery," said Cantrell. "I've been a supporter for a long time, and I'm proud to help raise awareness and funds so this organization can continue to save lives."
Read more at this location.