ALLMAN BROTHERS BAND - Two Vintage Recordings To Be Released In February
January 24, 2013, 2 years ago
The ALLMAN BROTHERS BAND had announced the release of two high-quality vintage recordings of their early incarnations this February 12th. The band - one of rock's most iconic live acts and members of the Rock & Roll Hall of Fame and recipients of a Grammy Lifetime Achievement Award - historically recorded many of their live shows and are selectively releasing their personal choices through the band's Allman Brothers Band Recording Company label, distributed through Entertainment One Music.
The February 12th releases include two especially unique shows. The February 11th, 1972 concert in their Macon, GA hometown is the Allman Brothers Band's first show there after the death of founding guitarist Duane Allman, and features the group as a five-piece with all original members: keyboardist Gregg Allman, drummers Butch Trucks and Jaimo, bassist Berry Oakley and guitarist Dickey Betts. Never-before-heard in the bootleg market, the Macon performance showed the band in ferocious form, just two months before their legendary Eat A Peach live album was released. The band's May 1st, 1973 show at Nassau Coliseum in Uniondale, NY marked a much different line-up for the Allman Brothers Band. Keyboardist Chuch Leavell (who would later go on to THE ROLLING STONES) had joined the group in mid-1972 just before founding bassist Berry Oakley's untimely death. Jaimoe's childhood friend, Lamar Williams, was chosen to replace Berry Oakley six months prior to the Nassau recording. Four songs from this set had not appeared on any of the previous live or archival releases: 'Come & Go Blues', 'Wasted Words', 'Jessica' and 'Ramblin' Man'. Like the 2/11/72 Macon show, this concert is from a two-track reel-to-reel soundboard master tape. In 2011, the band joined forces with Entertainment One Music to market two signature band-owned labels: Peach Records for the sales of its previous Sanctuary label releases and new live recordings of the current band as well as the Allman Brothers Band Recording Company for the release of archival recordings featuring the late Duane Allman and Berry Oakley. Tracklistings for the shows are as follows:
City Auditorium, Macon, GA - February 11th, 1972: Disc 1 'Statesboro Blues' 'Done Somebody Wrong' 'Ain'T Wasting Time No More' 'One Way Out' 'Midnight Rider' 'You Don't Love Me' 'Stormy Monday' 'Hoochie Coochie Man' 'Hot 'Lanta' Disc 2 'Les Brers In 'A' Minor' 'Trouble No More' 'Whipping Post'
Nassau Coliseum, Uniondale, NY - May 1st, 1973: Disc 1 'Wasted Words' 'Done Somebody Wrong' 'Statesboro Blues' 'One Way Out' 'Stormy Monday' 'Midnight Rider' 'Jessica' 'Come And Go Blues' 'Ramblin' Man' 'In Memory Of Elizabeth Reed' Disc 2 'Trouble No More' 'You Don't Love Me' 'Les Brers In 'A' Minor' 'Whipping Post' 'Mountain Jam' The Allman Brothers Band are getting set to honor the 40th anniversary of their iconic 1972 live album, Eat A Peach, in a big way: they're hailing 2012 as The Year Of The Peach. The Rock & Roll Hall Of Fame inductees will start the year with a Grammy Lifetime Achievement Award, which "honors performers who have made contributions of outstanding artistic significance to the field of recording." That event will take place Saturday, February 11th during Grammy Week in Los Angeles and the group will be mentioned on the Sunday, February 12th national TV broadcast. "It's shaping up to be a great year," says Butch Truck, who co-founded the band in 1969 with Gregg Allman, drummer Jaimoe, guitarist Duane Allman, bassist Berry Oakley and guitarist Dickey Betts. "We just wanted to make music that was honest and play it for friends, which is pretty much what we've done. It's an honor to be able to be recognized like this." Soon after the Grammy Awards, the band will launch their annual residency at New York City's Beacon Theatre, where they will perform 10 shows beginning Friday, March 9th (see full itinerary below). Tickets for those shows go on sale Friday, January 6th. The group have performed over 200 sold out Beacon Shows since they began the March tradition in 1989. Their 2003 run was captured on the gold-selling Live At The Beacon Theatre DVD and the One Way Out CD, which features the Grammy-nominated track, 'Instrumental Illness'. In April, the group returns to Live Oak, FL, where they will host their 8th annual Wanee Festival on April 19th - 21st. The full line-up for the three-day festival has yet to be confirmed.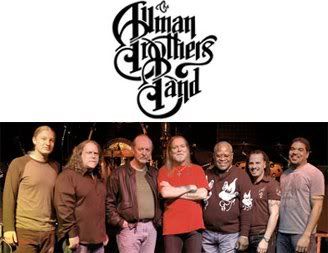 Confirmed New York City Beacon Theatre dates include: March 9 - Beacon Theatre - New York City, NY 10 - Beacon Theatre - New York City, NY 13 - Beacon Theatre - New York City, NY 14 - Beacon Theatre - New York City, NY 16 - Beacon Theatre - New York City, NY 17 - Beacon Theatre - New York City, NY 20 - Beacon Theatre - New York City, NY 21 - Beacon Theatre - New York City, NY 24 - Beacon Theatre - New York City, NY 25 - Beacon Theatre - New York City, NY