AMANDA SOMERVILLE Discusses Writing Story For KAMELOT's Silverthorn Album In New Interview
November 7, 2012, 4 years ago
Vocalist AMANDA SOMERVILLE (TRILLIUM, AVANTASIA), who has worked behind-the-scenes and recorded backing / guest vocals with KAMELOT since The Black Halo in 2005, recently discussed her role on the band's new album, Silverthorn. She was on board for Silverthorn as a backing/choir vocalist, and she wrote the story as it appears in the book included with the limited edition box set of the album.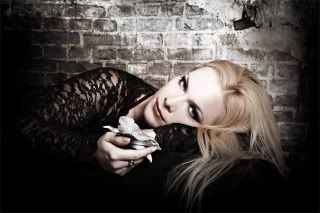 "They had the concept thought out first," Somerville begins. "Sascha (Paeth / long-time Kamelot producer) and Tommy Karevik (vocals) did the songwriting and they came up with bulletpoints, so they had the main outline of the story for me. The songs are like the details of the story that are still kind of left open to interpretation. We had a Skype session and they explained what they had in mind, but they didn't have the story with the specific events of what actually happened. For example, they told me the story should start with two brothers and their sister; they're doing something together, a tragic event takes place, and she dies. I asked how she was supposed to die and they didn't know, so I came up with situation and scenario. I basically fleshed everything out."
"I also came up with the way the killings in the story start happening. It's told from the 'good brother's' perspective, and I thought it would be cool to make it so that it wasn't quite clear if he really has a twin or if he's schizophrenic. I mean, we never learn the good brother's name. It leaves the question open as to whether it might be him doing all these weird things. I wanted it to be intriguing and suspenseful. The time limit and the page limit and the budget made it hard to get all the details in there, so I had to make do with writing the story over 10 pages."
Go to this location for the complete story.
Kamelot recently released the video clip for the song 'Sacrimony (Angel Of Afterlife)' which features guest appearances by Elize Ryd (AMARANTHE) and Alissa White-Gluz (THE AGONIST).