ANGTORIA Gearing Up For New Album And Name Change
December 24, 2011, 8 years ago
ANGTORIA have checked in with the following:
"Chris Rehn and Sarah Jezebel Deva, both founding members and songwriters of the band Angtoria, will be continuing where Angtoria left off five years ago. The music will continue in the same vein as their debut album, God Has A Plan For Us All, blending the world of epic orchestral music with metal. However, we sadly have to change the name due to reasons beyond our control. Writing for the new album will start in January and of course, we will update you with the new name and our progress. I hope this makes many of you happy and sorry for the early post, bit unfair to make you wait."
The original Angtoria line-up featured Sarah Jezebel Deva, the Swedish brothers Chris Rehn (ABYSSOS) and Tommy Rehn (MOAHNI MOAHNA), Dave Pybus (Cradle Of Filth) and John Henriksson (MY OWN GRAVE).
Sarah checked in previously with an announcement of her own:
"In 2008, I parted ways with Cradle Of Filth to pursue a life in Australia, bum some kangaroos and to go it alone as a solo musician. I know a lot of fans were disappointed with the departure and until now, whenever a fan asks 'will you ever work with COF again?'. The answer has been NO!! Well, last week, Mr. Filth sent me an email and after many chats, I have decided to take him up on his offer to participate on the new orchestral album Midnight In The Labyrinth. Hope this will make some of you happy, if it doesn't, well, you will get over it. More news will follow soon! Be safe this Christmas Eve."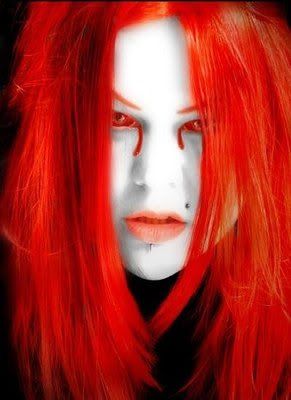 About Midnight In The Labyrinth Filth recently explained: "This exciting COF project which features nine classic Cradle tunes reinvented as orchestral compositions. This is no elevator music (or indeed the theme music to Schindler's Lift!), this is a full-on horror film soundtrack in the vein of Danny Elfman, Christopher Young or Jerry Goldsmith. Musical scores to whittle away the evil winter months to… this should see the poisonous light of day in April 2012-ish."
The full running order for this opus nocturne is as follows, though possibly not in this precise order…
'The Forest Whispers My Name'
'The Twisted Nails Of Faith'
'Summer Dying Fast' -a preview of this appearing on the EP
'The Rape And Ruin Of Angels (Hosannas In Extremis)'
'Funeral In Carpathia'
'Thirteen Autumns And A Widow'
'A Gothic Romance (Red Roses For The Devil's Whore)'
'Cruelty Brought Thee Orchids'
'Dusk And Her Embrace'