ANNIHILATOR - New Album To Feature Cover Model Pilar Rubio
February 16, 2012, 7 years ago
Canadian thrash legends ANNIHILATOR have issued the following update:
"Ms. Pilar Rubio is the cover model on the next, new Annihilator CD cover! The shoot was done by famed Spanish photographer Rebeca Saray, and she looks like the perfect cross between GORGEOUS and EVIL! As always, Annihilator's long-time artist Gyula Havancsak has done his genius magic to the chosen Pilar-is-evil photo!
Pilar Rubio (top Spanish model, Dancing With The Stars host, designer/owner of Metalhead Clothing) dropped by Jeff Waters' bus to hang out and see his Epiphone/Gibson Annihilation Metal Guitar Clinic, in Madrid, Spain. She's is a fan of the band and, of course, a metalhead!
Jeff, Dave and Annihilator are endorsing Pilar's new MetalHead clothing line, of course designed for metalheads!
Annihilator are due to play Brazil for the first time even in April. An official trailer for their April 24th headline show in Terca, Brazil at the Carioca Club with OTEP supporting is available below:
The band will also play the Metal Open Air festival at Parque da Independencia in Sao Luis, Maranhao, Brazil on Friday, April 20th. MEGADETH will be headlining the event.
According to guitarist/founder Jeff Waters, shows in Sao Paulo and Buenos Aires are due to be confirmed soon.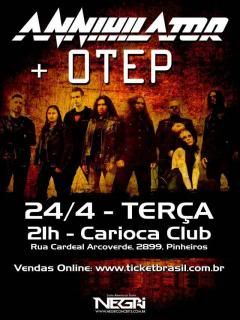 As previously reported, Annihilator are inviting fans to post footage from their set on the 70000 Tons Of Metal on their official Facebook page, found here:
"The internet and cell reception was rarely working for a few days so expect lots of killer footage in the next day or so from everyone!"

Footage of the band performing 'Clown Parade' is now online. Check it out below: