ANTHRAX - Worship Music Track By Track Breakdown
July 25, 2011, 6 years ago
ANTHRAX will release their new studio album, Worship Music, on September 13th in North America via Megaforce Records (September 14th in Europe via Nuclear Blast Records).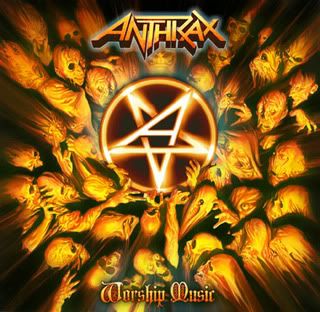 Josh Hart of GuitarWorld.com recently spoke with Anthrax lead guitarist Rob Caggiano, who provided a track-by-track breakdown of the new album; an excerpt follows:
'Fight 'Em Til You Can't'
"That was kind of the first song we started playing as a band, even in the rehearsal room. It was one of the first songs that got finished, so we started playing it a lot. It's a song that's got all the elements of what the band is about; it's got the thrashy vibe, it's got melody, it's got a groove, it's got a lot of over-the-top playing in it."
'I'm Alive'
"That's probably my favorite solo on the record. I really, really tried to push myself to make that as interesting as it could be. I was really happy with the way it came out. It probably took me a full day to nail down that lead. It started off in one direction and I wasn't really digging it so I tried some other things. The way I do solos, it's not planned out at all. I start out with a very improv approach. I'll jam to a track a few times, come up with some ideas and then start to connect the dots."
'In The End'
"That song was originally called 'Down Goes The Sun', from the first round. It was one of the ones that got re-recorded and it actually went through probably three or four renditions before it ended up how it is now. It's one of my favorite tracks on the album; it's pretty epic. It's got almost a ZEPPELIN kind of vibe to it with the chords in the chorus. At one point that riff was gone and I called up Charlie (Benante, drummer) and said, 'Dude, we have to put that riff back in.' So he went back in and re-did the drums and the song came out awesome. I love it."
To read the article in its entirety, click here.
The complete tracklisting for Worship Music is as follows:
'Worship' (intro)
'Earth On Hell'
'The Devil You Know'
'Fight 'Em Til You Can't'
'I'm Alive'
'In The End'
'The Giant'
'Judas Priest'
'Crawl'
'The Constant'
'Revolution Screams'
In live news, Anthrax will perform at Yankee Stadium in New York, NY as part of The Big 4 alongside METALLICA, SLAYER, and MEGADETH, on September 14th.
BraveWords.com scribe Aaron Small's recent interview with Anthrax guitarist Scott Ian is available at this location.