ANVIL - Juggernaut Of Justice Album Cover Revealed
March 10, 2011, 9 years ago
Canadian metallers ANVIL will release their new album, Juggernaut Of Justice, on May 10th via The End Records. The cover art can be seen below: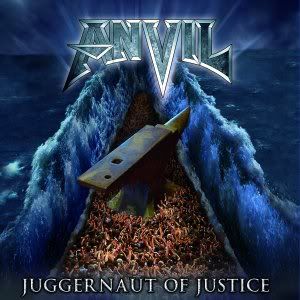 The album's title track, 'Juggernaut Of Justice', is currently available for download as part of The End Records Spring 2011 sampler, at this location.
Frontman Steve "Lips" Kudlow recently commented: "I must say that this is by far the best Anvil ever. There will be a few new surprises including Glenn 5's first lead vocals in Anvil's history. The production that Bob Marlette has done far surpasses anything we've done in the past. The excitement within the band is over the top and we can't wait to unleash this amazing CD to the fans."
Drummer Robb Reiner concurs: "The new album is pure Anvil with a new fresh kick, very exciting. Looking to rocking with The End, putting the music where it belongs - in everybody's ears and face!"
Prior to the release of Juggernaut Of Justice, The End will be releasing the definitive Anvil anthology. The collection will be comprised of classics old and new, with some surprises, and will showcase the band's entire career spanning back to 1978.
In live news, Anvil have confirmed more Canadian shows with shock rock legend ALICE COOPER. The trio will open up the following dates:
May
14 - Pavillon de la Jeunesse - Quebec City, PQ
16 - Ottawa Civic Centre - Ottawa, ON
17 - Hamilton Place Theatre - Hamilton, ON
18 - Sudbury Arena - Sudbury, PQ
Anvil complete the line-up for the Sweden Rock Cruise, which sails from Stockholm April 7th - 8th.
The final line-up: ANVIL, BONFIRE, DORO, ELECTRIC BOYS, LEGION OF THE DAMNED, PRIMORDIAL.