ARCH ENEMY Vocalist Angela Gossow Discusses Legalizing Weed And Forthcoming EP In New Interview
January 26, 2012, 7 years ago
ARCH ENEMY vocalist Angela Gossow recently spoke with Mick Stingley at Rocksalt.mx. They cover a variety of subjects including the band's latest album, Khaos Legions, and the legalization of weed. Check out the audio clips of the weed discussion below, followed by an excerpt from the interview.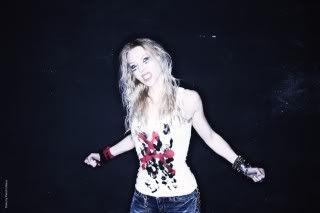 Angela 1
Angela 2
Rocksalt: You mentioned that you recorded a bunch of songs and have some extras that you might possibly use for an EP in 2012. I'm looking at a tracklist here, and I don't know how reliable it is, but I see a handful of covers that you may have done…
Angela: "Oh, yes – those are actually for the bonus versions of the European limited editions. They're like totally out there and just available on the limited editions."
Rocksalt: So, okay – did you cover 'The Zoo' by the SCOPIONS?
Angela: "Yes! But that's the Japan-only track. That's not on the European version. Yes, 'The Zoo' from the Scorpions. It sounds like Arch Enemy meets OBITUARY now."
Rocksalt: Really? But that's a song about New York City. It's not going to be on the American release?
Angela: "No! It's not going to be on the American release – for now."
Rocksalt: That's a shame. I don't agree with that decision.
Angela: "Well, like I said, we're going to do an EP in 2012 and that's when we're going to gather all these different versions up. And then there's going to be a couple of new tracks as well. Because, well, that's label policy. That has nothing to do with us. Every territory wants their own bonus tracks because it's so difficult for them to even sell physical products nowadays. So, you know. Japan always wants their own; Europe and the US want their own; and then the fans complain… so we always try to do a release where we compile it and then people get it anyway."
Go to this location for the complete interview.
Arch Enemy will be playing four headline concerts in Spain in October, on the their current World Khaos Tour.
Michael Amott comments: "Always a pleasure to return to Spain for shows! We're already looking forward to meeting up with our Khaos Legions in that region once again - Llega el Khaos a España, preparaos."
Tickets went on sale January 23rd. The dates are as follows:
October
23 - Totem - Pamplona, Spain
25 - Capitol - Santiago de Compostela, Spain
26 - La Riviera - Madrid, Spain
27 - Razzmatazz 2 - Barcelona, Spain
In related news, Arch Enemy have added two more festival performances to their 2012 summer festival schedule:
July
18 - Hegyalja Fesztival - Tokaj Rakamaz, Hungary
20 - Devilside - Oberhausen, Germany