ARTHUR BROWN Lined Up For ALICE COOPER London Gig
September 6, 2011, 6 years ago
Planet Rock reports that ALICE COOPER has announced that the legendary ARTHUR BROWN will join him for the London date of his Halloween Night Of Fear shows in the UK next month. The London gig takes place at Alexandra Palace in on October 29th and it's also been announced there will be a one-off duet between the pair as part of the special performance.
Speaking about Arthur's addition to the bill, Alice says: "We have a fire theme this year and we're in the UK - I couldn't NOT invite Arthur Brown," says Alice, "This is a guy who set his head on fire on TV. Can you imagine the young Alice Cooper watching that with all his make-up and hellish performance? It was like all my Halloweens come at once! He was like Screaming Jay Hawkins on.... Fire!"
NEW YORK DOLLS also join Alice for gigs, which include:
October
25 - Sheffield, England - City Hall
26 - Bristol, England - Colston Hall
27 - Birmingham, England - Nia
29 - London, England - Alexandra Palace
30 - 02 Apollo, England - Manchester
31 - Glasgow, Scotland - Clyde Auditorium
In the midst of his No More Mr. Nice Guy world tour, Alice Cooper will treat fans to a special performance at the legendary Whisky A Go-Go on September 15th at 9 PM. Cooper will take the stage of the legendary rock venue, on the Sunset Strip, for the first time since Alice Cooper the band performed there live in 1969 with LED ZEPPELIN.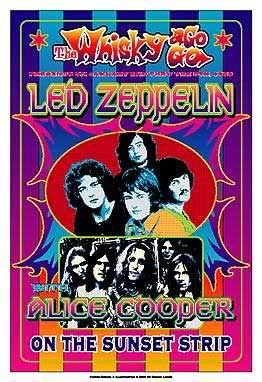 "The Whisky had an option for a return engagement, but we got busy and it just slipped our minds. No, seriously, the Whisky gig we did with Led Zeppelin is something we all talk about to this day. It's going to be amazing to go back as a straight ahead LA bar band... We might even take requests. I figure, if we could do it in London, we can do it at the Whisky. And it's LA, so you never know who else might show up..."
Earlier this summer, Cooper played the world renowned 100 Club in London with special guest guitarist Johnny Depp and received rave reviews.
Cooper will be joined by Steve Hunter, one of rock's great guitarists; Tommy Henriksen who co-wrote much of the new release; bassist Chuck Garric; drummer Glen Sobel; and eminent guitar prodigy Orianthi, making her debut with the band.
The audience will hear some old school hits in addition to songs from his new album Welcome 2 My Nightmare, the long-awaited sequel to his 1975 classic Welcome To My Nightmare, which will be released on September 13th in North America, September 12th in The UK, and September 9th in Europe.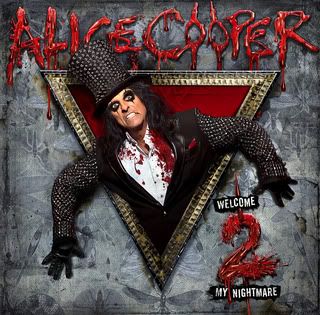 Welcome 2 My Nightmare tracklist:
'I Am Made Of You'
'Caffeine'
'The Nightmare Returns'
'A Runaway Train'
'Last Man On Earth'
'The Congregation'
'I'll Bite Your Face Off'
'Disco Bloodbath Boogie Fever'
'Ghouls Gone Wild'
'Something To Remember Me By'
'When Hell Comes Home'
'What Baby Wants'
'I Gotta Get Outta Here'
'The Underture'
The US Best Buy version will feature the following four exclusive bonus tracks:
'Under The Bed' (new studio track)
'Poison' (live at the Download Festival)
'No More Mr. Nice Guy' (live at the Download Festival)
'Black Widow' (live at the Download Festival)
In this video clip, find out what Alice Cooper's nightmares are like now, 35 years after the original nightmare:
Alice Cooper's new video, for the single 'I'll Bite Your Face Off', from the upcoming Welcome 2 My Nightmare album, can be seen below:
BraveWords.com has heard the album and a review can be read here.