ARTIZAN Upload Studio Video Featuring Ex-ICED EARTH Singer Matt Barlow; New Band Promo Pic Posted
August 21, 2012, 5 years ago
Melodic metal band ARTIZAN recently completed the recording of the title track to the new album, Ancestral Energy, with ex-ICED EARTH singer Matt Barlow. Ancestral Energy is slated to be released in April 2013 via Pure Steel Records.
Artizan founder/drummer Ty Tammeus stated: "Matt absolutely blew us away! He walked up to the mic and nailed the entire piece that we wrote for him - amazing. We can't wait for the fans to hear Ancestral Energy."
Footage of Barlow in the studio recording vocals for 'Ancestral Energy' can be seen below:
Artizan have released a new promotional picture of Matt with the band. Pictured left to right are Matt Barlow, Artizan singer Tom Braden, drummer Ty Tammeus, guitarist Shamus McConney, bassist Jon Jennings.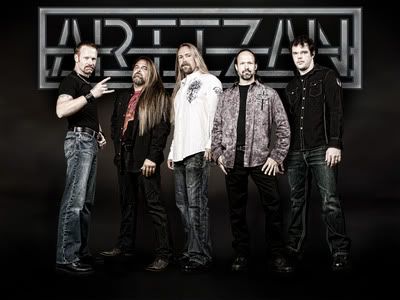 A previously posted picture of Ty Tammeus and Matt Barlow at Morrisound Studio's during the production can be viewed below: