ATHEIST Added To Death To All Tour Featuring Legendary Members Of DEATH; Atlanta, Dallas Dates Confirmed
April 2, 2012, 6 years ago
Floridan death metal legends ATHEIST have been added to the Death To All Tour 2012, and will open in Orlando, as well as Atlanta and Dallas.
"The history this band brings to the tour makes it even more incredibly unique and we are honored to have them be part of it."
Here is the official statement about the tour from Kelly Shaefer: "We could not be more honored to be direct support on the upcoming Death To All tour! It's gonna be a blast to gather with all our old and dear friends form the early days of extreme metal, and also to help celebrate the music from the godfather of death metal, Chuck Schuldiner. Any fan of death/extreme metal, I'm telling you now, sell everything to attend one or more of these shows. It's going to be legendary and you can bet on that! We will be doing the Orlando, Atlanta and Dallas shows, so we hope to see all the Southern metal-heads out in force. Thanks to Anton and the organizers for asking us to be a part of this monumental moment in extreme metal history! See you all there!"
Canadian technical death metal pioneers GORGUTS were recently added to the Death To All Tour 2012. The history and legend that is this band surely makes the tour that much more interesting. Luc Lemay, Gorguts' founder and frontman, is a legend himself and we could not be any more excited about this announcement. Gorguts will be opening all shows up to but not including Orlando.
Here is the official statement about the tour from Luc: "If I owe one person regarding the fact that I chose to become a Death Metal musician in life, I totally owe this to Chuck Schuldiner. Back in 86-87 I was already a fan of the genre with POSSESSED's Seven Churches, CELTIC FROST's Morbid Tales and HELLHAMMER's Apocalyptic Raids. But the day I put my hand, Death's Scream Bloody Gore cassette tape, my life changed. All I wanted was to become a guitar player, playing death metal and singing with a raw, evil and brutal voice like Chuck. So here I am, twenty five years later, as passionate as day one. Being on stage paying homage to this amazingly visionary and creative artist, Chuck Schuldiner. In my heart I see him as important as any composer of the 20th and 21st centuries. He created a language and a musical aesthetic that will never be forgotten."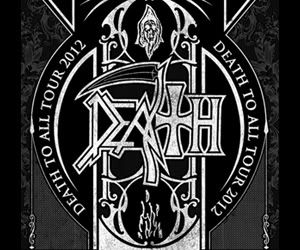 The five-city Death To All Tour 2012 in benefit of Sweet Relief will feature a majority of DEATH's amazing musicians, as well as special guests. This tour is to celebrate the life and music of Chuck Schuldiner, as well as to raise awareness of Sweet Relief Musicians Fund - a charity that provides financial assistance to career musicians faced with illness, disability or age-related problems.
The drums will be handled by Gene Hoglan (Individual Thought Patterns/Symbolic) and Sean Reinert (Human). On bass will be Steve DiGiorgio (Human/Individual Thought Patterns) and Scott Clendenin (The Sound of Perseverance). Guitar duties will be shared by Paul Masvidal (Human), Shannon Hamm (The Sound of Perseverance) and Bobby Koelble (Symbolic). The first singers for the Death To All Tour 2012 are Charles Elliott of ABYSMAL DAWN/BEREFT and Steffen Kummerer of OBSCURA.
Ticket pricing is as follows:
$28 General Admission (before show)
$32 General Admission (day of show)
$200 VIP Packages
*some venues may have additional ticketing options available
The VIP Package includes:
One General Admission Ticket
One DEATH LP (each show will be different)
One Limited Edition Shirt
One Patch
Pre-Show Buffet Dinner with members of Death
Sound Check Access (limited time)
Signing and Photo Session
First Chance at Merchandise
Plus One More Special "Exclusive" Item
To receive notification as soon as tickets are available for purchase, please send an email to ticketing@deathtoall.info.
Death To All tour dates include:
June
22 - The Regency Ballroom - San Francisco, CA (Gorguts)
23 - House of Blues - Los Angeles, CA (Gorguts)
26 - House of Blues - Chicago, IL (Gorguts)
28 - Irving Plaza - New York City, NY (Gorguts)
30 - The Beacham - Orlando, FL (Gorguts)
July
1 - The Masquerade - Atlanta, GA (Atheist)
3 - House of Blues - Dallas, TX (Atheist)
For further details, visit Facebook.