AUTOPSY To Release Born Undead DVD
March 28, 2012, 5 years ago
US death metal pioneers AUTOPSY will release their new DVD, Born Undead, on May 28th in Europe and June 5th in North America via Peaceville Records.
The Born Undead DVD charters the birth, death and rebirth of the legends with an extensive documentary conducted with the band themselves, as they describe how the beast came to be, and the impact their music has had on the metal world over a span of more than 20 years. The film also documents the band's long-awaited return to the studio and stage, and includes rehearsals of both new tracks and old classics for their live comeback assault. The trio of 2010 reunion shows are all featured here, with all the best classic tracks from Maryland Deathfest, PartySan festival and also Hole in the Sky in Norway, where the trio of Chris Reifert, Eric Cutler, and Danny Coralles were joined by Dan Lilker on bass.
With hours of footage, as well as extras including the band's promo video for 'All Tomorrow's Funerals', 'My Corpse Shall Rise' and more, Born Undead is the ultimate set for all Autopsy and metal maniacs alike. The DVD also contains artwork from Kent Mattieu, who had collaborated with the band on their early classic (and often controversial) album covers.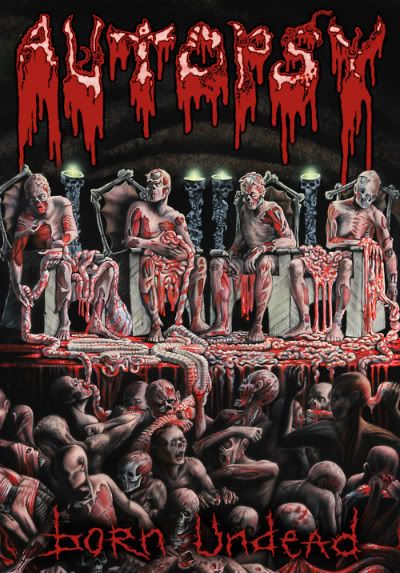 Autopsy have released their 22-track collection, All Tomorrow's Funerals. This historical album contains remastered versions of all of Autopsy's past EP's - everything from Retribution For The Dead to the now sold-out The Tomb Within - plus four brand new tracks.
Renowned artist, Matt Cavotta, has supplied the cover art, while all original artwork and liner notes are included in this monstrous collection.
The tracklisting for All Tomorrow's Funerals is as follows:
'All Tomorrow's Funerals' (new track)
'Broken People' (new track)
'Mauled To Death' (new track)
'Maggot Holes' (new track)
'The Tomb Within'
'My Corpse Shall Rise'
'Seven Skulls'
'Human Genocide'
'Mutant Village'
'Horrific Obsession'
'Feast Of The Graveworm'
'Funereality'
'Fiend For Blood'
'Keeper Of Decay'
'Squeal Like A Pig'
'Ravenous Freaks'
'A Different Kind of Mindfuck'
'Dead Hole'
'Retribution For The Dead'
'Destined To Fester'
'In The Grip of Winter'
'Sign Of The Corpse'
Autopsy recently released their new video, for 'All Tomorrow's Funerals', which can be seen below. After tuning into the video, fans can head over to this location to download the brand new song.