BACHMAN & TURNER's Fred Turner - "'You Ain't Seen Nothin' Yet' Was The Biggest Single We Had, Then After That, I Couldn't Tell You The Next One That Got Into The Top 10"
June 19, 2012, 7 years ago
By Martin Popoff
Legendary BACHMAN-TURNER OVERDRIVE hollerer Fred Turner is a big part of why BTO are so beloved by the bikers, and that wrench-turning comment underscores the whole BTO vibe with bikes and cogs and trucks and truckers, as do the band's songs about rollin' down the road to terrorize the next town with big riffs at high volume.
And what's inspiring to say the least, is the fact that Fred and cohort Randy Bachman have been touring together, playing the hits as well as songs off their recent self-titled studio album, both anti-solitudes captured on the band's new double CD and DVD called Live At The Roseland Ballroom, NYC.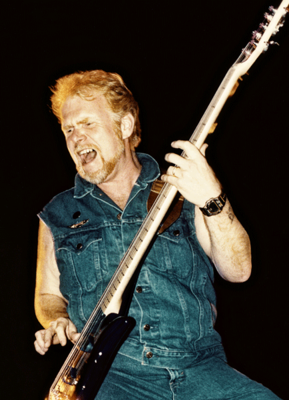 "Actually, we've been doing four songs off that," begins Fred, referring to the 2010 studio album. "I wish we were doing more, but when you get out, you get on stage, and people want to hear a lot of the past, because that brings back the memories. So we're doing a lot of the older songs and a few of the new songs. 'Rollin' Along': Randy wanted to do that one. 'Moonlight Rider'; those two were mine, and Randy does 'Waiting Game' and 'Slave To The Rhythm'. It's fun – all of it's fun. I've just been doing it so long that it's just a great thing to get on stage and sing the songs. It's a great feeling."
Despite the valiant attempts at new music, it is indeed heavy-ish hits like 'Let It Ride' and 'Sledgehammer' that have created the perception of BTO as a contributor to the pile of hard rock in the '70s. But it sure didn't start that way… "No, well it started out as more of a country rock thing, and then it just kind of graduated into a little heavier. But with Randy's background, and his past, through guys like LENNY BREAU and CHET ATKINS and things like that, there was a lot of jazz influences that came into it, and so it never stayed with one direct thing, which maybe was a good thing for us, because I don't think that you get bored with the music. It changes all the time, all the way through."
"I think that was caused by Randy bringing me into the group at the time," notes Turner, on the shift towards riffs. "Chad Allen was with him, and like I said, it started off as a country thing. It started off as Brave Belt, and when I came into it, it got a little rougher edge on it, and then Chad didn't like where it was going and he left. And we ended up in Thunder Bay, having to play for a university there, and we're kind of bombing out; the first night we got fired because it just wasn't happening. And the second night, we had to go on stage and make it look like we were excited and get the people who were coming excited. So we ended up doing a lot of rock stuff that we had. And that kind of switched the band."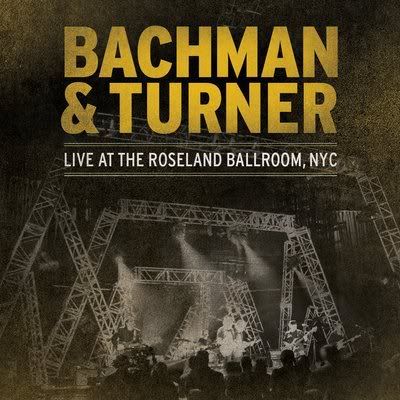 And yet, despite the power chords – most prevalent on records like Not Fragile and BTO – II – there was always a bit of a southern rock vibe to the band. Or was there?
"No, I don't think that I really agree with that. Southern rock is a little more gritty than we were. But we were a little influenced by them because we played with a lot of those guys. When we were getting going, some of our first shows were with ZZ TOP, which was kind of Texas-y blues rock, and Marshall Tucker, who was really a knockdown band live – these guys were just out of control. They were a very good band. ALLMAN BROTHERS, bands like that, we played with a lot. But I think we already had our influences by that time. But of course, it's like anything else. If you spend time with someone or something, you do pick up things from them. It's just a natural thing to happen."
But there was the rhinestone cowboy, or "Nudie" suit, look as well, which Fred blames on manager Bruce Allen. "Yeah (laughs). Well, just because he thought we needed to do that. And of course, Bruce can be persuasive at times, if you've had any dealings with him. No, he's very persuasive, and of course he was our manager and we were kind of depending on him. And he was pretty close to Bill Ham, ZZ Top's manager. And of course you know which way they went (laughs). But we did quite a few jobs with them. And as a matter of fact, we would be support for ZZ Top down south, and then we brought ZZ Top into Canada and they were support for us, because they weren't known in Canada."
As to Turner's power-packed voice, the foil to Randy's more boy-ish pipes, Fred says that, "Randy didn't really want to sing at all. And I said to him, you know, your songs, you have a certain feel for those songs that I don't have. And it probably would be better if you tried to do the vocals on them. And he said well, I can't really sing. And I said sure you can. So he started singing, and you know, my voice would never have come off with the inflections that he uses in his songs. So basically, I sang my songs, he sang his songs. Unless he writes something that's just so to the point where he can't handle it. And then he pushes it to me."
Live At The Roseland Ballroom presents the contrast between these two warhorses splendidly, the band rolling through 20 tracks, most of them smash hits, the biggest being the stuttery 'You Ain't Seen Nothin' Yet', the writing of… it's an old story, but mostly we hear Randy telling it.
"Well, Randy pretty much tells it the way it was," laughs Turner. "We were doing the song, and he put down the work track, vocal, on the tape, so that he could work his guitar parts around it and get things to sit. And then when it came time to sing the song, he couldn't change the vocal, and he thought to himself, geez, this is really odd, because I didn't mean to sing it this way, but I can't sing in any other way, and I really don't like it very much. It's got too much connotation towards his brother, and he hid it, in the vault, in the back of Kaye-Smith (recording studio). And Charlie Fach from Mercury came in to hear the album, and when Randy put the album on for him, he said yeah, okay, I like the album, but I don't hear anything that we can give to Top 40. And so the engineer said to Charlie, says, you know, there's one more track that's hidden in the back. Randy was waving his arms to try to get him to forget about it. He pulled it out, played it for Charlie, Charlie said, 'That's the song. That's a hit.'"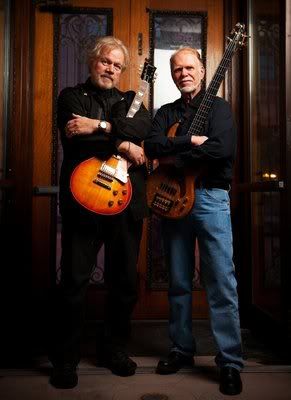 The focus on hit singles was always at the fore in BTO, but with qualification, says Turner. "As far as the band went, and I'm sure the band was separate from Randy, because Randy has always thought Billboard, Record World – you know, being in the production and everything, that was his thing. For Robbie and Blair and I, basically we just wanted to write some songs, music, and hope that somebody would buy it, you know? So we weren't really worried about the pop side of it, and basically, when BTO broke, it was going more towards albums at that point. And because our second album, the second Bachman-Turner Overdrive, was the first to go gold, and it hit it as an album, we always ended up selling more albums than we did singles. We only had a couple of really big singles that really went deep into the industry, you know? Like, 'You Ain't Seen Nothin' Yet' that was the biggest single we had. Then after that, I couldn't tell you the next single that got into the Top 10."
As for the band's association with bikes 'n' trucks, Fred figures, "They just picked up on the road songs and went with it. I really have no idea. I can't tell you. But I do have a story about Sturgis. Well, this the reason why I started singing 'House Of The Rising Sun'. We got there, I think it was 1990, possibly the 50th anniversary of Sturgis. And we were the headliners. Actually, that's a good story in itself. Because it was the 50th anniversary, there were 500,000 registered bikes, and who knows how many unregistered bikes. So you couldn't move on the highways, between Rapid City and Sturgis. It was just, everything was just gridlocked. And we were playing Buffalo Chip Park, which was Hells Angels. And they had to come and get us in Rapid City, and they came over in pickup trucks and took us across country to get to Buffalo Chip Park, and it was like Thunderball revisited. You know, there were things burning in the field, and it was wild. But anyway, we got to the stage, and on our way up on the stage, a couple of real big security guys from backstage came up to Randy and I and said, 'You know, ERIC BURDON played this afternoon, and he didn't sing our favourite song, and we're pissed.' And of course I made the mistake of saying, 'What's your favourite song?' And they said 'House Of The Rising Sun'. And I said, 'Well, I've sung that before.' And they said, 'Would you do it tonight?' So I looked at Randy and said, 'What do you think?' And he said, 'Well, I can handle it.' So we did 'House Of The Rising Sun', and that's where that came from."
No doubt a few of the boys will be out as Randy and Fred take care of business with a few select dates through festival season…
"Right now, we're running to New York in a couple of weeks, because of the new DVD and such," explains Turner. "We're doing interviews there, and we're doing a club that they're trying to turn into a rock club now from a jazz thing. It was Les Paul's club, that he worked in for years and years and years, called The Iridium. So we're doing a couple of nights there in New York. And when we finish that, we've got one show up in Dauphin, Manitoba, and then straight to Minnesota to do a show the next night, and then over to Kentucky to do a show two nights later, and then the next week in Columbus, Ohio. And then across to Seattle, Washington, and then we've got a winery in California. We've also got something else in Los Angeles."
The classic rock fests... that must feel like a last go 'round family reunion at times.
"They're a lot of fun," says Fred in closing. "I'll tell you the biggest one is coming up. We have a Rock Legends cruise, in January, and there's been… I think there's something like 15 bands gonna be on that cruise. So I'm really looking forward to that. Instead of tearing at each other and griping about how much time we're getting or not getting, we'll be talking about old times. And laughing a lot."