BEHEMOTH Schedule First Ever Gig In India
October 5, 2012, 5 years ago
BEHEMOTH has confirmed that they will perform in India for the first time ever on November 3rd. The band will perform as part of the IMC 2012 - Indian Music Conference.
Complete details on IMC 2012 - Indian Music Conference can be found at this location.
Behemoth frontman Adam "Nergal" Darski has released his autobiography, Spowiedz Heretyka - Sacrum Profanum, in Poland via Publisher G&J;, with an english version to follow "if there's interest," he says.
An update from Nergal states: "Hi there! My book "Confession Of The Heretic" is finally released in Poland. Looks fuckin amazing and I'm shopping around trying to find a SOLID publisher abroad (specializing in rock literature) who'd be willing to release it in 2013. Translation is in progress. If u know any, pls contact me at this email address: nergal@behemoth.pl. Thank u!"
The book is being promoted through a series of trailers that feature Nergal reading portions of the book, as well as acting out portions of stories, which Nergal describes as "some funny, some sad, some evil…some related to the band, some not."?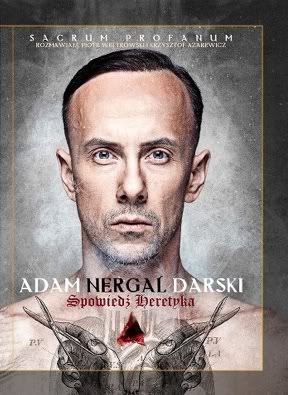 A fourth trailer for the book, by producers Group 13, is now available. Watch all four trailers below:
Trailer #1:
Trailer #2:
Trailer #3:
Trailer #4:
Fans can order the Polish version of the book at this location.
Nergal, who has since recovered from a battle with leukaemia says it's "like a really long in-depth interview."