BIBLE OF THE DEVIL Premier New Track From For The Love Of Thugsand Fools
March 30, 2012, 5 years ago
Chicago rockers BIBLE OF THE DEVIL will release their new album, For The Love Of Thugs And Fools, on May 8th via Cruz Del Sur Music. The label has posted the first track off of the album, entitled 'The Parcher'. The song is now available for streaming below:
Bible Of The Devil are set to strike out on the 14-date In Raw We Trust tour, in support of For The Love Of Thugs And Fools.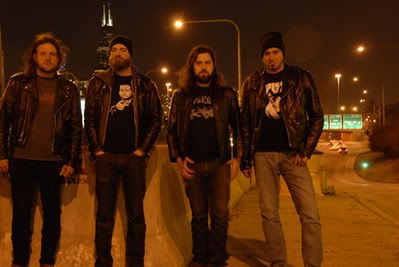 Tour dates are as follows:
May
4 - Madison, WI - The Frequency
5 - Minneapolis, MN - Hexagon Bar
6 - Rapid City, SD - Budd Ugly's
8 - Omaha, NE - The Waiting Room
9 - Kansas City, MO - The Riot Room
10 - Wichita, KS - Barleycorn's
11 - Denver, CO - 3 Kings Tavern
12 - Albuquerque, NM - Burt's Tiki Lounge
13 - Las Cruces, NM - The Train Yard (house party)
15 - San Antonio, TX - Nightrocker Live
16 - Austin, TX - Red 7
17 - New Orleans, LA - Siberia
18 - Memphis, TN - Hi-Tone Cafe
19 - Carbondale, IL - PK's
The band has also unveiled the artwork for the upcoming album,which is pictured below:
For The Love Of Thugs And Fools final tracklisting:
'Sexual Overture/While You Were Away'
'Out For Blood'
'Raw & Order'
'The Parcher'
'I Know What Is Right (In The Night)'
'Anytime'
'Can't Turn Off The Sun'
'Yer Boy'
'Night Street'
According to a press release: "For The Love Of Thugs And Fools is viewed by the band as a document of the many characters they have encountered through the life of the band, whether it be in love, loss, friendship, or hatred. Having toured extensively throughout the United States and Europe since the band's inception in late 1999 and living in the volatile urban environment Chicago, where encounters with crime, violence, and 'street justice' are unavoidable, there has been much subject matter for the band to draw from. Embracing the philosophy that a bottle of whiskey and some loud guitar is often the best cure available for these challenges and ordeals, Bible Of The Devil have chosen to document their grievances in the form of one devastating Rock n' Roll platter."
Singer/guitarist Mark Hoffmann commented: "The few years since the last full-length have been like a dare, A dare to create a soaring, punishing rock n' roll record of this magnitude. It is a dare that we have been forced to answer ourselves."
More on Bible Of The Devil at this location.