BLACK COUNTRY COMMUNION - Making Of Afterglow Webisode 5 Posted
October 12, 2012, 6 years ago
BLACK COUNTRY COMMUNION - the band featuring vocalist/bassist Glenn Hughes (DEEP PURPLE, BLACK SABBATH, TRAPEZE), drummer Jason Bonham (LED ZEPPELIN), Derek Sherinian (DREAM THEATER) and blues rock guitarist JOE BONAMASSA - will release their third studio album called Afterglow on October 30th.
Check out the making-of Afterglow Webisode 5 below:
Check out parts 1 - 4 below:
Just like its two predecessors, Afterglow was overseen by Kevin Shirley, whose catalogue of hit records for LED ZEPPELIN, IRON MAIDEN, AEROSMITH, JOURNEY, THE BLACK CROWES and many more has made him the hottest producer that rock music has to offer. Shirley – who had the idea of putting Hughes and Bonamassa together in a band together after seeing them jamming onstage in Los Angeles back in November 2009 – is the group's unofficial 'fifth member'.
Afterglow features the following tracks:
'Big Train'
'This Is Your Time'
'Midnight Sun'
'Confessor'
'Cry Freedom'
'Afterglow'
'Dandelion'
'The Circle'
'Common Man'
'The Giver'
'Crawl'
Check out the new song 'Confessor' below: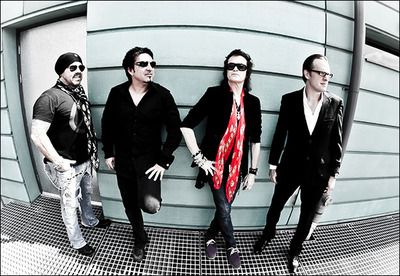 An Afterglow album trailer can be viewed below:
(Photo credits: Christie Goodwin)