BLOOD STAIN CHILD Confirmed To Perform At Naka-Kon 2012 In Kansas, New Interview With Vocalist Sophia Online
December 29, 2011, 8 years ago
Japan's BLOOD STAIN CHILD will return to the USA in 2012. They have been confirmed to perform at Naka-Kon 2012 in Overland Park, Kansas, which runs from February 10th - 12th. Go to this location for event information, stay tuned for updates.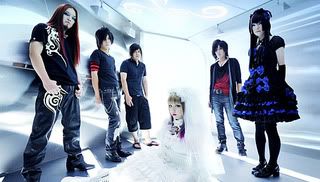 In addition, vocalist is featured in a new interview with Shosen-Ningen. An excerpt is available below:
Q: You said in another interview that you get asked a lot to re-record old Blood Stain Child songs. Which one is your personal favourite and which one would you find most challenging to interpret with your voice?
Sophia: "I generally don't like to touch old material, out of respect for the band's history and the fans who love those songs. But since a lot of voices keep asking for new versions and we perform them live anyway, I'd like to re-record 'Metropolis'. It's a truly beautiful song."
Q: In the past, Blood Stain Child has worked with several international artists such as Anssi Kippo or Tue Madsen, for example. You yourself are Greek, do you think that this internationality influences and maybe broadens the bands' musical horizon?
Sophia: "Yes, the band always aimed towards a more international audience, but the fact that they were unable to communicate sufficiently with the outside, kept them away from what they wanted, I think. I have a completely different mentality and background though, so all this changed as soon as I joined. I'd feel too restricted if we were active only in Japan."
Go to this location for the complete interview.
As previously reported, Blood Stain Child has collaborated with Konami Digital Entertainment on a music-game application intended for iPhone and iPad, called Jubeat Plus. Starting December 30th, the Jubeat store will offer a pack of four songs from Blood Stain Child's latest album, Epsilon, giving fans the chance to experience the band's charm and vibrant energy right on your screen.
The songs on offer will be 'Electricity', 'Stargazer', 'Sirius VI', and 'Unlimited Alchemist'.
Download method (only for iOS):
1) Go to the official Jubeat Plus website here.
2) Download the Jubeat Plus application for free.
3) Inside the application you will find a 'buy music' screen (Jubeat store).There you can purchase a pack of four songs for ¥450 (tax incl.)
Blood Stain Child's new album, Epsilon, is out now via Coroner Records. The tracklist is as follows:
'Sirius VI'
'Forever Free'
'Stargazer'
'S.O.P.H.I.A.'
'Unlimited Alchemist'
'Electricity'
'Eternal'
'Moon Light Wave'
'Dedicated To Violator'
'Merry-Go-Round'
'LA+'
'Sai-Ka-No'
Check out BW&BK;'s review of the album here.