BOWWOW Frontman Kyoji Yamamoto - "Lars Of METALLICA Tried To Promote Us By Playing Early BowWow Songs On The Radio Many Times"
December 9, 2010, 9 years ago
BW&BK; scribe Mitch Lafon recently caught up with Japanese rock legend Kyoji Yamamoto, best known as the frontman and founder of BOWWOW. Check out the interview below: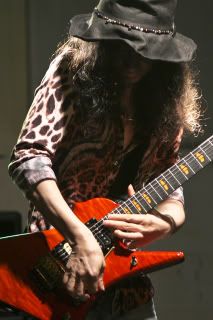 Q: Please tell me about your new record, The Life Album. How did it come together? Who else plays on it? What inspired you to write it?
Yamamoto: "The first idea came up about 15 years ago. I wanted to express one's life in terms of music. I was sure it could be a very dramatic suite but, maybe I was too young to understand what life is (laughs), I couldn't do it. Then about 4 years ago, after releasing 4 instrumental albums, I re-tried to make it by reminiscing about my own life and also imagining somebody's life. Seeing my parents was my big inspiration and actually I wrote 'Sunset Horizon' just after I saw my father. He's 90 years old and always has smile on his face. My hometown has a very famous sunset on the lake and as those two things came to me, I combined them and I wrote that peaceful song. With regards to the last song 'Heavenly', one's death is very sad thing, but I want to leave this world with this feeling; a celebration with the sound of fanfare to know that happiness being born in this world. From the first song
'Daybreak' to the last, 'Heavenly', if you listen to it through, I'm sure you can feel as if you watched a movie of your life.
I played all the instruments. I also wrote, arranged, mixed and I even did the mastering myself, so I literally can call it my solo album."
Q: You've maintained a career in Japan for a long time - do you plan on releasing new music or touring in North America soon?
Yamamoto: "My compilation solo album was released this summer from Cityboy Records in New York, but I have no definite plans to go there at the moment, however, I believe I can play in your country in the near future and would love to do so.
Q: Your band BowWow started off as a heavy metal act and turned into a more mainstream act in the 1980's. Why did the band change their name to VOWWOW during that time?
Yamamoto: "BowWow is 4 piece band, whilst VowWow is 5 piece band. During the '80s we changed members and because of that, the sound also changed quite drastically and it just seemed logical to alter the name to suit. VowWow relocated to London and it was our home for more than 3years. We toured all over the UK and were quite successful in Europe in 80's as well as Japan of course where we were headlining at Budokan. We are performing two reunion shows on December 25th and 26th in Tokyo. To our very pleasant surprise tickets sold out instantly and 2-day tickets are going for $ 3,000 on one internet auction!"
Q: In 1995, you reunited BowWow - what's the band currently up to? Will you be releasing a new album, box set, etc anytime soon (after all your last album was released in 2005) ? If yes, what kind of music can fans expect from BowWow in 2011?
Yamamoto: "1995's reunion was not a real reunion; it was a kind new of BowWow with new members. In 1998, the original BowWow members got together - except for the bassist - and did a concert and we still play together often and released some CDs. We are planning to record new BowWow album next year. Maybe a 35 year anniversary box set as well."
Q: What are the main creative differences for you on a solo project and for you in a band project? Which do you prefer?
Yamamoto: "Band and solo is totally different to me. Bow Wow is a hard rock band and I always consider the other players characters and ability when I write songs for the band whereas for my solo album, I just concentrate what I want to express using all of my imagination and there is no genre or limit. To be honest, I cannot say which I prefer. I love them both."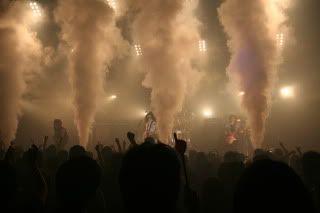 Q: In 1990 the band worked on the album Mountain Top with Bob Ezrin. Unless I'm mistaken you were not part of that project, but as a fan of hard rock/metal what does Bob Ezrin mean to you? And would you like to work with him in the future?
Yamamoto: "I love Bob's production on PINK FLOYD's The Wall and ALICE COOPER's Goes to Hell albums and I wanted to work with him for a long time. In 1990, VowWow moved to L.A from London and luckily a recording engineer friend of mine introduced me to Bob, I went to his house with a few VowWow's CDs and he liked the band accepting to produce us. We got along very well and made a great album, but the timing was not right. The HR/HM movement was getting smaller and smaller and we couldn't get a record deal in the US. VowWow split up in the same year."
If I have a chance to make another album with him, of course I would love to. He knows the depth of music and has got great ideas to make it better. He is a really superb producer."
Q: Between studio, album, live albums, greatest hits and more - the band has about 40 releases available in Japan. Why do you think the band is relatively unknown in the USA/ Canada? Japanese bands like LOUDNESS had limited success over here - why do you think that BowWow and VowWow are not a household names over here?
Yamamoto: "Because we have never even done one tour! I have heard that many American rock fans have been buying our albums through import record shops since the '70s and we did have one compilation of VowWow released on Capital Records in 1989 but, it is limited. Even Lars of METALLICA tried to promote us by playing early BowWow songs for us on the radio many times. Lars said Metallica used to play our song such as 'Silver Lightning' before they made their debut. I had a jam with Lars and Rob at 2:00am in Tokyo after drinking 3 bottles of wine some years back. There were only 10 people drinking at the bar that saw our special jam!"
Q: What hard rock/ metal bands influenced you?
Yamamoto: "DEEP PURPLE, LED ZEPPELIN, MOUNTAIN, as well as hard rock bands. I also love Pink Floyd, KING CRIMSON, CSN&Y;, JIMI HENDRIX..."
Q: What was your involvement with the supergroup PHENOMENA? Are you still involved with them?
Yamamoto: "I played guitars for Phenomena 2 when I was living in London. It was a great experience. Before going into the studio, I didn't know anything about the songs at all. They played them once for me in the studio and then started to record my solo and rhythm parts. It was quick but, I'm very happy with the results. I heard the producer is planning to record a new one next year and I received an offer to play on it so, maybe I'll participate in the next one."
Check out Yamamoto and BowWow here.