BOWWOW Frontman Kyoji Yamamoto Returns To US After 33 Years, Announces First Ever North American Solo Shows Featuring DIAMOND HEAD Drummer Karl Wilcox
July 13, 2011, 9 years ago
Legendary Japanese rock band BOWWOW's frontman/founder Kyoji Yamamoto has announced Voyager On Broadway, his first appearance in the US since 1978 and his first ever solo appearance in North America. On Saturday, September 24th the Japanese guitar god will perform two shows at Klub 45 in midtown Manhattan, NY.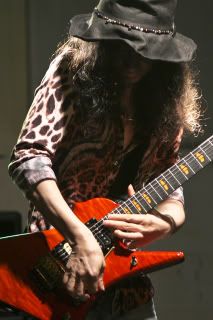 Appearing with Yamamoto will be Karl Wilcox, drummer for legendary NWOBHM band DIAMOND HEAD, who will be fresh from appearances with METALLICA, MEGADETH, SLAYER and ANTHRAX at the Big 4 shows in Europe, the Heavy TO and MTL festivals in Canada, and Diamond Head's own headlining USsummer tour.
Yamamoto's trademark blistering, soulful guitar work has drawn praise from such diverse industry contemporaries as Lars Ulrich (Metallica), Ron "Bumblefoot" Thal (GUNS N' ROSES) and John Wetton (ASIA, KING CRIMSON, URIAH HEEP). He comments: "I am truly excited to showcase my solo material for an American audience and New York specifically. I will take you all to a different dimension of the instrumental guitar world!"
Members of the City Boy mailing list will receive a special discount on tickets that can save up to $15 if you buy during the special 48 hour mailing list pre-sale that runs from July 20th, 10:00am EST - July 22nd, 10:00am EST. General sale begins July 22nd at 10:00am EST. Simply go to the links listed below and enter the password "Voyager" when prompted:
Kyoji Yamamoto - Voyager On Broadway
Saturday, September 24th, 2011
Klub 45, Connolly's Pub & Restaurant
121 West 45th Street
New York, NY
There will be two shows, at 9:00pm and 11:30pm. Ticket prices are as follows:
-- Single show: $25
-- 2 show discount: $45
-- Single show mailing list presale discount: $20
-- 2 show mailing list presale discount: $40
-- Day of show single show: $30
-- Day of show 2 show discount: $55
Ticket links:
Check out BW&BK; scribe Mitch Lafon's interview with Yamamoto from December 2010 here. Check out Yamamoto and BowWow here.
For infomation about Kyoji Yamamoto in North America, please go to cityboyrecords.biz or contact cityboyrecords@ymail.com.