BraveWords.com Talks To DJ ASHBA - "The Number One Priority For Everybody" Is To Make A New GUNS N' ROSES Album
March 6, 2012, 8 years ago
By Mitch Lafon
DJ Ashba's musical resumé reads like a who's who of '80s rock. He's written with MÖTLEY CRÜE, toured with the BULLETBOYS, formed BEAUTIFUL CREATURES with BANG TANGO's Joe LeSté, and of course, joined Nikki Sixx in his well-received side-project SIXX:A.M.. Currently, the multi-faceted guitarist is plying his trade along side rock's most notorious lead singer, Axl Rose, in GUNS N' ROSES. BraveWords.com sat down with DJ to look over his past career, but also to find out about his plans for 2012 and beyond.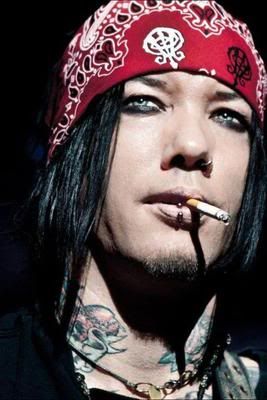 BraveWords.com: Guns N' Roses did a successful fall run through US and Canadian arenas. Now, the band has embarked on a more up close and personal theatre tour. This is a special event for the fans, but how do you adjust to the smaller venues?
DJ Ashba: "It's been a challenge to adjust. For many years, we've been playing arenas and stadiums. So, it's been a really long time since I've been on a stage that small, but it' an intimate stripped down show. There are not a lot of big bombs going off and you're running into each other, but it's been so much fun because it brings you back to these days when you were trying to make it. It's exciting."
BraveWords.com: A lot has been said about the band going on late, but people seem to ignore the fact that you're playing thirty-five songs or more each night. KISS doesn't do that. VAN HALEN doesn't do that. BON JOVI doesn't do that. Nobody does that, but because you're "an hour and half late" - it gets over-looked. Is that frustrating for you?
DJ: "It is and a lot of times we don't even go on 'an hour and a half late'. I'll look at the sheet and it'll say '10:30PM start time' and we'll go on latest by 11:30PM. Axl's been doing really great. Since we've hit the US tour, I feel he's really made a great effort to get on, but it has nothing to do with Axl. The show is massive and a lot of times you just don't know. There are 92 people on our crew. It's a massive engine to move, but we're ready as soon as we get the call. They want to make sure the stage and everything is good to go, so that we can pull off a safe show. All we can do is go out and give 200% and I think people are finally starting to look past that (late starts) and go 'wow, you have to go see this new line-up because it's going to blow your mind'. That part is refreshing to us."
BraveWords.com: I truly think the shows and new line-up are fantastic. The problem (if I can say it that way) is that for the branding - you haven't made new music as this band. I think that would go a long way in changing the fans' perspective. Is there any chance that you guys might get into a studio and record a new album?
DJ: "Yeah, there is. In fact, I didn't join Guns N' Roses just to come in as 'a guitar player'. I've turned down a lot of great opportunities in life and this is the first real gig I took on outside of doing my own thing because I felt I really could bring something to the table not as a guitar player, but as a songwriter and producer. That's what gets me excited about being in the band - knowing that we have a really great shot at putting out something that's just going to blow people's mind. So, that's the number one priority for everybody at this point."
BraveWords.com: If the band does go into the studio - do you offer your service as a producer or is that too 'scary'?
DJ: "It's not because it comes natural to me, but obviously Caram (Costanzo) is an amazing producer. If I were to be asked to help Caram out or do whatever they need me to do, obviously, they know I'm there through thick and thin. Whoever has to do whatever to make the best album possible. I'm just excited to get things rolling. I've demo-ed up a bunch of songs and Axl has a bunch of stuff."
BraveWords.com: Has Axl heard your songs?
DJ: "He has and he's really excited. It's just that we've been non-stop touring. That's been one of the frustrating things for me. I really want to get into a studio more than I ever have. I just bought a brand new house in Las Vegas and I have a beautiful home studio there, so I'm excited to get a little bit of a break, dive back into the studio and get some things moving."
BraveWords.com: If it's not Guns N' Roses, does it automatically go to Sixx:A.M. or is there any chance you'll put out a new solo record or perhaps a new Beautiful Creatures?
DJ: "Obviously Guns is my main priority. Sixx:A.M. is just me, Nikki and James. We dump our hearts and soul into that band. It's a labor of love and is something that means so much to us. It's so dear to us and that's where we can truly be artists. We don't have to follow any rules. We write about things that we feel are going to help people (things that we've had problems with) and that thing is just a lot of fun for me. Beautiful Creatures - love the band. Me and Joe (LeSté) started the band and wrote all the music... I love that band and it's still one of the coolest rock records that I've ever been a part of, but it was just the wrong timing. It would be fun to go back and play a Beautiful Creatures show or something like that just for fun one day, but..."
BraveWords.com: Is that a possibility?
DJ: "You never know and I would say nothing is impossible in this life. As far as a solo record - who knows? If it isn't Guns, Sixx:A.M., writing or producing other artists, I'm more interested in dumping most of my time into building my clothing line. It's doing exceptionally well right now. It's called Ashba Swag. I have an art side to my brain and a music side - Ashba Swag is that outlet that lets me to collide those two. Rock meets art."
BraveWords.com: Do you design the clothes yourself or do you just approve designs that others bring to you?
DJ: "I have a very very small team that I've handpicked. Codi has done my stage clothes for fifteen years and she has thirty years of clients. She's done (Marilyn) Manson, Rihanna, Mötley Crüe, BUCKCHERRY and everybody under the sun. She got my vision, so we teamed up and I brought her into Ashba Swag to do all my stage clothes. I sketch up a lot of the graphic driven clothes. You would not believe how hands on I am from beginning to the very end. On my days off, I sit here on Skype with my employees and over see the entire thing. We're constantly coming up with new things and again it's a labor of love. It's doing really well which is so cool and I'm seeing the clothes everywhere. We only sell it at Ashbaswag.com, but when I go to the concerts - there are always people in the front row with Ashba Swag on and that's an amazing feeling. The coolest part is that they'll come up and say 'this is my favorite hoodie. I have tons of hoodies, but I can't seem to take this one off.' When it no longer has to do with me or the designs, but instead it's the comfort of the clothing that we're making - that holds a lot more weight with me."
BraveWords.com: As a designer, would you like to hold an art exhibit much like Paul Stanley or are you satisfied simply coming up cool clothes to get your art out?
DJ: "This is my museum of clothes or I should say of art. When I was little I had a cartoon in the newspaper for four years. I was the kid they always took out of classes to paint all the logos, prom backdrops and design the yearbook. I was always the art kid, but this is just a really cool creative outlet for me and I absolutely love it. I dump my heart and soul into this."
BraveWords.com: Have you designed any album covers or would you?
DJ: "I helped design the Beautiful Creatures one. We've all had a lot to do with the Sixx: A.M. ones. Paul Brown ultimately lays them out, but we sit there over his shoulders and do those. I used to do a lot of stuff like that for different labels actually."
BraveWords.com: Back to the songs you've demoed. How do you decide which ones go in the Guns N' Roses pile and which ones go in the Sixx:A.M. pile? Or do you just think 'I'll play them for Nikki and Axl. Whoever wants them gets them.'
DJ: "No No. They are two completely different worlds. I have different lawyers, managers, blah blah blah for Sixx:A.M.. I have a whole separate team for Guns and I have another separate team for me personally. It's a pretty massive army that surrounds me."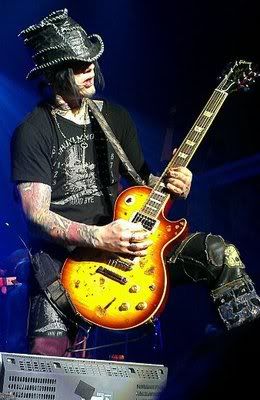 BraveWords.com: But as an artist when you write a song...
DJ: "When I write a Sixx:A.M. song - I'm writing for Sixx:A.M.. When I write a NEIL DIAMOND song - I'm writing for Neil Diamond. When I'm writing for Guns - it's strictly for Guns. When I'm writing a country song - it'll be a country song. It's very easy to separate in my mind."
BraveWords.com: So, you can dichotomize that...
DJ: "Oh, yeah."
BraveWords.com: Is there a process? If you're writing for Sixx:A.M. - do you sit down and listen to Sixx:A.M. albums for a week to get into that frame of mind?
DJ: "No, not at all and if I were to give Sixx:A.M. a song and they were to say 'it's not quite right for us'; it would still not go to Axl. Anything I write for Guns would be for that."
BraveWords.com: The ones that you have written for the Guns 'pile' - would you say they sound like stuff from Appetite? Are they aggressive songs? Or has the music moved into another direction?
DJ: "The stuff that I wrote in somewhere in between. I grew up as a fan and there are things that I love about Appetite that you don't want to lose in my opinion. There are things that I absolutely love about Chinese and from A to Z makes Guns N' Roses. So, anywhere between A and Z, I believe we're in the ball park with it."
BraveWords.com: Sixx:A.M. has a one-off show coming up in April. Are there more shows coming up for the band later in the year? Rumors are that KISS and Motley Crüe are doing a co-headline tour in the fall.
DJ: "I've heard the same rumors, but I don't know for a fact."
BraveWords.com: Could Sixx:A.M. possibly be on tour at that time as well? Or is Sixx:A.M. simply not going to be active in 2012?
DJ: "We're always active because we're constantly working on... You never know. That's the thing about being a songwriter and it goes for James and Nikki too. I can be on tour with Guns and I'll wake up out of a dream and I'll go, 'I have the perfect song for Sixx:A.M.". I'll grab my guitar and write it. We don't force songs. I don't write that way. I won't try to write a song. I'll just wait until I'm so inspired that I cannot wait to get to a guitar to let it come out. I feel that's the best songs; when they come to you and flow through you. You're more of a channel than anything. I'll never sit down and force a song out. I did that growing up and it got real frustrating. At the end of the day, I don't feel you get the best results that way. Plus, anything can inspire you. It can be a crazy night of drinking. I'll be all amped up when I get home and write something perfect for Guns. I just don't know."
BraveWords.com: You've come up slowly through the ranks over the years and then 'boom' you're suddenly sharing a stage with two of rocks biggest names: Nikki Sixx and Axl Rose. How is it for you to one night be looking over your should and seeing Nikki and the next night it's Axl? How is it to be around them?
DJ: "It's very surreal, but they're two of the closest friends I have. When I'm hanging out with Axl, I don't see the guy from Appetite. I see him as my friend. I've never been star struck with anybody. I'll sit at Neil Diamond's house with an acoustic, a pad of paper, just me and him, and write songs. Everybody is equal in my world. Nobody is better than the next guy. We're all here trying to do the best that we can while we're here and life is really short. Nikki is a super dear friend who took my under his wing and really believed in me. He was one of the first people to really go out of his way to believe in me and pull me in. We started Sixx:A.M. - well, originally we teamed up as song writing and producing partners out at Funny Farm Studios. That turned into Sixx:A.M. and that turned into me co-producing and co-writing Saints Of Los Angeles (Mötley Crüe)."
BraveWords.com: That was a great song by the way.
DJ: "Thank you and I co-wrote eleven of the thirteen songs on that album. It was just a super fun to make with the guys."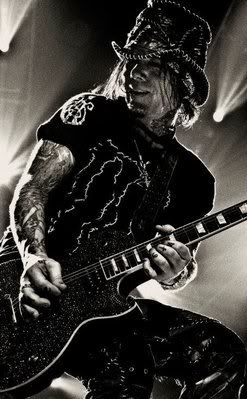 BraveWords.com: Overall, it's a strong album, but that song in particular is amazing. I just have to put it into any Mötley Crüe 'best of' playlists I make.
DJ: "That was a fun time and Nikki is just one of my best friends out there. Axl and I have become super close since I've been in the band and he's just awesome. He's one of the funniest guys I know. He's constantly cracking jokes and that's what sad about it... I can only speak for me and what I know, but I see all the negative shit and it bums me out. That's not the guy I know. He treats me like gold and he's a great great human being. He's seriously one of the most talented individuals out there. It's an honor to be in the band and I don't have to say that. If he wasn't, I would NOT be playing in this band. I promise you that and with Nikki; it's the same thing. He's one of the funniest guys and we hang out every time we get a chance.  Between him, me and James were constantly laughing and we laugh our way through every album. We order pizza, sit on the floor and crack jokes. We have the best time and it's very genuine our friendship."
BraveWords.com: With the Rock N' Roll Hall Of Fame inductions coming up - any predictions for Guns N' Roses? Will we see the original band in the same room? Do they accept the award together?
DJ: "There's been zero talk about it. Personally speaking - I hope so. I hope  everybody can put aside their differences for one night. This is a huge thing for the original five. This is a lifetime achievement thing and a big honor for Axl and the rest of the guys. So, I would love to see it happen. It would be great for the fans. It's not my call, but I'd like to see it happen because I know how much it means to the fans. It would be a cool thing."
BraveWords.com: Does Mötley Crüe belong in the Rock N' Roll Hall Of Fame? I know KISS does...
DJ: "I absolutely think that Motley deserves to be in the Rock N' Roll Hall Of Fame. There are one of my favorite bands. I grew up loving the band and they were my first concert that I ever went to. It's very rare to have all four original guys still together thirty years later. It's unbelievable. Those guys have spent their entire lives together making music for people."
BraveWords.com: Speaking of Mötley Crüe, when the band reunited, there's was a lot of talk that you'd be replacing the ailing Mick Mars on guitar.
DJ: "I remember some rumors going on and I really didn't think a whole lot about it. I knew Mick would make it. He's a strong guy and a bad ass 'mofo'."
BraveWords.com: But he does have a serious medical condition.
DJ: "He does, but he's out there kicking ass."
BraveWords.com: I agree, but with promoters and tour insurance - was there a 'plan b' and were you 'plan b'?
DJ: "Maybe without it being said, but it was never said to me. It was never ever brought up to me. I think with those four guys it's either all in or all out. Of course, I would do anything for anyone of them."
BraveWords.com: What a great career you've had...
DJ: "My life is surreal. I'm so grateful for the fans that I have and some of them have followed me since before Beautiful Creatures. They are die-hards and that's why I go far beyond and try to do whatever I can to be there for them. They are my world. They've seen me go from good times to bad times. From record deals to being dropped. From marriages to divorces. You name it and some of these people have been with me on the long road. It's nice to see my fan base growing bigger and bigger. I'm thankful for each and every one of them. The fans are absolutely my drugs. It's what I'm addicted to."
BraveWords.com: The fans need the musicians, but the musicians also need the fans. Before we end today, I just wanted to add that I saw your November (2011) show in Hartford, CT and I was blown away. It was fantastic.
DJ: "I know how hard we've worked in the trenches and we're out there three hours a night. We give it our all."
BraveWords.com: Plus, you've taken so much shit for things that have nothing to do with you like the GN'R Montreal Riot (August 1992), The St. Louis Riot (July 1991)...
DJ: "It's frustrating because I never realized I was going to catch so much shit for just being in the band - period."
BraveWords.com: The saying is: it's the company you keep.
DJ: "I guess so, but it's crazy. I just have to go out there and give 200%. Whoever likes it - awesome and whoever didn't - well, I know I gave it my all. What's cool is that almost four years later I'm seeing it turn around. We're definitely winning people over and we're gaining their respect. People are also 'Googling' and realizing that I've done more in my career than just Guns N' Roses."
BraveWords.com: People are also starting to realize that Axl didn't hire three hacks on guitar. He actually hired guys with careers and credentials...
DJ: "He put together a supergroup in my opinion. Every guy is at the top of their game. There is not one bad player in the bunch. They all can play their asses off and it's just a joy to be a part of that."
BraveWords.com: The live stream shows that you've done (Los Angeles, Las Vegas and Chicago). Will the audio ever be released (on CD or download)?
DJ: "I have no idea. I'm there for the people that actually paid the tickets to see that live show. That's my focus. I'm there to put on a show for that crowd."
BraveWords.com: What do we need to plug?
DJ: "GunsNRoses.com. We finally got our domain name, so we're building that. DJAshba.com is my personal site. My online store is Ashbaswag.com - you can buy all kinds of cool stuff. There's Sixxammusic.com."
BraveWords.com: Thank you for your time.
DJ: "Cool and please add me on Facebook. I'm always online updating my stuff and @DJASHBA on Twitter."