BREAKER To Headline WJCU Metal On Metal 30th Anniversary Concert In Cleveland Tonight
July 6, 2012, 6 years ago
Live Nation presents WJCU's Metal On Metal 30th Anniversary Concert tonight (July 6th) at House of Blues in Cleveland, Ohio. Headlining will be Cleveland metal legends BREAKER.
Breaker will be celebrating their 30th annviersary as a band, and the 25th anniversary of the release of their landmark Get Tough! album, with a special reunion performance with original vocalist Jim Hamar. Also set to perform are SHOK PARIS, MANIMALS (celebrating their 30th anniversary), CELLBOUND, VENOMIN JAMES and DEADIRON. ALTERNATE REALITY will be world premiering their new 'Metal Coma' music video as well. Doors open at 6:30 PM. The show starts at 7 PM. Tickets are $17.
The concert will celebrate the 30th anniversary (1982-2012) of Bill Peters' Metal On Metal radio program, heard every Friday night in Cleveland on WJCU 88.7 FM and streamed live via the Internet at WJCU.org. The popular underground radio program has featured import and independent heavy metal for parts of the past four decades.
"The radio show is a labor of love for me", says Peters. "It's always been about the music first and foremost. I'm just a diehard heavy metal fan like anyone else who happens to have been blessed to host a radio show all these years. I am very grateful to WJCU and John Carroll University for giving me this opportunity. I never planned to be on the air this long. It just kind of happened!" (laughs)
"We have an all-star lineup of some of my favorite Cleveland bands assembled for this anniversary concert I'd like to thank my listeners for all of their support over the years. This concert is as much for them, if not more, than it is for me. I have the most dedicated, knowledgeable and passionate heavy metal listeners in the world who tune in regularly each week from all parts of the globe. Many Clevelanders have been with me going back to the beginning of the program in the pre-Internet years. It's not uncommon to have a young person come up to me and say 'Hey, my mom and dad listen to your radio show every Friday and now I'm hooked too!'. The music is timeless and keeps getting handed down from generation to generation. Heavy metal will never die!"

MC'ing the concert will be Germany's Iron Ingo Stührenberg. Ingo is a writer for the popular German underground heavy metal webzine Metal Rules. He has traveled to Cleveland from his home in Wiesmoor, Germany two previous times to host events. His first visit to Cleveland was in 2009.
"This will be my third trip to Cleveland and already the second was a sort of homecoming for me", says Ingo. "It´s great returning to the city where I feel so very comfortable and where I meet so many great and close friends again. Therefore, as a free man, I take pride in the words: Ich bin ein Clevelander!"
A ticket to the House of Blues show also gives free admission to the "Iron Ingo Cleveland Metal Festival", featuring ETERNAL LEGACY and DESTRUCTOR, the following night (July 7th) at the Beachland Ballroom in Cleveland.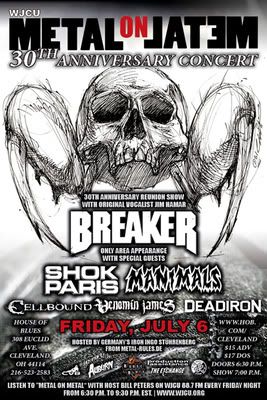 Internationally renowned Cleveland artist Derek Hess drew exclusive artwork for the concert poster. Hess has been a longtime regular listener to Peters' radio show going back to his teenage years. Claudia von Bihl from Hamburg, Germany did the layout and design. A special commemorative Metal On Metal 30th Annviersary t-shirt, sponsored by The Exchange and featuring Hess' artwork, will be passed out free to the first 100 people attending the concert tonight.
"This is my very first Metal On Metal t-shirt", says Peters. "I have no idea why it took 30 years to make one! I'm honored to have Derek and Claudia offer to do this for me. It's a very cool shirt!"
Breaker formed in 1982 and, along with SHOK PARIS and DESTRUCTOR, has been an anchor of Peters' Auburn Records label roster. Hamar appeared on the band's 'Blood Money' single (1983) and landmark Get Tough! album (1987), both highly regarded and valuable collectibles to '80s underground heavy metal fans, as well as several compilation, live and EP releases. The band performed at the 2000 Wacken Open Air festival in Germany with Hamar. Greg Wagner (H.A.T.E.) had been the band's singer since Hamar's departure in 2001.
"Breaker were the first Cleveland band I ever interviewed on the radio show", adds Peters. "They were also the band that inspired me to start my record label. We have a long history together."
Breaker will be performing a 30th anniversary show with Hamar at this year's edition of the Bang Your Head Festival!!!, set to take place July 13-14, 2012 in Balingen, Germany. The band were originally scheduled to reunite in 2008 for an appearance at the festival, but Hamar suddenly and unexpectedly developed voice problems during band rehearsals and was forced to cancel. The band ended up performing at the festival with Wagner on vocals. This will mark Breaker's fifth trip to Germany, a country where the band has always enjoyed a substantial underground heavy metal following.
"Amazing, indeed!", says Breaker vocalist Jim Hamar. "30 years of Bill Peters' WJCU Metal On Metal radio show and the 30-year anniversary of Breaker being celebrated at the same time! Bill's show has long been the gold standard for all things metal. It makes no difference if your tastes are mainstream or underground, follow the terrestrial, Internet, or satellite radio waves....his show on 'JCU has been the place to be every Friday night for the last 30 years. The fact that I will be performing with my brothers in Breaker for this event makes it that much more special. I can't Wait! See you there!!!"
"Metal On Metal and Bill Peters are synonymous with loud music in Cleveland and around the world", adds Breaker drummer Mark Klein. "We'll also be celebrating an anniversary and the the timing couldn't be better as our original vocalist Jim Hamar is back with the band. It's going to be a great party and everyone's going to have a killer time!"
Breaker is:
Don Depew - Guitar
Jim Hamar - Vocals
Mark Klein - Drums
Michael Klein - Guitar
Brook Hodges - Bass
Shaun Vanek - Guitar