BRUTAL TRUTH - End Time Artwork Unveiled
May 30, 2011, 6 years ago
On September 27th BRUTAL TRUTH will release their new album, End Time, in North America via Relapse Records. The cover art is pictured below: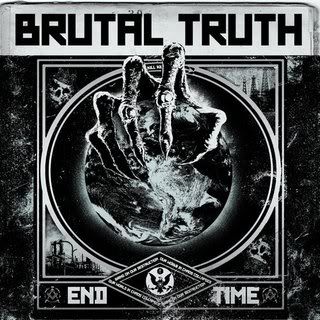 The title track from End Time can be heard via the band's Facebook page.
End Time was recorded with Doug White at Watchmen Studios in Lockport, NY. The self-produced album was mixed by Jason P.C. at Goatsound Studios and mastered by Scott Hull at Visceral Sound.
End Time features the following 23 songs:
'Malice'
'Simple Math'
'End Time'
'Fuck Cancer'
'Celebratory Gunfire'
'Small Talk'
'.58 Caliber'
'Swift And Violent' (Swift Version)
'Crawling Man Blues'
'Lottery'
'Warm Embrace Of Poverty'
'Old World Order'
'Butcher'
'Killing Planet Earth'
'Gut-Check'
'All Work And No Play'
'Addicted'
'Sweet Dreams'
'Echo Friendly Discharge'
'Twenty Bag'
'Trash'
'Drink Up'
'Control Room'