BUFFALO THEORY MTL Upload Video Footage From The Studio
February 6, 2012, 7 years ago
Montreal, Quebec-based metallers BUFFALO THEORY MTL will release a new album, entitled Heavy Ride, in late March. The band have uploaded the footage below, filmed by Benoit Nantel while visiting the band in the studio last week.
Says the band: "Take a tour of the studio and have a listen to what we've been up to!"
The Heavy Ride album artwork can be seen below:
The band's bassist Gary Lyons states: "We'll be headed to Indica studios in our hometown of Montreal on January 26th, 27th and 28th to record 6 new songs. We still have a bit of arranging to do, but other that that we're ready to go! We are recording in three days, as we have a very limited budget, as most Indy bands do, and by recording live, we can get the most out of the sessions.
Along with the 6 new songs, we will be adding the 5 songs from our first demo EP (March 2010), which will finally get properly mastered. Our first EP was meant to be a demo at the time and was released without being mastered. The EP is now out of print.
The mix and mastering should be done by the end of February and the plan is to release it by mid-March to start touring the new album in April or May. Interested parties should contact us now at buffalotheory@live.ca or at booking@galyrecords.com.
Visit our Facebook page for more information. We will also be posting clips from the studio sessions there and giving our fans regular updates, so stay tuned!"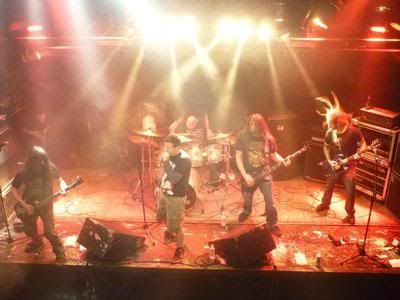 Buffalo Theory MTL live dates:
February
25 - Valleyfield, QC - Bar Olympique (Kurt's B-Day bash)
April
27 - Montreal, QC - Café Chaos (Record launch)