BURY TOMORROW Release 'Royal Blood' Video
April 26, 2012, 6 years ago
Britain's BURY TOMORROW have released the official video for the song 'Royal Blood', which comes off the band's upcoming Nuclear Blast debut, The Union Of Crowns. Check out the video below:
Bury Tomorrow recently shot a video for their upcoming single, 'An Honourable Reign'. The track also comes from The Union Of Crowns, to be released July 16th.
The band commented, "So, we've just wrapped up our new music video for 'An Honourable Reign' with the dudes at Sitcom Soldiers! We shot it in the epic region of Snowdonia, up on mountains feeling like we were in a GUNS 'N' ROSES vid! We can't wait for you to see it - check out this still from the shoot (below)!"
Commented the band upon their signing to Nuclear Blast: "We are unbelievably honoured to be signing to Nuclear Blast. It feels unreal to be part of a label with such immense pedigree that has so much faith in our music. From the first demo they were sent, the guys at Nuclear Blast were just as stoked on the potential of the record as we were, and that means an awful lot to us. We have always said that this album would be how we defined the genre we've grown up in; what better place to start this path on, than with the world's biggest heavy metal label!"
The Union Of Crowns tracklisting:
'Redeemer'
'The Maiden'
'Lionheart'
'Message To A King'
'An Honourable Reign'
'Knight Life'
'Royal Blood'
'Bitemarks'
'Abdication Of Power'
'Kingdom'
'1603'
'Sceptres'
'Vacant Throne'
'A Curse'
The band previously released the video for the track 'Lionheart'. Watch the clip below:
Bury Tomorrow have announced the following UK tour dates supporting OF MICE AND MEN:
April
26 - Newcastle, UK - O2 Academy 2
27 - Wrexham, UK - Central Station
28 - Manchester, UK - Moho Live
29 - Stoke, UK - Sugarmill
30 - Coventry, UK - Kasbah
May
1 - Bristol, UK - The Fleece
2 - Plymouth, UK - White Rabbit
3 - London, UK - Underworld
4 - Reading, UK - Sub 89
5 - Southampton, UK - The Joiners
25 - Brighton, UK - The Haunt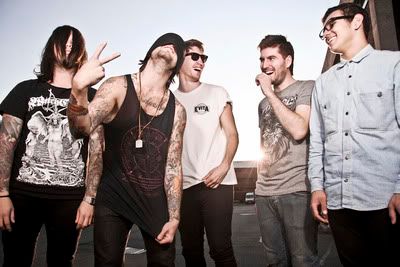 Bury Tomorrow is:
Davyd Winter Bates - bass
Mehdi Vismara - guitar
Daniel Winter Bates - vocals
Adam Jackson - drums
Jason Cameron - vocals/guitar