Canada's HARM Sign With Frostbyte Media; New Album Due In September
July 17, 2012, 5 years ago
Canada's heavy groove metallers HARM have signed to FrostByte Media to release their sophomore album, The Nine. Produced by noted Canadian producer Tom Treumuth, who has been involved with some of Canada's best metal like VOIVOD and ANVIL, The Nine was recorded very live in the studio with minimal overdubs, a testament to the band's live show focus.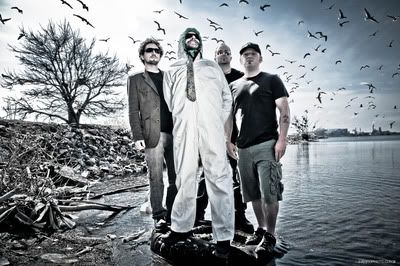 The Nine track listing:
'The Salem Parade'
'LittlePariah'
'Philistine'
'Another Conspiracy'
'Stuck In Time'
'Argue And Grin'
'The Chelsea Smile'
'Hand Me Down Virtue'
'Pretentious'
'Sentimental Enterprise'
Formed in 2003 in southern Ontario, Canada, Harm combines a ferociously groove-heavy metallic sound with blistering riffs. Since the band's inception, Harm has toured throughout Canada, most recently in support of their 2008 self-titled, self-released debut album.
Harm are now set to wow audiences in the United States around the release of The Nine, with tour dates to be announced soon.
Harm is Steve Sharpen (vocals), Joe Schacher (bass), Nick Smyth (drums) and Mike Allen (guitar).
More on Harm at this location.